'The past few weeks in England will be remembered as much for Kohli's skilled conquest of his English demons as they will be for his dreadful reading of pitches, curious selection choices, sporadic tactical lapses, and overall inability to help his side cross the finish line,' notes Dhruv Munjal.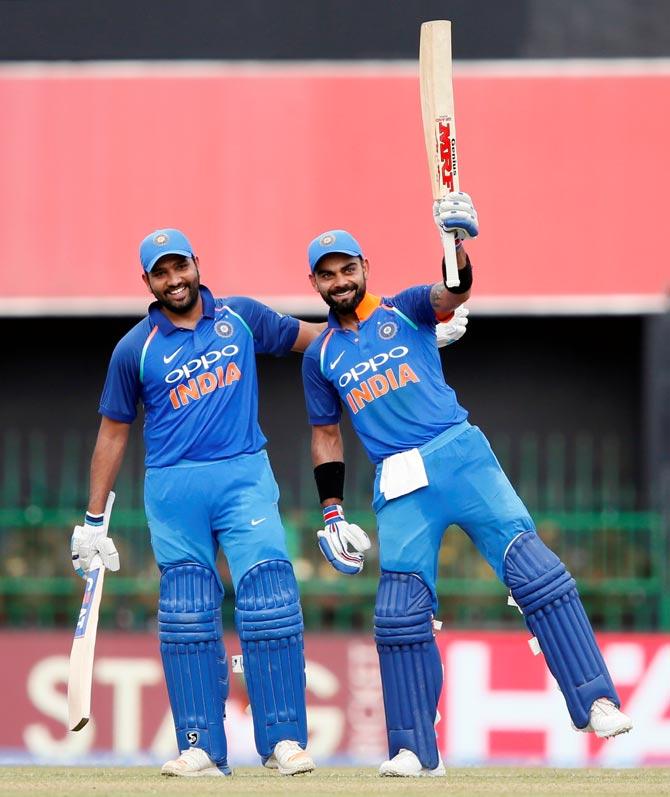 In parts, this was like the 1990s. One man soaring and roaming some empyreal space we thought did not exist. The others, like schoolboys catapulted into the big time overnight, bringing us crashing down to earth with a fecklessness that belongs in the lowest grade of club cricket.
There was breathtaking beauty at one end, abject capitulation at the other -- one man's departure almost always leading to an entire team's demise.
Yet, this was just one part of the dreaded '90s trope.
Even as the captain excelled on the personal front, he failed to pull his teammates -- the batsmen, primarily -- out of a mire of mediocrity.
Just like Sachin Tendulkar all those years ago, this would have hurt Virat Kohli most.
Not so much because his more human colleagues couldn't take advantage of his stupefying run with the bat, but because he, cricket's ultimate challenger and supreme competitor, struggled so appallingly as a leader.
Right now, Kohli, the batsman, can don an ushanka in peak summer in Chennai or hop on a zero-gravity flight and still manage to churn out hundreds.
If the last five Test matches do not confirm his status as the greatest batsman of our times, perhaps nothing will.
But Kohli, the captain, seems like a victim of his own paranormal talent -- and bellicosity.
The past few weeks in England will be remembered as much for Kohli's skilled conquest of his English demons as they will be for his dreadful reading of pitches, curious selection choices, sporadic tactical lapses, and overall inability to help his side cross the finish line.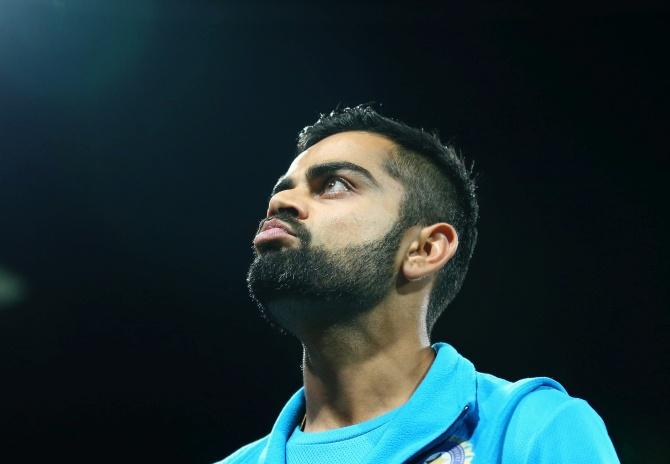 In the coming days, this suffering will only be compounded by the common belief that Kohli's class of 2018 had its moments and chances in England.
Yes, this was a glorious advertisement for Test match cricket, gripping every inch of the way. Yet, it played out in a weird pattern: India, seriously good in parts, somehow ended up losing 1-4 to a seriously poor English side, a strange case of fine margins leading to heavy defeat.
It would be a grave error of judgement to label Kohli incapable of leading India.
In the last few years, he has, after all, built a Test juggernaut -- such has been the team's domination that, despite the chastening reversal in England, India is still ranked the number one Test side in the world.
Yet, on India's last two overseas tours -- South Africa was the other -- Kohli's stewardship has invited hard questions.
"Sometimes, it's as if he has too much to do. He is the captain, the best player, the main motivator -- his job is unfairly demanding at times," says a former Indian batsman.
The Kohli-Shastri bromance has become the centerpiece of Indian cricket in recent years. By uniting the two, the Board appeared to have given them carte blanche.
But even Kohli, like all world-beaters before him, is not an island unto himself.
And it would be grossly imprudent to analyse anything Kohli-related without the mention of Ravi Shastri, the team's head coach.
The Kohli-Shastri bromance has become the centrepiece of Indian cricket in recent years -- so much so that the Board of Control for Cricket in India apparently got rid of Anil Kumble, Shastri's predecessor, on Kohli's insistence. He wanted his own man in the hot seat.
By uniting the two, the Board appeared to have given them carte blanche.
So when the Indian team decided to play an extra spinner in Kuldeep Yadav on a damp, seaming wicket at Lord's, or when later in the series it chose only one when the home team rightly went in with two, it wasn't solely Kohli's doing.
"I just can't understand what the management has been up to. Shastri has been in the sport for over 35 years. More crucially, he was a broadcaster and commentator for so long. How could even he not read the pitch?" wonders former Indian spinner Maninder Singh.
Moreover, Kohli and Shastri's patience with different players differs dramatically.
Wicket-keeper Dinesh Karthik, who was making a comeback, was banished after the first two matches. On the other hand, Shikhar Dhawan, the kind of guy who now seems accomplished enough to nick a moving watermelon, was kept on for four matches.
"Karthik's keeping was fine. He was dropped for his batting. They must know what they want from their wicket-keeper," argues former India stumper Nayan Mongia.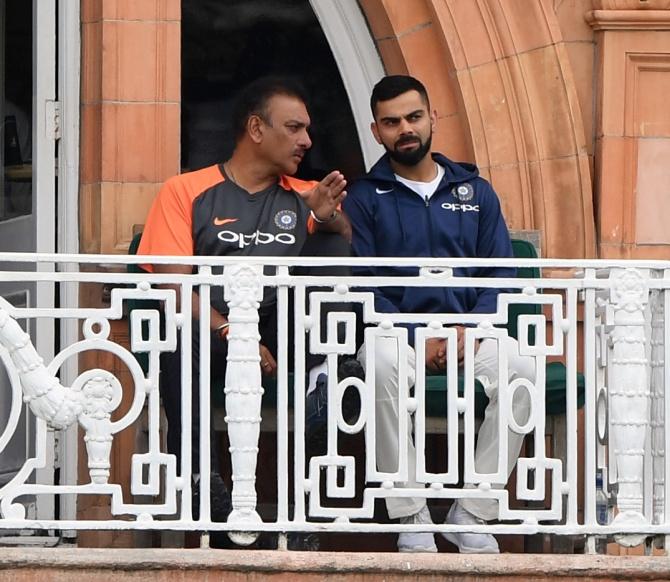 But nothing quite encapsulates Kohli's selection horrors better than the eternal enigma that is Hardik Pandya.
Kohli does realise that Pandya's type -- a fast-bowling all-rounder -- is a rarity in Indian cricket, but it is now painfully evident that he believes in his ability a bit too much.
Mongia, who also hails from Vadodara and has watched from close quarters the 24 year old's rapid ascent, sees Pandya as a batsman who can bowl. How Kohli views him, however, remains a mystery.
Pandya neither contributes sufficiently with the bat nor does the captain trust him enough to give him many overs with the ball.
Against England, Pandya bowled just 64 overs (10.6 per innings) in four games, and amassed a paltry 164 runs with the bat -- an average of 20.5.
In hindsight, a pure batsman at number six instead of Pandya would have served the team better.
"The captain and team management's love for Pandya cost us the series. As Ravindra Jadeja showed in the last game, if an all-rounder was needed, it should've been him all along," says Maninder Singh.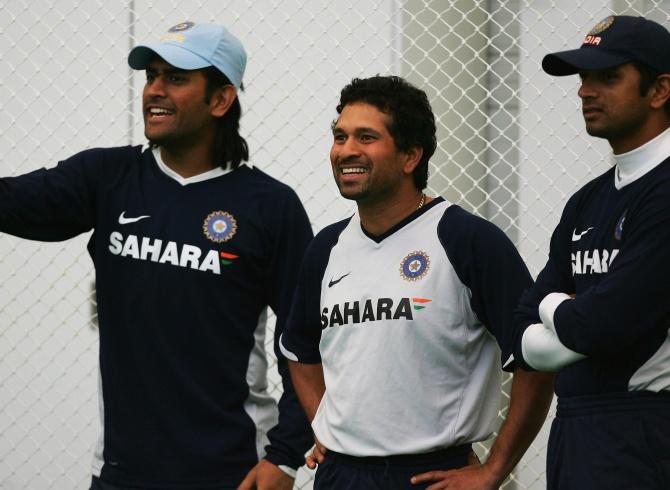 All Indian Test captains in the new millennium -- Sourav Ganguly, Rahul Dravid, Anil Kumble, Mahendra Singh Dhoni -- were singled out for the job because they were considered to be genuine captaincy material.
Ganguly brought with him a fresh blend of boldness and self-belief. Both Dravid and Kumble commanded respect like few others before them, and were excellent students of the game. Dhoni was the monk blessed with inventiveness and uncanny tactical nous.
Kohli, in some ways, was made Test captain in late 2014 after Dhoni's sudden retirement not so much because he was seen as a virtuoso leader, but because by then he had already become the major power-centre in the Indian game, primarily owing to his unmatched ability and a truculent personality that still deeply divides opinion.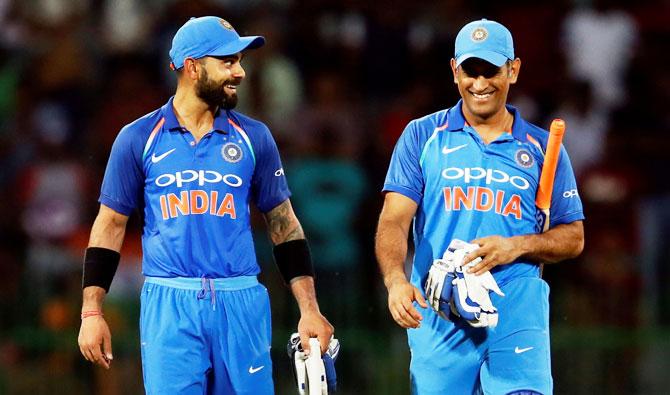 "Dhoni was the last of the 'senior' Indian Test players to retire. All the others had gone before him. So when Kohli was appointed captain, it was also because there were no options and he seemed best suited for the job," says the former batsman quoted earlier.
Aggression is obviously a recurring theme in Kohli's captaincy shtick, but beyond that, it is difficult to decipher what exactly he stands for.
We gush over this very intangible quality when India wins.
When it loses the way it did in England, we wish he had something more concrete to show.
There are still some traits, though, more perceptible than others.
Kohli likes to control the game by not giving away boundaries; the sight of men patrolling the fence in certain positions right from the outset is not uncommon.
But by doing so, Kohli often allows the game to slide -- a dangerous characteristic that unfortunately became a hallmark of Dhoni's captaincy late in his career.
Jos Buttler in the third Test, for instance, was allowed to take singles off the fourth and fifth balls of an over with number 11 at the other end.
"When you keep losing wickets, as England did, even proper batsmen feel the pressure. You must look to get out whoever is in front of you. You can't allow the game to run away from you," feels Singh.
And while India more than matched their English counterparts with the ball, it was the home side's lower order that swung games with the bat.
Until the last Test, no English top-order batsman looked truly comfortable against India's pace, but the tourists almost bizarrely started playing a different game the moment the opposition found itself six or seven down.
Mindsets and fields were both quickly altered.
Instead of going for the kill, India, for no obvious reason, suddenly seemed like they were braving the storm -- oddities only Kohli can explain.
No wonder then that Sunil Gavaskar, former India captain, spoke last month about how the skipper must work on his field placements and bowling changes.
"India had match point again and again. And they just couldn't make it happen," says Mongia.
As for Gavaskar's criticism of the bowling changes, Ravichandran Ashwin is a brilliant case in point.
In the first match at Edgbaston, Ashwin, India's best bowler in the game wasn't called upon to bowl when Sam Curran, a left-hander, was helping England swell their lead with a late flurry.
And in the Southampton Test, a seemingly unfit Ashwin was made to bowl endlessly -- with little luck -- simply because the pitch was offering some turn.
And in the field, Kohli has been unable to settle on a fixed slip cordon. In England, the merry-go-round in the slips ensured that a number of chances were grassed.
For a player 71 Test matches old, 'inexperience' is no longer available as an excuse.
Dhoni's own stint as captain overseas took a horrendous turn starting the summer of 2011, but for long he had had the luxury of calling upon the experience of Tendulkar, Dravid and V V S Laxman.
Half the time Kohli seems trapped in the conviction of his own ability; the other half he simply looks lost -- with no help at hand.
Joe Root, a youngish captain like Kohli, had the expertise of Alastair Cook, James Anderson and Stuart Broad, a trio with over 400 Test matches between them.
Similar assistance for Kohli could only have come from Ajinkya Rahane and Cheteshwar Pujara. And even their places in the side -- Rahane, in particular -- are bound to receive scrutiny once the selectors sit down to pick the team that travels to Australia later this year.
"Rahane looks done, and that can't be good for Kohli," reckons Singh.
Which makes Shastri's claim that this is the 'best group of Indian travellers in the last 15-20 years' sound a lot like braggadocio.
Great teams don't just play well and then blow winning positions; their ruthlessness enables them to strangle the opposition and finish the task.
The suggestion that Kohli needs to go as Test skipper naturally seems like a tendentious one. For one, with Rahane, the vice-captain, so miserably out of touch with the bat, there seems to be no decent replacement around.
And with Kohli's overall record as skipper, it would be massively unjust to see him go on the back of one horrid overseas tour.
Given Kohli's inviolable status in Indian cricket, bidding him farewell would require a deal of courage from the selectors.
For now, he and his team must improve.
Rapidly. Indian cricket has worked tremendously hard to overcome the listless days of the '90s, and plummeting to those depths once more is simply not an option.
The finest batsman of this era must now also become its finest leader.
Over to you, Virat.