'No one can be as destructive like him. His hundreds are BIG!, 150, 170, double hundreds,' Dinesh Lad, Rohit's childhood coach, tells Rediff.com's Harish Kotian.
'If he stays at the wicket long enough, then anything is possible.'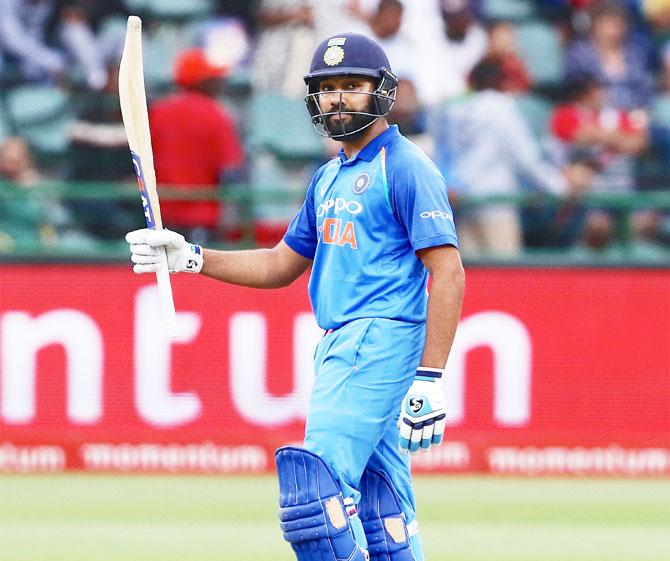 IMAGE: After multiple failures in the South African Test and ODI series, Rohit Sharma finally scaled the one cricket mountain that had eluded him -- a century in Proteas country.
Rohit celebrates his century in the 5th ODI at St George's Park, February 13, 2018. Photograph: Richard Huggard/Gallo Images/Getty Images
Very few have mastered the art of batting in limited overs cricket as he has done and that is what makes Rohit Sharma so very special.
The Mumbai batsman has made a habit of scoring big centuries -- in fact, really, really big ones -- when he gets his eye in.
No other batsman in the history of cricket has scored three ODI double centuries.
Rohit also holds the world record for the highest individual ODI score -- a mammoth 264 against Sri Lanka in Kolkata in 2014.
For all his exploits with the bat in limited overs cricket, Rohit has been unable to replicate that success in Test cricket.
Rohit, who made his international debut in 2007, got his first opportunity to play Tests in 2013.
In the five years since, the right-hander has struggled to find a permanent slot in the Test team. His failures in the first two Tests against South Africa saw him dropped for the third Test and will raise questions if he will play the longer format again.
His childhood coach Dinesh Lad has no such doubts.
"I am sure he will definitely leave his mark on Test cricket as well," Lad tells Rediff.com
"The problem he was having in Tests was that he was going for his shots too early. Generally, the red ball moves much more than the white ball and also turns more, so your approach has to be different. But he has worked on that aspect of the game and you saw how he batted against Sri Lanka," says Lad, whose son Siddhesh Lad is one of the best and brightest stars in Mumbai cricket.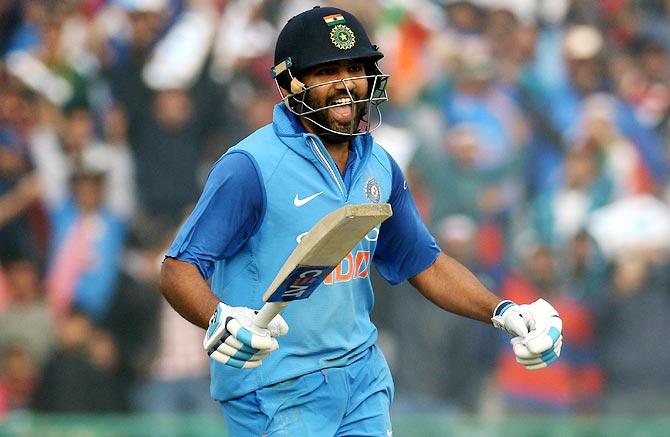 IMAGE: Rohit celebrates his double century in the second ODI against Sri Lanka, December 13, 2017. Photograph: BCCI
After making a smashing start to his Test career, with two centuries in his first two Tests, against the West Indies in 2013, Rohit's third Test hundred took another four years to come, when he crossed the century mark against Sri Lanka in Nagpur last November.
It was his first Test in over an year as he tried to kickstart his career after an injury setback in 2016.
'Personally for me, it was very important as I was playing Test cricket after nearly 500 days,' Rohit said after that innings in Nagpur.
He revealed how desperate he was to make a mark in Tests early on his career which put more pressure on him to perform.
'Initially, my focus was a lot on Test cricket... "Oh no, this is Test cricket, I have to do well, I have to do this and that." And in thinking that I lost focus and forgot what I was there for and what I needed to do, and (now I am) pretty clear in my mind, which is the most important thing.'
"His batting style is similar in all formats," says Coach Lad.
"He mostly plays with a straight bat even when he is playing T20s. He bats lower down the order in Tests and sometimes he comes when the ball is quite old and turns a lot. So it is not easy to bat at that position," adds Lad.
Very few batsmen have been so consistent as Rohit in ODIs. The 30 year old has hit 17 ODI centuries and each year his average has been above 50.
The secret behind Rohit's transformation, Lad reveals, was his getting dropped for the 2011 World Cup.
Hurt, Rohit vowed to come back stronger and better, which he did. He has never looked back in the shorter formats of the game.
"The key to his transformation was his being dropped for the 2011 World Cup. There were some diversions at that point of time, he was not giving the required time to cricket," says Lad.
"That World Cup axing was a real turning point for him because he knew that if he doesn't put more effort and time into his game, then he won't play for India again," says Lad.
Lad recalls a conversation he had with Rohit at that stage of his career. The coach made it clear to his ward that he was underachieving despite having so much talent.
"I made him understand that whatever he has got today, it is because of cricket. You need to give time to the game. He was getting dismissed after scoring just 30, 40 runs and that saw him getting dropped from the Indian team," Lad remembers.
The coach's advice was clear and loud -- stay focussed on the game.
"I told him that he was part of the (T20) World Cup team in 2007, but was dropped in 2011. I warned him if he doesn't give proper time and attention to his game, then he should forget about playing cricket because nobody will have time for him in the future," Lad recalls.
Following the axing, Lad says Rohit started giving more time to his batting and could be seen slogging it out for nearly 8 or 9 hours at training sessions every day.
"He also thought he should be dedicating more time to cricket. From that point on, he started practicing vigorously to improve his game," says Lad, adding, "I remember he used to practice from 9 am to 5 pm."
When he returned to the Indian side, the same Rohit who got out after scoring 40 or 50 runs started hitting big hundreds.
Then he started converting the hundreds into double hundreds. He hit that ODI world record 264 and is the only batsman to score three ODI double hundreds.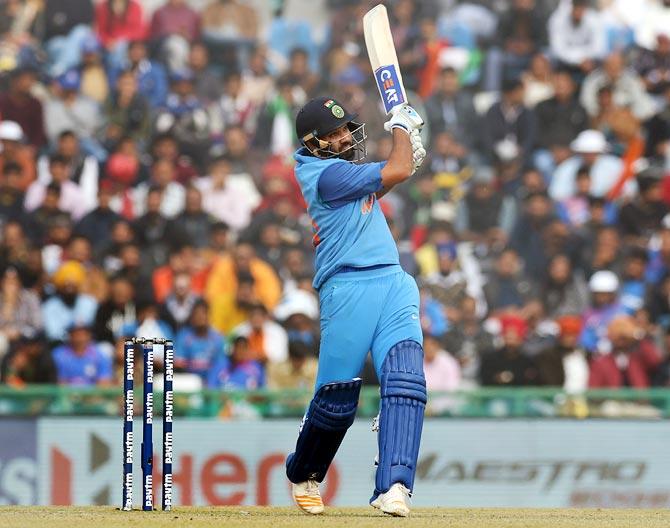 IMAGE: Rohit in action. Photograph: BCCI
Being appointed Mumbai Indians captain, Lad feels, was a key moment in Rohit's career.
"The captaincy was beneficial for Rohit," says the coach. "He began to understand his responsibilities towards the team. That's how his batting started becoming mature and effective."
"He understood that if he stays at the wicket, then he can make a difference with the bat. He told a television channel that he does not like to give his wicket away and the bowlers have to get him out," says Lad. "That is how his approach has changed."
"I used to tell him to have patience, especially at the start of his innings and not look to play too many shots early on," says Lad, "and that is how he has been batting in the last 4 or 5 years."
"Rohit is the world's most dangerous batsman once he crosses his hundred," says his childhood coach. "No one can be as destructive like him. His hundreds are not 110, 120, his hundreds are BIG!, in excess of 150, 170, double hundreds."
"If he gets to his century, he makes sure not to give his wicket away and tries to make it as big as possible."
Lad believes Rohit has the potential to score the first triple century in ODIs or the first double century in T20 Internationals.
"He could have scored 300 when he got that 264. If he stays at the wicket long enough, then anything is possible."