Harish Kotian/Rediff.com poses the choices Shastri and Kohli have to make for the second Test.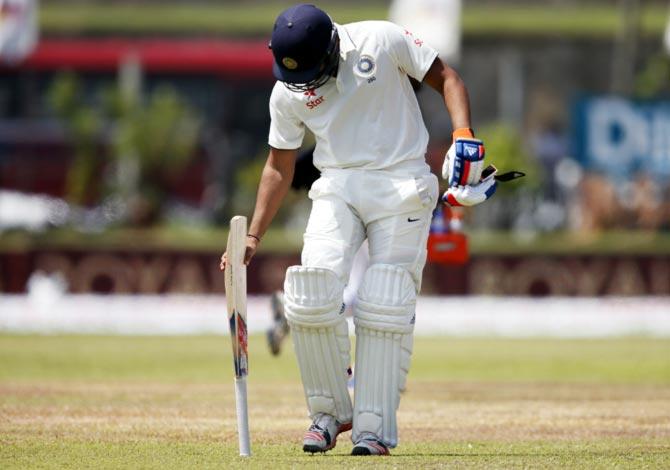 IMAGE: Rohit Sharma after his dismissal in the first Test. Photograph: Dinuka Liyanawatte/Reuters
Rohit Sharma is an enigma when it comes to the longer format of the game.

One of the best sights in cricket when in full flow, the Mumbai batsman has made a mark in the limited-overs format, but is unable to recreate the magic in Test cricket.

Following twin failures in the opening Test against Sri Lanka at Galle last week, one has to ask if Rohit has it in him to succeed at Test level or will he end up like Yuvraj Singh, who also failed to impress in the longer format.

Captain Virat Kohli may want to persist with Rohit at No 3 despite his struggles away from home, but it is time India checks out other options.

More than three years after the great Rahul Dravid retired, Team India is not even close to identifying a replacement.

Cheteshwar Pujara started off well, but his batting experienced a sharp dip in the challenging conditions of Australia and England last year.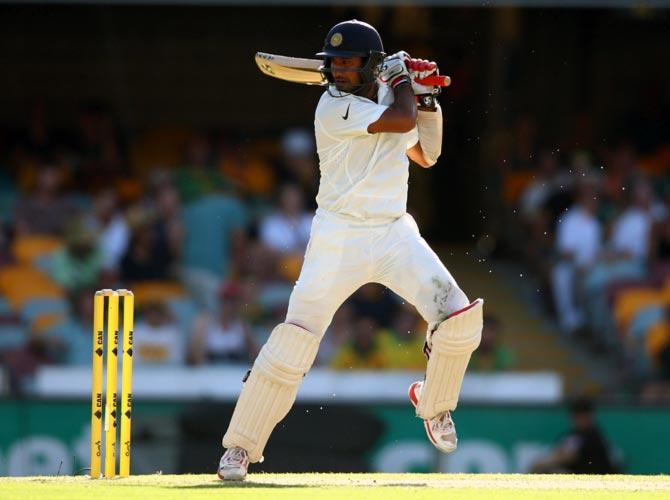 IMAGE: Cheteshwar Pujara. Photograph: Cameron Spencer/Getty Images
After scoring just one fifty in 14 innings he was dropped from the team after the Melbourne Test last December. The Saurashtra right-hander, who averages 75 at home, but only 29 away, has done much to ensure he is back in the reckoning.

He played county cricket for Yorkshire and scored 264 runs in four games, at an average of 52, including a match-winning 133 not out in his last match, against Hampshire.

In what is going to be a do-or-die game to stay alive in the series, India can't take a gamble with an underperforming Rohit, who averages 26 in three Tests at No 3 with scores of 53, 39, 6, 9 and 4.

Taking a step backward won't be bad for Kohli. It's a good time to think about bringing back Pujara, who can be a stubborn batsman in sub-continental conditions.

If Kohli is stubborn about retaining Rohit, he could promote Ajinkya Rahane to No 3 and dropping his Mumbai team-mate to No 6.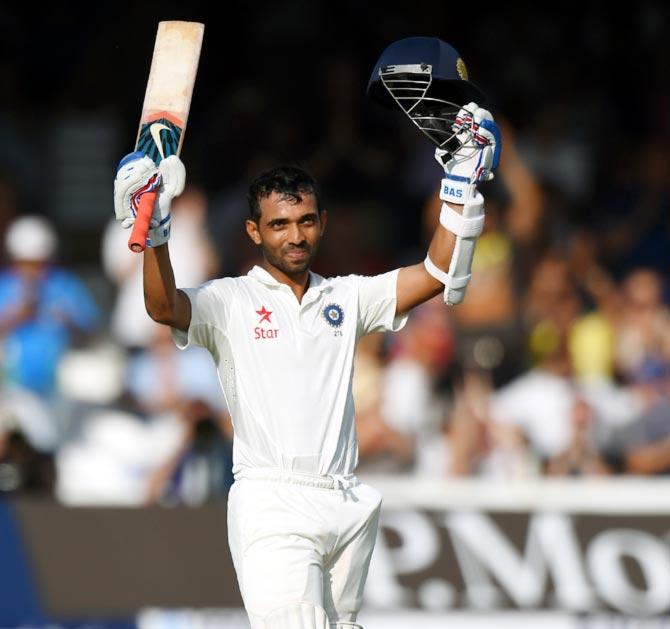 IMAGE: Ajinkya Rahane celebrates his century at Lord's, July 17, 2014. Photograph: Stu Forster/Getty Images
Rahane, who has a Dravid-like presence at the crease, has the game and temperament to succeed in all conditions as he proved in the last year or so.

When your No 3 is the weak link, the batting struggles more often than not.

Test cricket has traditionally seen some of its greatest batsmen walk out at No 3... Hammond, Bradman, Viv Richards, Lara, Dravid, Ponting, Sangakkara.

Who do you think is India's best choice for the No 3 slot for the second Test, starting Thursday, August 20.

Make your pick: