What can I say about Keith Miller?
The whole world admired him. And, of course, he was a boyhood hero to me, like he was to so many other people. He was a law unto himself.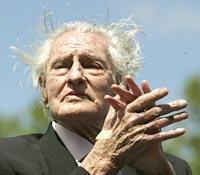 Princess Margaret asked Lord Mountbatten to invite him so that she could have dinner with him. He was the first and last charismatic cricketer. There was absolutely no one like him. He was a great all-rounder, I would say, even better than Gary Sobers.
If a young lady walked up to him for an autograph and he had his bat with him, he would willingly give away the bat. One thing I can say is if anyone came to him for an autograph or a picture he would readily sign on it.
Miller came to India before the war, and once in 1945, when the Australian Services side came here. They played a game at the Brabourne stadium. I was just nine years old then so don't have any memories of that. But he never played an official Test in this country.
I did meet him a few times. The last was when I had a chat with him in England this summer. The Lord's VIP gate, from where people like John Major (the former British prime minister) enter, is exactly opposite to my place in London. So I used to see him some times. He was a regular guest of [the late billionaire philanthropist] Paul Getty and came to England every year for cricket and racing.
| | |
| --- | --- |
| | Also Read |
| | |
Last year, I met him at the MCG (
Melbourne Cricket Ground
). He was very nostalgic about the CCI (
Cricket Club of India
) and asked about Rusi Modi (
the
former India Test batsman)
. He was very fond of India and wrote glowingly about the country.
Miller said the Brabourne stadium is the best cricket ground. He said, "It is one place where you can see the stadium from your room and walk straight into the pavilion."
There is a statue of Miller bowling at the MCG. He sent the CCI a signed picture of that statue. We are going to blow it up and showcase it here (at the CCI).
I remember Bob Simpson telling me that Miller once walked onto the ground in a tuxedo. And when someone reminded him that there were 12 fielders on the ground, he asked which one of them wanted to go back. 'Scatter,' he said. He told Bob Simpson, 'You're a slip fielder, you should be going.'
The one thing I remember while chatting to him was when we were watching a match and Pat Crawford (Australian fast bowler) was bowling really fast. Miller turned to me and said, 'I didn't know this bloke could bowl.'
That was Keith Miller, casual and full of fun. No one could tame him, not even Don Bradman!
As told to Deepti Patwardhan
Photogragh: Getty Images