'This was Kohli's veneration for his master: The man who had inspired him to pick up a cricket bat in the first place, the man he had grown up watching.'
'Just that now, he was exactly like him, or, dare it be suggested, maybe a shade better while chasing down daunting totals,' says Dhruv Munjal.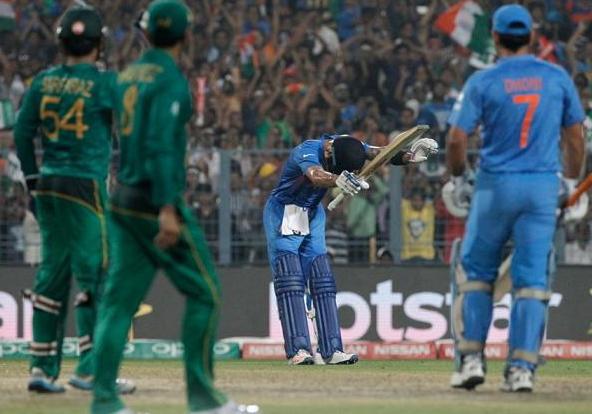 IMAGE: Virat Kohli dedicates his match-winning half-century against Pakistan in the World T20 to Sachin Tendulkar. Photograph: BCCI
With his amazing record as a finisher, especially in crunch situations, Virat Kohli is a match-winner like none other
By the time India's pivotal ICC World T20 game against Pakistan at Kolkata's Eden Gardens ended exactly a week ago, Virat Kohli had single-handedly taken his team home. He culled out 55 beautiful runs, as he drove, flicked and cut with practised ease.
At one stage of the match, India's chances looked slim with three of its top-order batsmen back in the pavilion. Shikhar Dhawan and Suresh Raina had been consumed off consecutive balls by the furious pace of Mohammad Sami. The Pakistani pacers, led by the crafty Mohammad Amir, looked eager to avenge their defeat at the Asia Cup in Dhaka on February 27. The exit door for the Indian team had been well and truly unlatched. This was destined to end in calamity.
Then, Kohli, like great men do in moments of crisis, took charge.
After reaching his half-century, Kohli languidly raised his bat, walked up to Mahendra Singh Dhoni for a gentle embrace, and, almost belatedly, bowed down to someone in the crowd. Some 100 metres away, Sachin Tendulkar stood up in the aisles, furiously waving the Tricolour, his joy encapsulated in an incandescent smile.
This was Kohli's veneration for his master: The man who had inspired him to pick up a cricket bat in the first place, the man he had grown up watching. Just that now, he was exactly like him, or, dare it be suggested, maybe a shade better while chasing down daunting totals?
Somewhere in the middle of the Indian chase at Eden Gardens, the inevitability of a Kohli masterclass had become apparent; an unwavering certitude that comes with very few players.
The same faith that has won India innumerable limited overs matches in the last few years, the same conviction that slayed a hapless Pakistan in the 2012 Asia Cup. Coming in with nothing on the board, Kohli blazed his way to a 148-ball 183, helping his team chase down an improbable 330.
Against Sri Lanka at Ranchi in 2014, Kohli scored 139 after India had lost four wickets for a little more than a hundred in pursuit of the islanders' 286. His dogged 49 on a lively track against Pakistan in Dhaka last month was another confirmation of his genius.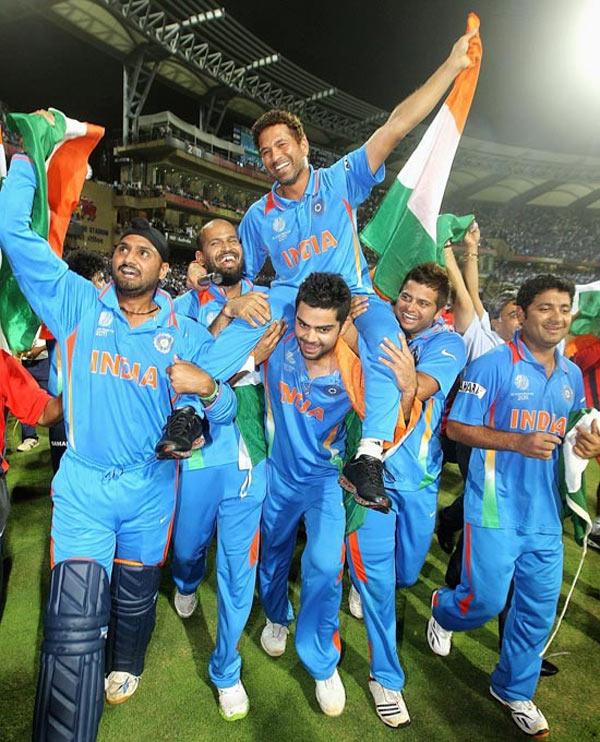 IMAGE: Virat Kohli hoists Sachin Tendulkar aloft after India's 2011 World Cup triumph at the Wankhede Stadium.
For most, Tendulkar is a sacrosanct, almost untouchable figure; a player whose greatness transcended generations, whose achievements with the bat many feel will forever remain impregnable. It may well turn out to be that way. But Kohli, at least for now, threatens to throw that into disarray.
Syed Kirmani, India's 1983 World Cup-winning wicket-keeper, says Tendulkar and Kohli are from two different eras and there comparison in terms of impact wouldn't be fair but acknowledges that "Kohli is well on his way to getting there."
The 1990s saw the emergence of Tendulkar as India's greatest match-winner. He was so often India's sole warrior, separating his side from victory and defeat. But Tendulkar's most valiant attempts often ended in despairing defeat.
Some of his finest knocks -- the 143 against Shane Warne and Australia on that mystical Sharjah evening of 1998, the back-spasm-defying 136 in the Test match against Pakistan at Chepauk the following year, the whirlwind 175 against Australia in Hyderabad in 2008 -- all ended in narrow losses for India.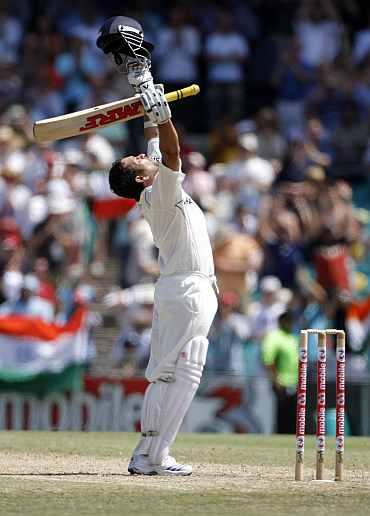 IMAGE: Sachin Tendulkar looks heavenwards after he hits a double century against Australia at the SCG, January 2, 2004.
The 1990s also gave rise to the dopey myth that India seldom won when Tendulkar scored big. Even as the cynics fervidly stuck to this theory, the pragmatists dismissed it as twaddle. In a lot of ways, that's what it was.
In the 234 ODI games that Tendulkar won while playing for India, he scored 33 centuries and 59 half-centuries: Stellar numbers.
Kohli's ODI numbers are, quite frankly, absurd. The 27 year old is the fastest to 7,000 runs, bettering the mark set by Tendulkar by 28 innings. He has 15 hundreds in chases (out of his 25), as compared to Tendulkar's 17 (total: 49).
The caveat is that Kohli's 15 have come in 91 outings, while Tendulkar took 232 matches to get his 17 tons. But then bats have got bigger, the grounds tinier and the game has tilted in favour of the batsman more than ever before.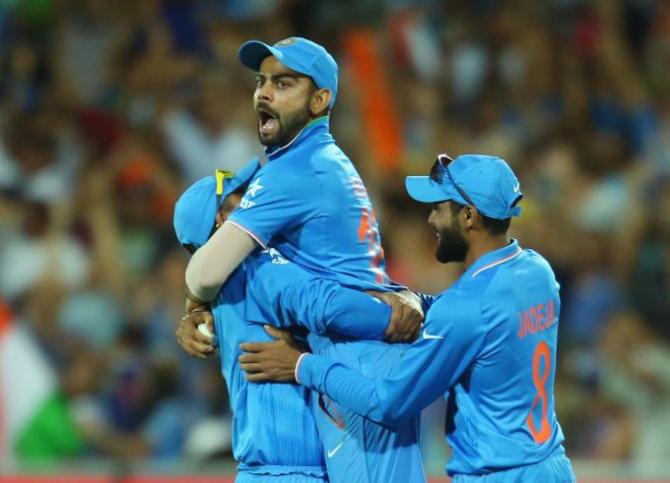 IMAGE: Virat Kohli during the 2015 ODI World Cup in Australia. Photograph: Scott Barbour/Getty Images
India's 1983 World Cup-winning captain, Kapil Dev, earlier this week described Kohli as someone who is better than Vivian Richards, Ricky Ponting, Brian Lara and Tendulkar. 'The more I look at him, the more I'm convinced that he's the best out there,' he said.
Nayan Mongia, another former Indian wicket-keeper, refuses to draw comparisons between the two, but says that Kohli is as good as any match-winner India has seen in the last two decades. "When it comes to winning matches, he is up there with the best," says Mongia.
In October 2013, Kohli scored two blistering centuries that first spawned his comparison with Tendulkar. Against Australia, Kohli struck 100 in 52 balls -- the fastest hundred by an Indian in ODI cricket -- at Jaipur, followed by 115 in Nagpur exactly two weeks later. India chased down scores in excess of 350 in both the games.
For this generation, these two knocks were the equivalent of what Tendulkar had done at Sharjah 15 years earlier. The same grace, power and poise: Qualities that when put into full effect give captains and bowlers sleepless nights.
Even Kohli's bat, as Harsha Bhogle pointed out, was identical to Tendulkar's -- sporting the same sticker. Kohli had arrived, and how. This was the shooting of the first scene of the making of a modern-day legend. An entire movie was to follow.
Pradeep Sangwan spent almost his entire childhood playing with Kohli. The two first became teammates while playing for the Delhi under-15 team. Sangwan has seen Kohli go from precocious talent to world-beater from close quarters. "You look at him, do you see any weaknesses? I don't. There just aren't any," he says.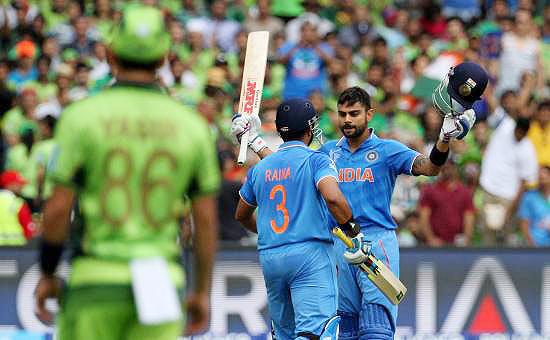 IMAGE: Virat Kohli celebrates with Suresh Raina after hitting a century against Pakistan in the ODI World Cup, February 2015. Photograph: Vipin Pawar/Solaris Images
Last summer, just before the World Cup, Kohli struggled against the moving ball outside his off-stump, a weakness that was brutally exposed by the likes of Mitchell Johnson and Steven Finn. "That was a problem. But he corrected that very quickly. There is no sign of that now," says Sangwan. "That's what makes him so good."
Kohli fears no one. Tendulkar struggled appallingly against James Anderson late in his career.
Another former cricketer, who agrees to speak on the condition of anonymity, says that no discernible shortcoming is what makes Kohli better than Tendulkar. "Tendulkar struggled against a particular type of bowler or opposition. You could get at him. With Kohli, he treats everybody with the same disdain. And, his self-belief is incredible."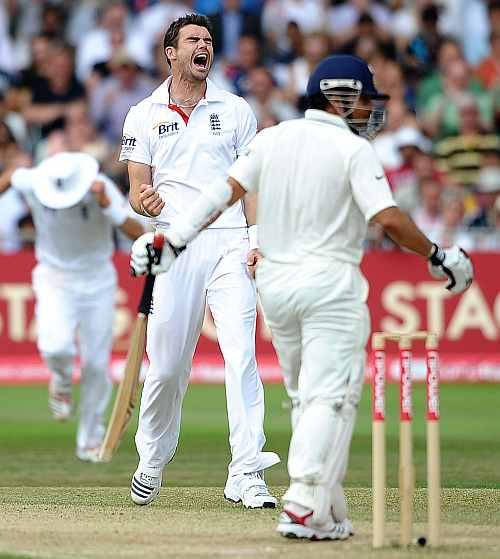 IMAGE: Sachin struggled against James Anderson in the latter part of his career.
Self-belief, which makes him withstand the pressure in crunch situations, is something ingrained deep in Kohli's persona; the 'don't worry, I will get you home' kind of stuff. "He has always liked a challenge. More important, he wants to overcome that challenge. That's where he gets this self-belief from," says Rajkumar Sharma, Kohli's childhood coach.
Tendulkar, smothered by the weight of expectation, often crumbled in key situations. Two World Cup finals -- 2003 and 2011 -- are prime examples. In both the games, India was chasing sizeable totals and Tendulkar imploded. But then, Kohli, at this stage of his career, isn't bound by the kind of pressure that Tendulkar was subject to for maybe far too long.
Another former cricketer, on the condition of anonymity, says that Kohli's ability to manipulate the opposition and his chanceless style of batting is what sets him apart. "Once he's in, he's in. He just doesn't give you a chance. And, you can't say that about too many batsmen," he says.
True. Even A B de Villiers and Steven Smith, two of the most prolific run-scorers in the game today, always offer bowlers a window of opportunity. With Kohli, that is seldom the case; such is the assuredness that accompanies him.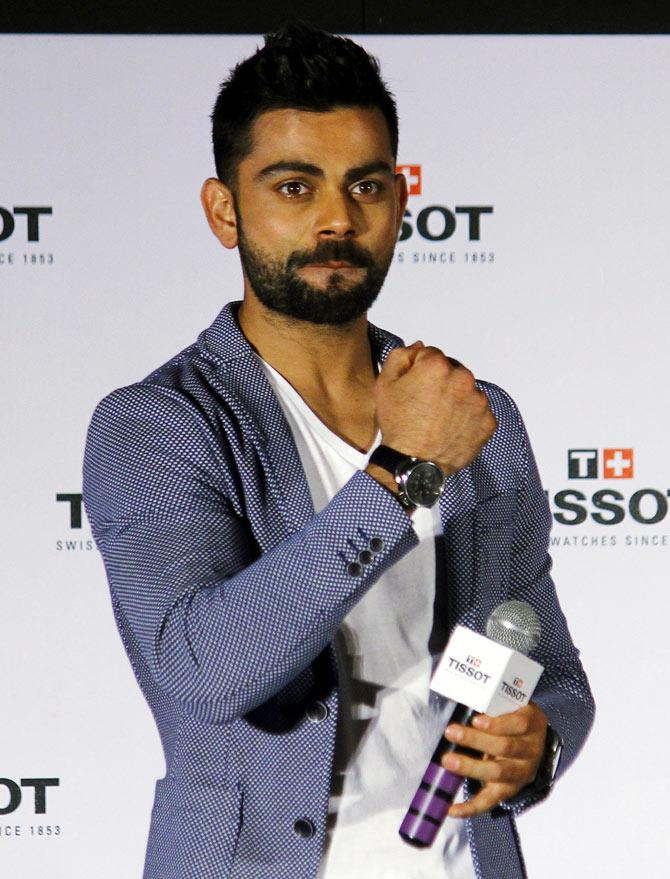 IMAGE: Virat Kohli unveiled as the Indian male brand ambassador for Swiss watch manufacturer Tissot. Photograph: Hitesh Harisinghani/Rediff.com
Kohli's exploits on the field have helped rich returns off it. The Indian Test captain currently endorses 13 brands, including Pepsi, MRF, Audi and Tissot. His bat deal with MRF is the most lucrative among all his teammates. Comparisons with Tendulkar here too are obvious.
Kohli is quite the antithesis of his idol. Tendulkar was always grounded, soft-spoken -- a piece of pre-liberalisation conservatism. Kohli, who breathes fire and hurls abuses at the opposition, unfriendly crowds included, is the new India: In your face, unapologetic and result-oriented.
Varun Gupta, managing director (India), American Appraisal, the company that every year evaluates the Indian Premier League as a brand, says that Kohli may surpass his idol in terms of pure dollar value, but Tendulkar will forever remain a brand pioneer.
"It's fair to say that there is more money in cricket today than 15 years ago. Since they are from different eras, Kohli may actually end up making more, but Tendulkar will forever be the ultimate benchmark," he says.
Brand expert Harish Bijoor describes Tendulkar as "brand ambassador emeritus." "Kohli, with his image of an aggressive and brash young man, can attract big brands. But competing with Tendulkar on that front is asking for maybe too much," says Bijoor.
Gupta adds that what makes Kohli so appealing is his visibility: "He comes out to bat early and stays in for long periods. Moreover, he plays all three formats."
A genius that cuts across all three formats -- perhaps that's what illustrates Kohli's greatness. Twenty years ago, Tendulkar did not have to grapple with the prospect of playing three entirely different formats of cricket in a matter of days. He did not have to face the new ball on a green top in a Test match followed by the daunting task of scoring at 10 runs an over in a T20 game three days later. Kohli is faced with that very proposition every once in a while, and the results are spellbinding.
"Kohli can score against any team in any format. He is the embodiment of the modern-day batsman," says Mongia.
Tendulkar played just one T20 international. Given his penchant for decimating bowling attacks, you sometimes wish T20 cricket was introduced 10 years earlier than it actually was -- when Tendulkar was at his absolute peak. He would have been the ideal fit. Maybe, God gave us Kohli to make up for that.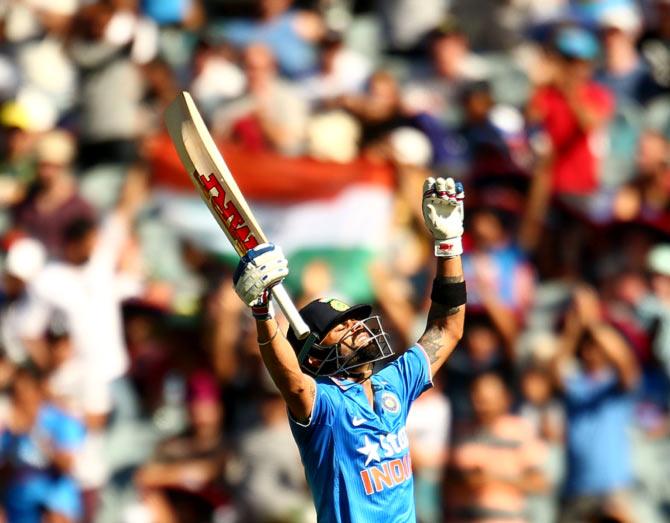 IMAGE: 'Kohli can score against any team in any format. He is the embodiment of the modern-day batsman.'
For someone who averages an eye-popping 52.50 in T20 internationals (in excess of 80 while chasing), Kohli is far from the swashbuckling, ball-crushing batsman that this format perennially craves. He isn't the greatest innovator either. He is just an all-round batting monster whose last shot is hit with the same earnestness as his first, the beauty in each stroke startlingly palpable.
As a complete batsman, Tendulkar had few peers; he was an immortal among mortals, someone who rewrote record books with the same easy flourish with which he wielded his willow. His numbers may forever prove to be insurmountable. But once in a while, a young man challenges the old guard, throwing down the gauntlet and then thwarting it himself.
Virat Kohli is that man. And he is just 27.