Rediff.com's Harish Kotian assesses Team India after the series against the Kiwis.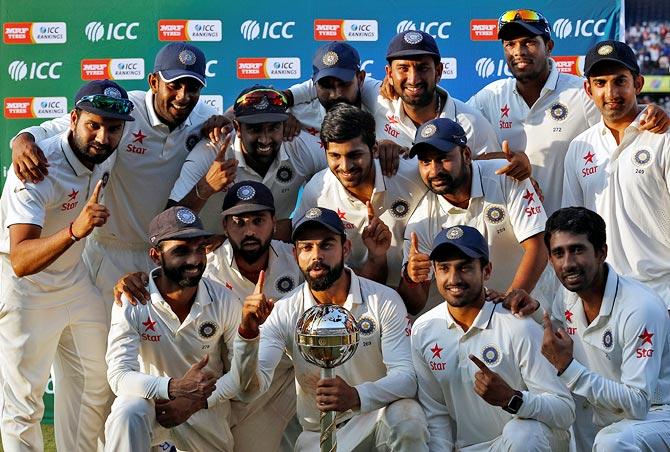 IMAGE: India's players celebrate winning the Test series against New Zealand. Photograph: BCCI
India's domination at home was clear for everyone to see as the Men in Blue demolished the Kiwis 3-0 in the Test series.

World No 1 bowler Ravichandran Ashwin proved the wrecker-in-chief for India claiming 27 wickets to play a major role in the series sweep.

Cheteshwar Pujara was at his consistent best with the bat with three 50s and a century.
Ajinkya Rahane was not far behind either while Captain Virat Kohli got the monkey off his back with a sparkling double hundred in Indore to end a rare sequence of poor scores.

Check out how India's players fared in the series:

Virat Kohli (Captain) 8/10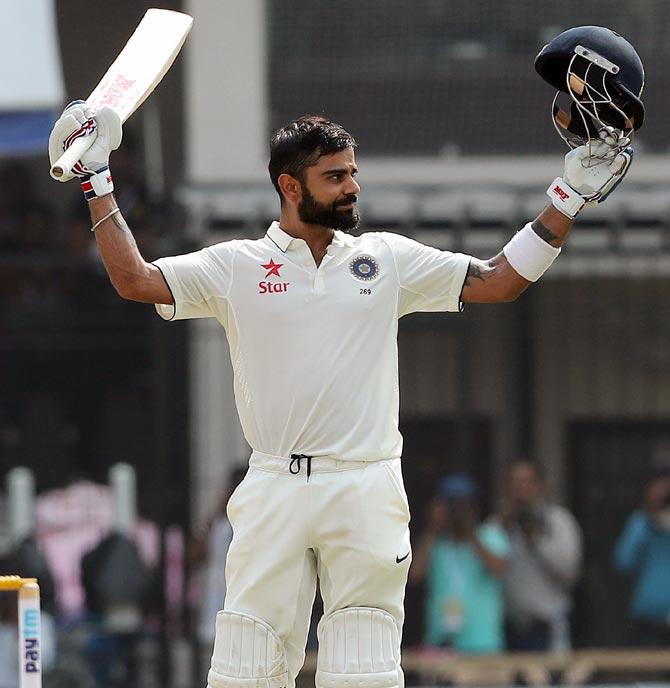 IMAGE: Virat Kohli celebrates his second Test double century. Photograph: BCCI
A captain who leads by example, Virat Kohli is an inspirational leader though he is just into year two in the job.

He has now led India to four consecutive series wins and has made telling contributions, both with the bat and as skipper.

After a string of unKohli-like scores he answered his critics in style with a majestic 211, the first Indian to hit two double hundreds as captain.

As skipper he has got the best out of his players. The best example would be how Rohit Sharma has responded to Virat's confidence in him, certainly one of the big positives for India from this series.

Other than the double ton, Kohli had nothing much to show for in the series. He scored 309 runs in 6 innings at an average of 51.50.

Murali Vijay: 7/10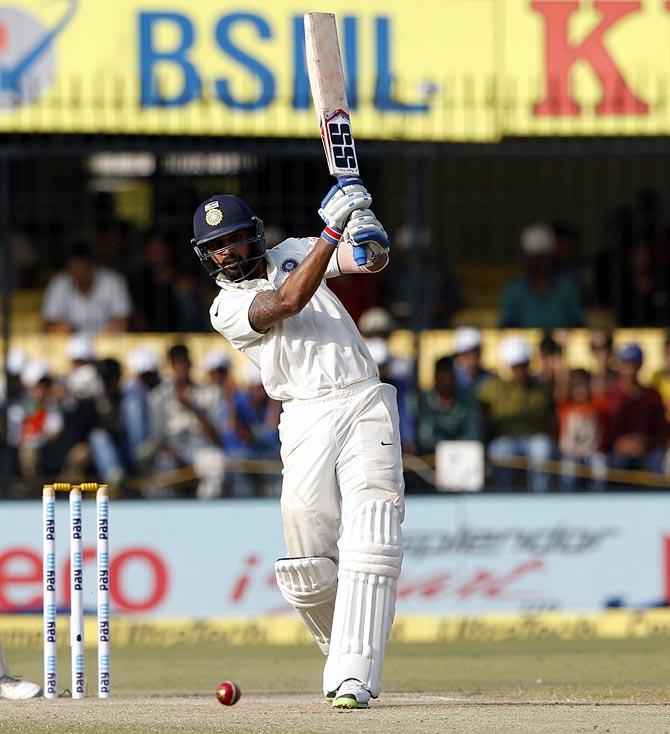 IMAGE: Murali Vijay during the third Test in Indore. Photograph: BCCI
Murali Vijay is one of the most bankable Indian batsmen in Test cricket.

In this series though, he was guilty of not carrying on after getting off to starts.

He started the series with two half-centuries in the first Test in Kanpur, but failed to cross the 20-run mark in the four innings thereafter.

In the third Test in Indore, he was unfortunate to perish off freak dismissals in both innings. In the first inning, Tom Latham produced an unbelievable catch at short leg after Vijay played the flick shot and in the second a misunderstanding with Cheteshwar Pujara saw him throw his wicket away via a run out.

A tally of 186 runs in 6 innings at an average of 31 would certainly disappoint Vijay.

Cheteshwar Pujara: 9/10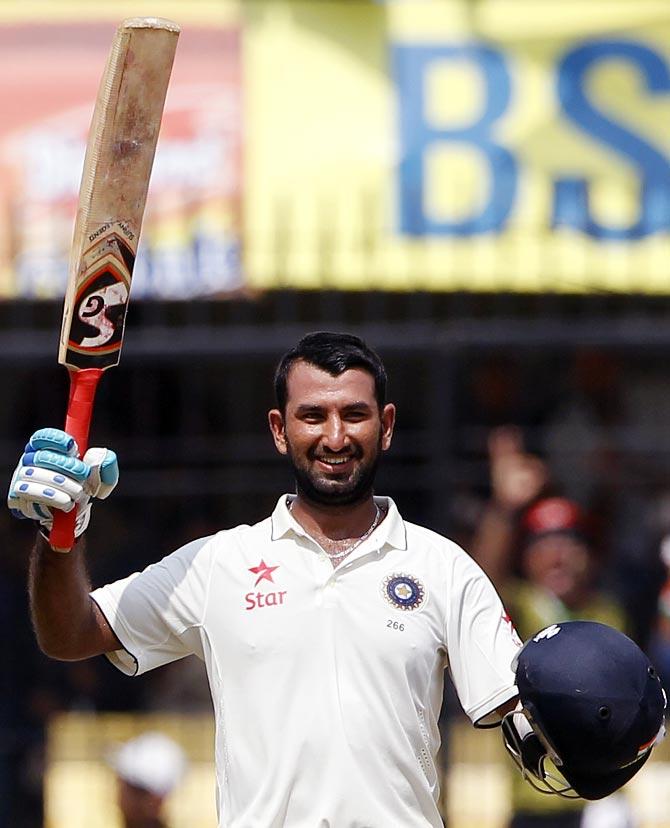 IMAGE: Cheteshwar Pujara celebrates his century in Indore. Photograph: BCCI
Coming into the series under pressure to retain his place in the side, Cheteshwar Pujara responded wonderfully to the challenge.

Carrying on his good form from the Duleep Trophy into the Test series, he not only scored runs in plenty but also ensured it came at a brisk rate.

He hit four half-centuries in his six innings in the series and finished as the top run scorer with 373 runs at an average of 74 with a strike rate of 50.

India's new 'Wall' has settled the No 3 debate for this season.

Ajinkya Rahane 8/10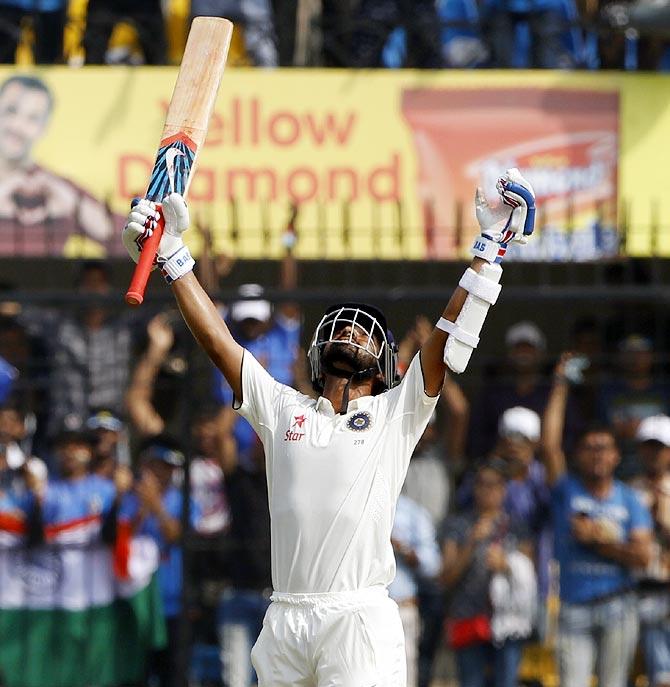 IMAGE: Ajinkya Rahane celebrates his century in Indore. Photograph: BCCI
Ajinkya Rahane lived up to his top billing.

Such has been the Mumbai batsman's consistency that he has scored at least 90 in his last nine series.

This series, he scored 347 runs at an average of 69.

Unlucky to miss out on his first double century in Indore -- he perished for 188 -- in the pursuit of quick runs for the team's sake, he could have easily played risk-free cricket and got to the coveted landmark. But the team came first for Jinx. Wah!

Rohit Sharma 7/10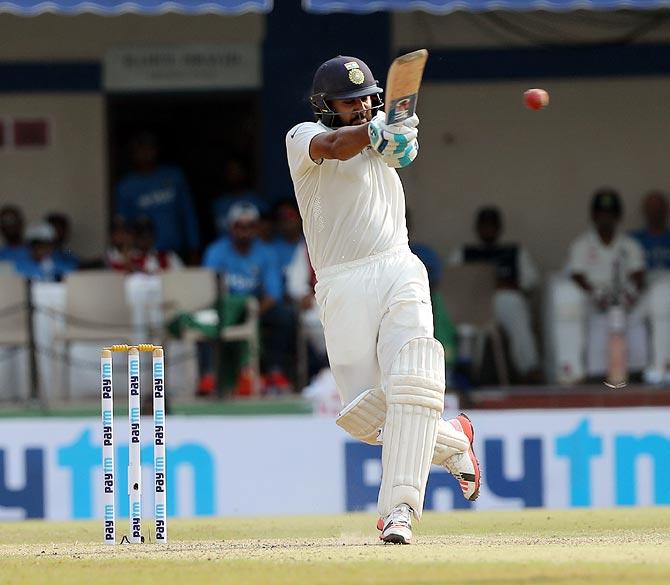 IMAGE: Rohit Sharma pulls a short ball. Photograph: BCCI
Each time Rohit Sharma walks out to bat in a Test match, the pressure is immense.
His huge success in limited overs cricket has proved a bane when it comes to Test cricket, Each failure in the longer format is analysed in detail and compared to his ODI records.

The talented Mumbai right-hander repaid the faith shown in him by Kohli and Coach Anil Kumble as he played crucial knocks (35 and 68 not out) in Kanpur and in the second innings in Kolkata.

When he came out to bat at his favourite Eden Gardens, India were reeling at 43/4 and were then reduced to 91/5 before he stroked 82, putting on 103 runs for the 7th wicket with Wriddhiman Saha to take India to safety.

He continued his good run with another half-century in Indore to finish with a respectable 238 runs at an average of 73.

Gautam Gambhir 6/10
IMAGE: Gautam Gambhir hits out in Indore. Photograph: BCCI
Back in the Test team after two years, Gautam Gambhir gave a good account of himself.

With Shikhar Dhawan and K L Rahul injured, India brought back Gambhir who had a good run in the Duleep Trophy.

He responded with a good half-century in the Indore Test to show that there is still some life left in the old trooper.

Will the team management keep him in contention for the five-Test series against England when Rahul and Dhawan return?

K L Rahul 5/10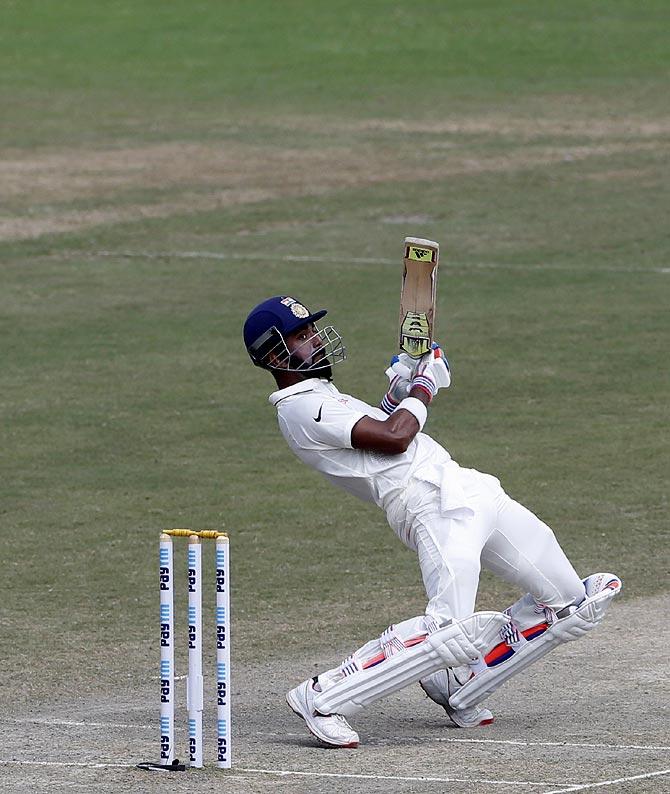 IMAGE: K L Rahul in the first Test in Kanpur. Photograph: BCCI
It was an injury at the worst possible time for young K L Rahul.

He failed to make the most of getting off to good starts in both innings in the first Test in Kanpur, getting out for 32 and 38 before a hamstring injury saw him ruled for the next two matches.

Certainly he is one for the future!

Shikhar Dhawan 4/10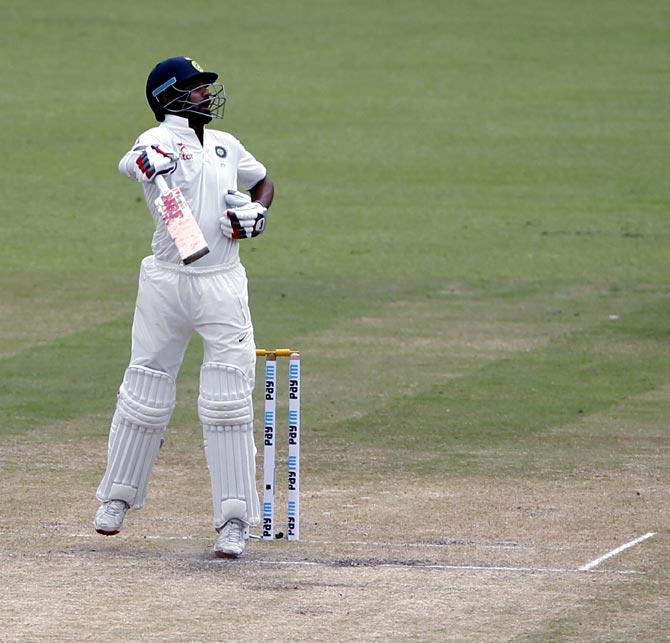 IMAGE: Shikhar Dhawan is struck on the arm by a short delivery from Trent Boult during the second Test in Kolkata. Photograph: BCCI
Rahul's injury meant that Shikhar Dhawan got another lifeline, but he failed to seize his opportunity.

He failed in both innings (1 and 17) in Kolkata before he got injured as he fractured his left thumb after being hit by short deliveries from Trent Boult.

With Gautam Gambhir scoring a 50 on his return, and Vijay along with Rahul being the two preferred openers it remains to be seen if Dhawan will retain his place for the England series.

Wriddhiman Saha 7/10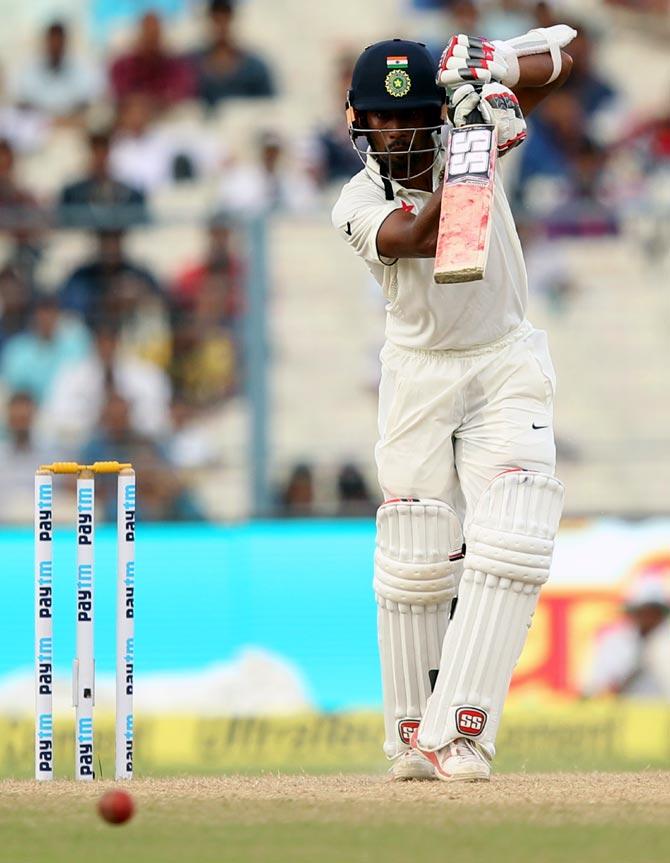 IMAGE: Wriddhiman Saha during the second Test in Kolkata. Photograph: BCCI
He may never have a movie made on his life, but Wriddhiman Saha is that one feisty character every captain wants in their team.

Saha proved his worth to the Indian team with good performances with the gloves and also with the bat, especially at his home ground in Kolkata.

He hit unbeaten half-centuries in both innings in Kolkata and on both occasions. He hit 54 not out in the first innings, helped India put on 114 runs for the last six wickets and end up with 316 on a difficult wicket.

In the second innings, he arrived at the crease at 91/5 and steered the total to 263 with another dogged innings of 58 not out.

If anything, Saha may want to work on his 'keeping, especially when dealing with the spinners. On a difficult track in Indore he failed to get his gloves to a few edges off the spinners.
Ravichandran Ashwin 10/10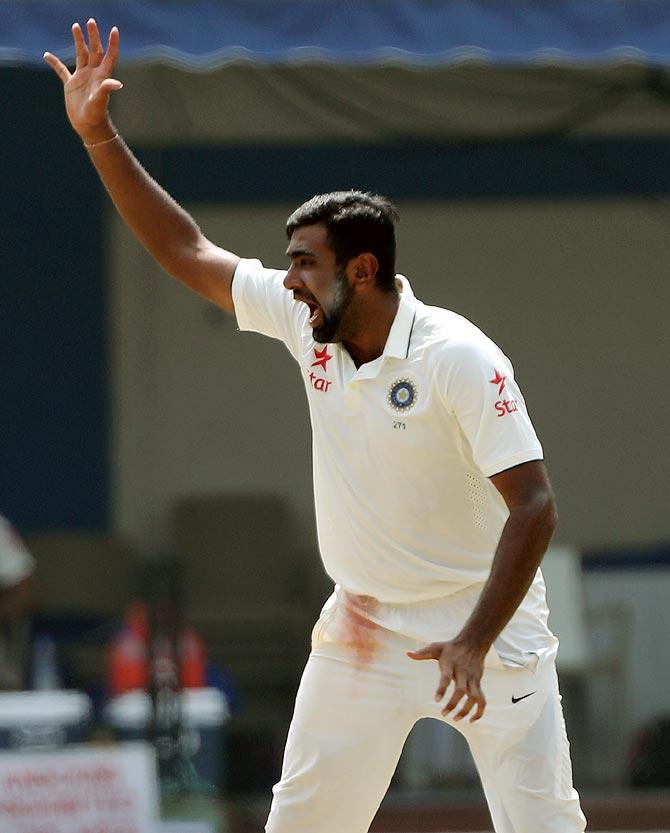 IMAGE: Ravichandran Ashwin celebrates New Zealand Skipper Kane Williamson's wicket in Indore. Photograph: BCCI
If Virat Kohli has been the superstar with the bat, Ravichandran Ashwin has been his equal with the ball for India in the last year or so.

He returned with a massive haul of 27 wickets in three Tests at an average of 17 including two 10 wicket match hauls of which three were 5-wicket hauls to single-handedly lead the destruction of the Kiwis.

Ashwin's strike rate for the series reads 32.5 which means a wicket every five overs or so.
There were times in the series when he looked like taking a wicket with every delivery.

The No 1 bowler in Test cricket, he also played two good innings with the bat, scoring 40 in Kolkata followed by 26 in the next game.

'Once I get into a good rhythm,' he said this week, 'I think I can beat any batsman in the world. That's where I stand right now.'

Ravindra Jadeja 8/10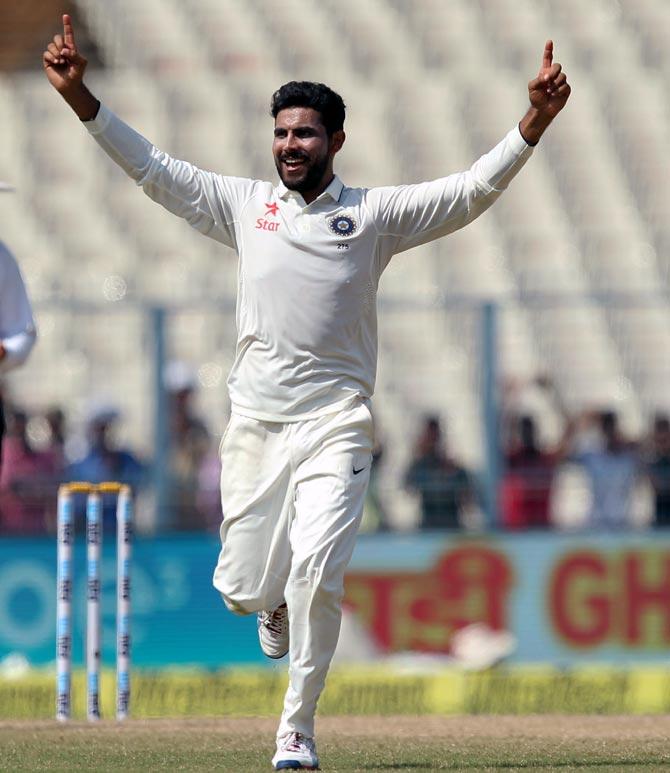 IMAGE: Ravindra Jadeja celebrates a wicket in Kolkata. Photograph: BCCI
Ravindra Jadeja has proved to be the perfect foil for Ashwin.
The left-arm spinner keeps one end tight and builds up the pressure continuously, which has proved be beneficial for the bowler at the other end.

Jadeja has done well with both bat and ball.
He was India's second best bowler with 14 wickets at an average of 24.

He also played two good knocks, tallying 129 runs at an average of 64 with one half-century.

Mohammed Shami 7/10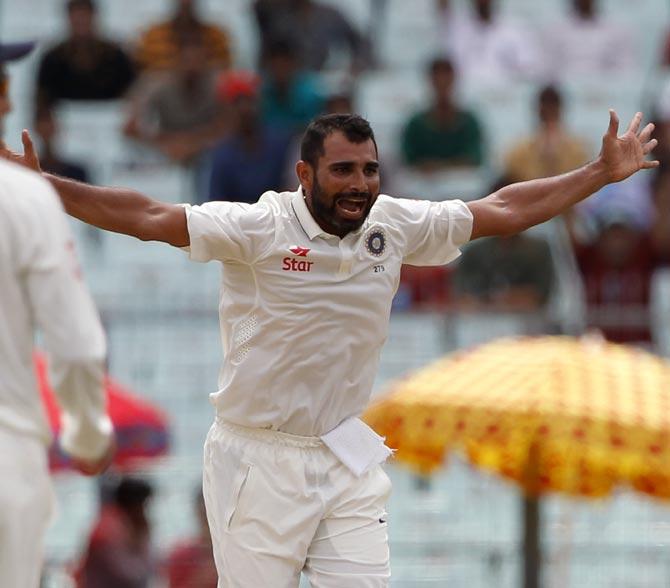 IMAGE: Mohammed Shami appeals for a wicket. Photograph: BCCI
Mohammed Shami has continued to impress since making a comeback to international cricket following a year out of the sport because of injuries.

He was among the best fast bowlers in the series from both sides, continuously troubling the batsmen both with the new ball and using reverse swing to good effect with the old ball.

Shami claimed six wickets in the Kolkata Test in which the Kiwis were rolled by the Indian fast bowlers -- Shami and Bhuvneshwar Kumar -- with the pacers combined claiming eight wickets in the first innings.

Shami went wicketless in the Indore Test where he had nothing much to do, but finished the series with a respectable eight wickets at an average of 30.

Bhuvneshwar Kumar 8/10
IMAGE: Bhuvneshwar Kumar celebrates a wicket in Kolkata. Photograph: BCCI
Bhuvneshwar Kumar showed why India have been wrong in benching him on the basis of just pace.

The much-faster Umesh Yadav was preferred for the series opener in Kanpur where he took just one wicket in 23 overs.

Bhuvneshwar replaced him in the next match and grabbed his opportunity with both hands, claiming 5/48 in the first innings to bundle out the Kiwis for 204.

He could not carry on his good form as a back strain forced him out of the final game in Indore.

Umesh Yadav 5/10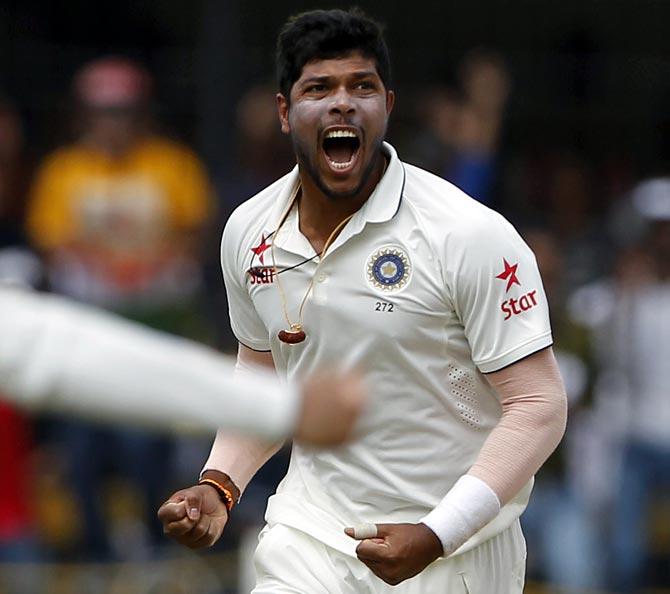 IMAGE: Umesh Yadav celebrates a wicket in Indore. Photograph: BCCI
Umesh Yadav excites everyone with his raw pace, but that has not resulted in too many wickets especially in Tests.

In the New Zealand series, he was dropped after the first game and then came back for the third following Bhuvneshwar's injury.

In that game too, he claimed just one wicket as the spinners did most of the damage.

He finished the series with just two wickets in two games.