Sangakkara, Dhoni, McCullum, de Villiers...
Cricket has never had so many amazing wicketkeeper-batsmen in the same era, notes Haresh Pandya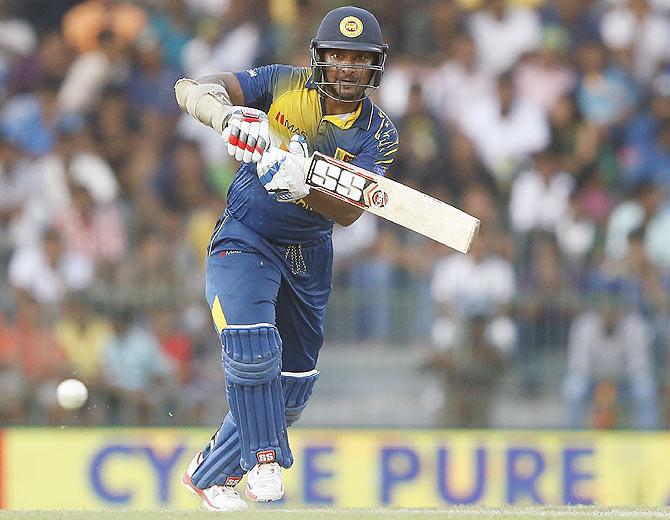 Image: Kumar Sangakkara's return to form ahead of the World Cup means well for Sri Lanka. Photograph: Dinuka Liyanawatte/Reuters
An attractive feature of this World Cup is the presence of an array of wicketkeepers, more feared in front of the wicket than likely behind it.
Most of them wield the willow as well -- if not better -- as many accomplished specialist batsmen. Their collective and individual exploits are part of cricket folklore.
Their arrival at the wicket invariably trigger great expectations. Opponents remain restless until these special batsmen are back in the dressing room.
World cricket has never had so many amazing wicketkeepers, who are equally good batsmen, playing in the same era.
Leading the charge of this dangerous brigade is Kumar Sangakkara.
The former Sri Lanka captain is the mainstay of his team's batting, even at the age of 37, despite being its wicketkeeper.
Sangakkara has scored runs, and scored heavily, in all parts of the world, on different wickets, against varied attacks and in every situation imaginable.
The left-hander, who has scored 12,203 runs in 130 Tests at a whopping average of 58.66 -- which is much higher than Sachin Tendulkar's average -- has scored 13,693 runs at 40.99 in 397 ODIs.
Sangakkara's 38 Test hundreds (in addition to 51 half centuries) and 21 ODI centuries (plus 93 fifties) highlight his genius with the bat.
After a brief dry spell, by his high standards, Sangakkara has returned to form just before the World Cup, scoring 203 in his last Test and scoring 81 and 113 not out in his last two ODIs -- all against New Zealand in New Zealand last month.
Sangakarra's form augurs well for Sri Lanka, one of the favourites to win the World Cup.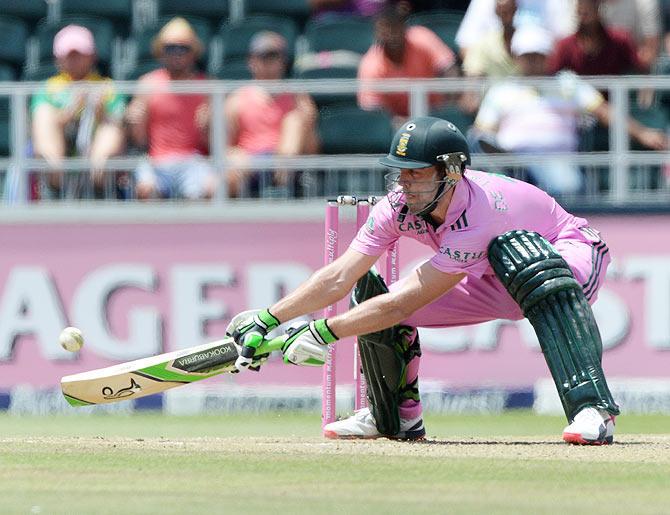 Image: South Africa's captain A B de Villiers scored a century in a record 31 deliveries. Photograph: Duif du Toit/Gallo Images/Getty Images
AB de Villiers may not keep wickets these days, but for most of his 179 ODIs he has been a wicketkeeper. And his batting has always overshadowed his 'keeping.
Explosive, innovative and astonishingly adventurous, de Villiers is a sight to behold at his best. He scores runs at a mindboggling pace and hits fours and sixes at will.
AB recently scored a whirlwind, world record, 31-ball ODI hundred at the Wanderers in Johannesburg.
He went on to score 149 runs off just 44 balls with 9 fours and 16 sixes at an incredible strike rate of 338.63.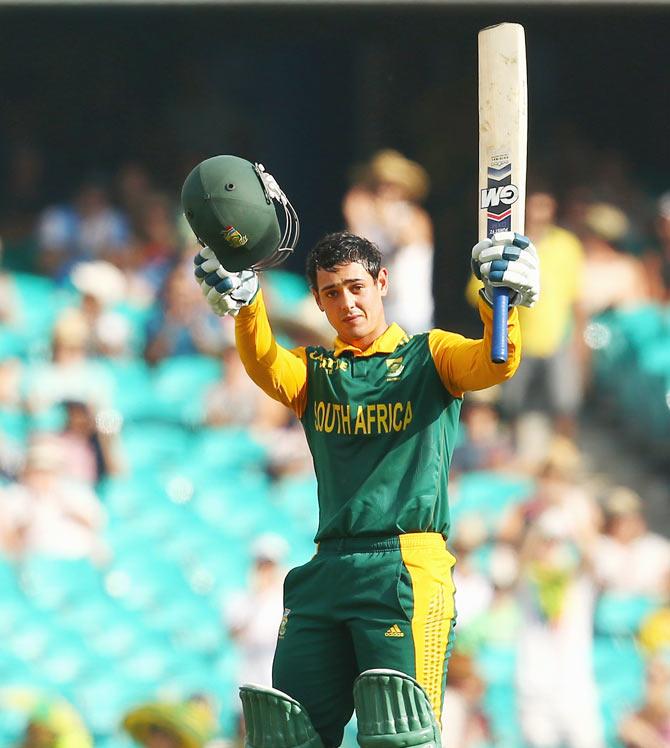 Image: Just like de Villers, Quinton de Kock, South Africa's second 'keeper, likes to dominate the bowling from the outset. Photograph: Mark Kolbe/Getty Images
Besides de Villiers, the Proteas have another wicketkeeper in Quinton de Kock, who is also a magnificent batsman.
The 22-year-old left-hander, who will be South Africa's main wicketkeeper in the World Cup, has, in 36 ODIs, scored 1,486 runs, including six centuries and four half-centuries, at a remarkable average of 42.45.
His strike rate is an impressive 88.29.
Just like de Villiers, he wants to dominate the bowlers from the beginning of his innings.
De Kock is one of the many South Africans expected to play a key role in the World Cup, which the Proteas have been desperate to win since their return to international cricket in 1991.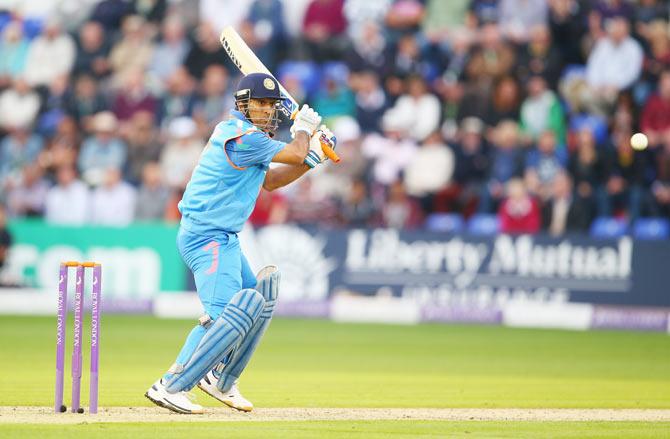 Image: On his day, Mahendra Singh Dhoni can transform a game. Photograph: Michael Steele/Getty Images
Mahendra Singh Dhoni proved to the world in the 2011 World Cup final what he can do when he is in the mood.
The six with which he finished off the game and won the World Cup for India, remaining unconquered on a superlative 91, symbolised Dhoni's essence as a batsman.
He has been one of the finest batsmen at No 6 or 7 in contemporary cricket in all three formats and can walk into any team on the strength of his batting alone.
Dhoni must play a stellar role with the bat in the World Cup since India's batting looks fragile Down Under.
He may not be in the same class as Sangakkara and de Villiers, but on his day he can be one hell of a batsman without being elegant and flamboyant.
Another talented player from the subcontinent, Pakistan's Umar Akmal, is also an excellent combination of a quality wicketkeeper and a class batsman.
He had been Pakistan's first choice wicketkeeper until recently and did a decent job in front of the stumps as well.
In 93 innings from 104 ODIs he has scored 2,749 runs at 35.24 with the help of two centuries and 19 fifties.
Akmal's strike rate, 86.47, is indicative of the aggressive streak in his approach when at the wicket.
Though Sarfraz Ahmed (3 centuries and 4 fifties in 13 Tests and 473 runs in 25 ODI innings without any 100) has shown a lot of promise with the bat and is now Pakistan's main wicketkeeper, it is possible that Misbah-ul Haq may prefer the tested and trusted Akmal in key World Cup matches because of his experience. In reality, there is very little to choose between Akmal and Ahmed when it comes to batting.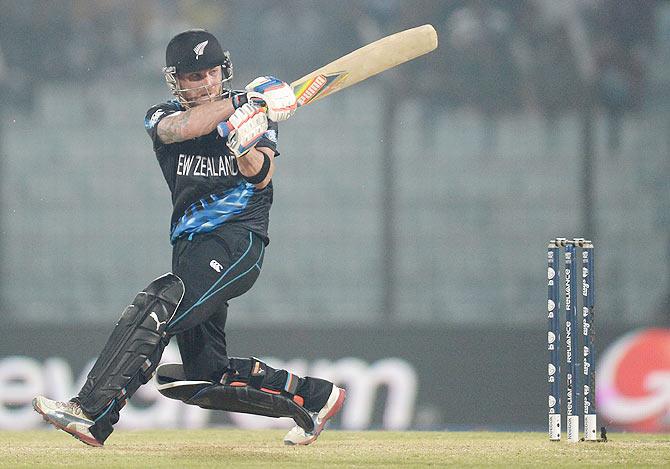 Image: Brendon McCullum is one dangerous batsman. Photograph: Gareth Copley/Getty Images
Like most modern stumpers, Brendon McCullum -- who no longer keep wickets for New Zealand -- is a brutal, attacking, batsman with a penchant for hitting sixes.
The Kiwi skipper has played a number of breezy innings in ODIs and Twenty20 games and built a reputation as one of the most dangerous batsmen around.
He has hit five ODI hundreds (the highest being 166) and his strike rate is a shade above 90.
New Zealand's main wicketkeeper, Luke Ronchi, is a phenomenal striker of the ball, having scored 912 runs in 32 ODI innings at a staggering strike rate of 123.74.
Ronchi may have hit only a solitary ODI century, but it was not a typical or routine ODI hundred.
Batting at No 7 in the fifth ODI against Sri Lanka at Dunedin on January 23, Ronchi devastated the islanders with a hurricane 170 not out of just 99 balls with 14 fours and 9 sixes, adding 267 runs for the sixth wicket with Grant Elliot (104 not out) in merely 30 overs.
The presence of big hitters like MuCullum and Ronchi -- plus Corey Anderson and Ross Taylor -- make New Zealand a formidable side and one of the top contenders to win the World Cup.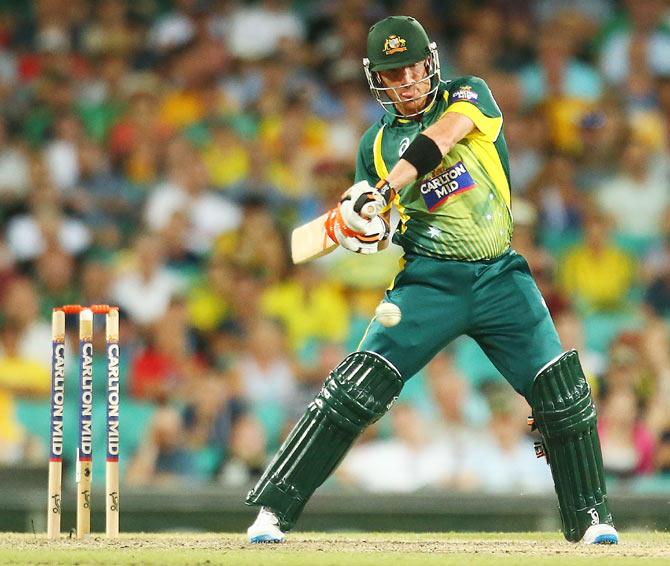 Image: With a batting strike rate of 82.62, Brad Haddin is a quality player down the order for the Australians. Photograph: Mark Nolan/Getty Images
Brad Haddin continues to excel both behind and before the wicket regardless of being 37-plus.
He has always been a very reliable batsman down the order, carrying forward Australia's rich legacy of wicketkeepers.
Since Australia has a strong batting line-up, Haddin does not get too many opportunities to show his worth with the willow. But there are few better late-order batsmen than Haddin when it comes to rescuing his team from trouble.
The vastly experienced Haddin can attack and defend with aplomb, depending on the situation. He has often sacrificed his wicket in the shorter versions of the game for the sake of his team.
His record is pretty attractive: 2,996 runs at 31.20 in 110 ODI innings with two centuries and 16 half-centuries. His strike rate is 82.62. Haddin has four centuries and 18 half-centuries in 63 Tests.
England's Jos Buttler, who has been playing ODIs since 2012 and Tests since the last English summer, has been fairly impressive, scoring 1,139 runs in 42 ODI innings, including one century and 6 fifties, at an average of 31.63 and a strike rate of 108.89.
He brings much freshness and innovation at the crease and when he is in the mood appears to be a very confident and clean striker of the ball
Image: Denesh Ramdin can hold his known without being consistent. Photograph: Scott Barbour/Getty Images
Denesh Ramdin has kept the Caribbean flag flying with his individual performance with the gloves and bat even as the West Indies struggle in all formats.
Two ODI centuries and four Test hundreds speak for Ramdin's ability as a batsman.
He may not be in the same class as Jeffrey Dujon and Ridley Jacobs, the two Windies wicketkeepers who were also outstanding batsmen, but can hold his own as a batsman without being consistent.
Ramdin is more prolific now than earlier in his international career. The West Indies will need cameos from Ramdin down the order to survive in what will be a very tough World Cup for the 1975 and 1979 champions and 1983 finalist.
Bangladesh wicketkeeper Mushfiqur Rahim is a good batsman.
The 26-year-old right-hander has played 140 ODIs and scored an impressive 3,153 runs, including two hundreds (his highest being 117) and 18 fifties, at 28.92.
In addition he has made 2,511 runs at 33.48, and hit three centuries and 14 half-centuries in 81 Test innings.
Often, when Bangladesh batsmen come a-cropper, Rahim holds his team together with his gutsy batting.
Zimbabwe's Regis Chakabva is also spoken of highly for his batting. His maiden Test century (101) and two fifties (65 and 89 not out) in Bangladesh late last year were brilliant efforts, according to those who witnessed them.
Chakabva has featured in 24 ODIs and is yet to score a fifty.
It will be interesting to see how Afghanistan's Afsar Zalal (8 ODIs, 206 runs, highest 60), the UAE's Swapnil Patil (5 ODIs, 107 runs, highest 99 not out), Ireland's Gary Wilson (52 ODIs, 1,129 runs, 1 century, 7 fifties, highest 113) and Niall O'Brien (64 ODIs, 1,649 runs, 12 fifties, highest 80 not out), and Scotland's Matthew Cross (11 ODIs, 140 runs, highest 55), all decent batsmen, fare in the World Cup.