'They need to click as a group, not as batsmen or bowlers.'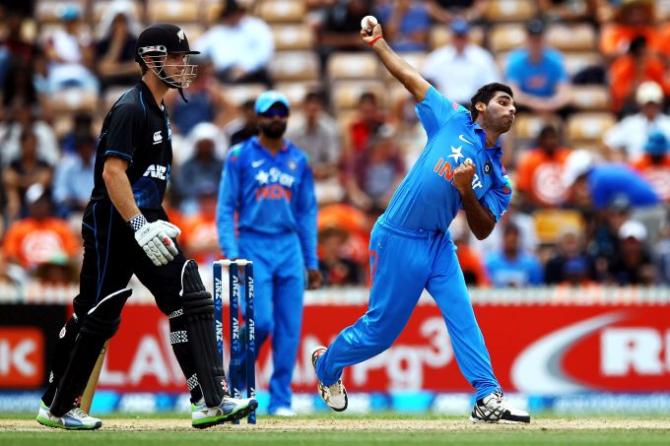 Image: Bhuvneshwar Kumar during a one-day game. Photograph: Anthony Au-Yeung/Getty Images
Former Australia all-rounder Tom Moody raises questions about medium-pacer Bhuvaneshwar Kumar's position in the Indian side.
Essentially a swing bowler, Kumar bowls at the most in the mid-120s and looks to tie an end up with his steady bowling.
Moody is not sure about Kumar's effectiveness in Australian conditions.
"I really do not understand; if the ball is not swinging, what will be the role of Bhuvaneshwar Kumar? He is slow and cannot penetrate. I am surprised that the Indian team looks at him as the number one bowler," says Moody.
Moody, who coached Sri Lanka to the 2007 World Cup final, is sorely disappointed by the lack of fight from the Indian camp in recent matches.
"The fight is missing in the Indian camp. They need to click as a group, not as batsmen or bowlers. I will not go by the results in the warm-up matches.
"Coming from Australia, we always look to set our plans, only then can we go ahead. I really don't understand what the Indian team is up to," wonders Moody, a member of Australia's 1987 and 1999 World Cup-winning teams.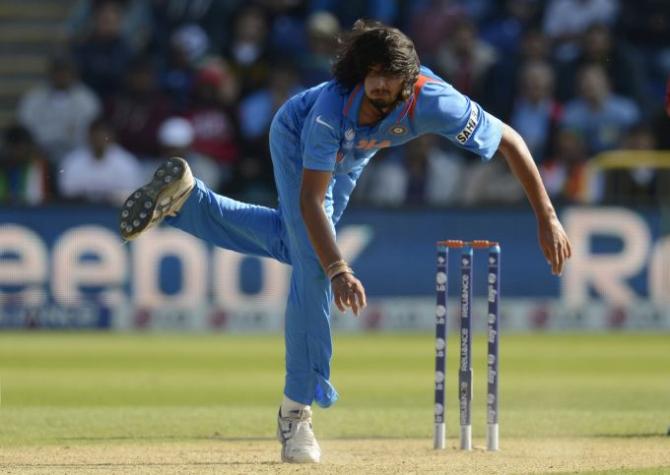 Image: Ishant Sharma. Photograph: Philip Brown/Reuters
Moody is also worried about the Indian team's bowling. With Ishant Sharma missing because of injury, Moody feels the Indian bowling lacks experience.
"His (Ishant's) absence will be felt. Speed is of essence in Australia. (Mohammed) Shami and Umesh Yadav have to start early. I hope Stuart Binny is not used with the new ball," he says.
"Unless India's bowlers step up, I cannot see how many matches can be won by just the batting," he adds.
"You cannot expect the batsmen to score big in every match. Even if they are not genuinely quick, India needs to look for consistency in their bowling."
Apostrophe Content and Entertainment
REDIFF RECOMMENDS