New Zealand have never appeared so well-united as they do currently, says Haresh Pandya.
'Individually and collectively, under Brendon McCullum's astute leadership, they seem a formidable lot.'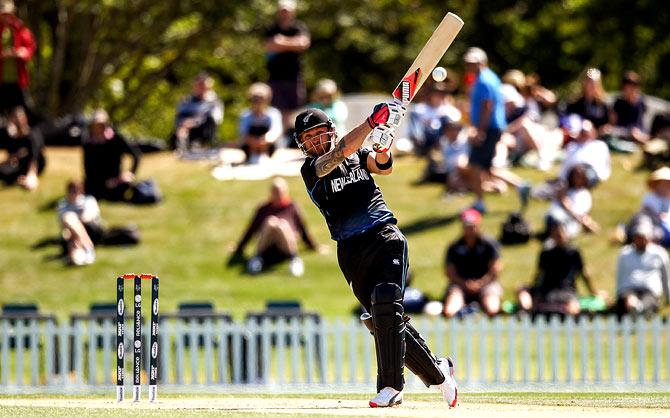 Image: New Zealand's Brendon McCullum during the ICC World Cup warm-up game against South Africa in Christchurch. Photograph: Martin Hunter/Getty Images
New Zealand has long been considered the Cinderella of world cricket. Probably, rightly!
The Kiwis have been playing Test cricket since 1930, two years before India entered the heavyweight division of the game, but have never been a truly major force, like Australia, India, South Africa, Sri Lanka, Pakistan and the West Indies, at different times.
Over the years, they produced a number of outstanding world-class players, but seldom, or never, forged a strong and successful team in any of cricket's three principal formats. Not even when the peerless Richard Hadlee and Martin Crowe were around.
Even today, what you often get to see on most occasions is individual brilliance and not sustained collective effort so vital for victory in a team sport like cricket when the Kiwis are involved in a contest.
Consequently, New Zealand's overall record in Tests, ODIs and Twenty20 games is less impressive than what it should be, or should have been, given the number of quality cricketers it churns out at regular intervals.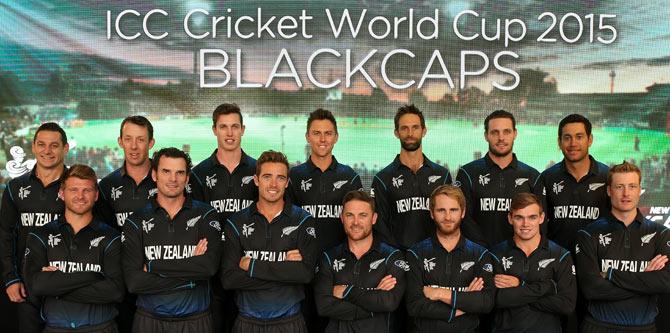 Image: Will this be New Zealand's moment? Photograph: Martin Hunter/Getty Images
Few international teams can match the Kiwis in terms of class cricket. They are not known to compromise with quality, or throw in the towel in adversity, and, therefore, leave the field with heads held high even in defeat.
Both in Tests and ODIs, they have often been gallant losers, leaving you gasping, wondering, whether they could have turned the tables with a bit of luck.
Like most Test-playing nations, barring Sri Lanka, Zimbabwe and Bangladesh, the Kiwis have participated in the World Cup since its birth, and their performance in most editions was brilliant, without ever reaching the grand finale.
They often gave the top teams a good run for their money and sometimes threatened to create a colossal upset or two.
In the inaugural World Cup, played in England in 1975, they progressed as far as the semi-final, thanks to players like Glenn Turner and Richard Collinge, where they lost to the eventual champions, the West Indies.
They did an encore in 1979, but squandered a golden opportunity after a closely-fought semi-final, which they lost to England by nine runs.
The Kiwis, inspired by Martin Crowe, came close to making a hat-trick of reaching the World Cup semi-finals in the 1983 edition, but lost a crucial quarter-final to Pakistan by 11 runs, chasing a difficult target on a difficult Trent Bridge wicket.
New Zealand performed poorly in the fourth World Cup, co-hosted by India and Pakistan, in 1987 and won only two of their six league matches. But playing like a dream, they made up for the dismal show in the fifth World Cup, which they hosted in collaboration with Australia in 1992, topping the table by winning seven of their eight league matches. Unfortunately, they lost by four wickets to Pakistan in the semi-final.
New Zealand had a mixed bag in the 1996 World Cup on the subcontinent, though no team could prevent it from making it to the quarter-final. Australia, the eventual finalist, defeated them by six wickets.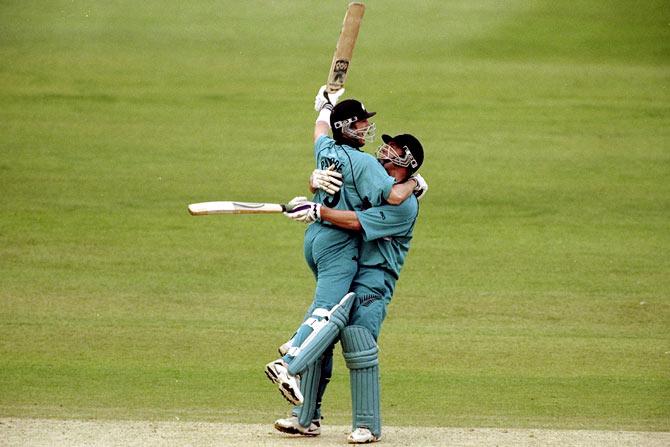 Image: Adam Parore, left, and Roger Twose celebrate victory over India in the 1999 World Cup Super Six match in Nottingham. Photograph: Ross Kinnaird/Allsport
They made amends in the next World Cup, in England in 1999, but Pakistan again dashed their hopes of making it to the final, crushing them by nine wickets in the first semi-final at Old Trafford.
In the 2003 edition, played in South Africa, the Kiwis did fairly well with the limited resources and made it to the Super Six stage of what was a very tough World Cup, while in the next, in the Caribbean in 2007, reached the semi-final for the fifth time, but lost to the eventual runners-up, Sri Lanka.
Continuing their rich tradition of reaching the World Cup semi-final, but also maintaining their tendency (pun intended) never to go beyond that, the Kiwis raised many hopes and expectations in the 2011 edition, before losing to Sri Lanka in Colombo.
With an impressive tally of half-a-dozen semi-finals in their kitty, and also the fact that they are co-hosts along with the Aussies, the courageous and, at times, charismatic Kiwis have reason to look forward to performing better than many of their opponents in the 2015 tournament as well.
It is almost a foregone conclusion well before the first ball is bowled in the event that they will reach the semi-finals without much ado.
They have never appeared so well-united as they do currently. Individually and collectively, under Brendon McCullum's astute leadership, they seem a formidable lot.
McCullum captains a side packed with ideal men for one-day cricket in all three departments of the game: A band of aggressive, explosive batsmen, a set of gifted, thinking bowlers and agile, electric fielders.
Their talents and resultant performances, both in Tests and ODIs, have been remarkable in recent years. They are well prepared for this World Cup and have already sent warning signals to their opponents.
Importantly, almost all the leading members of the New Zealand squad give the impression of being in good to great form, having recently outplayed Pakistan and Sri Lanka.
McCullum (5,480 runs, strike rate 91.73), one of the most dangerous and experienced batsmen in the shorter versions of the game, launches the New Zealand innings in the company of the extremely talented Martin Guptil (3,192 runs, strike rate 80.00).
The openers are known for their penchant to go for the shots right from the word go and much will depend on what kind of a start they give the team.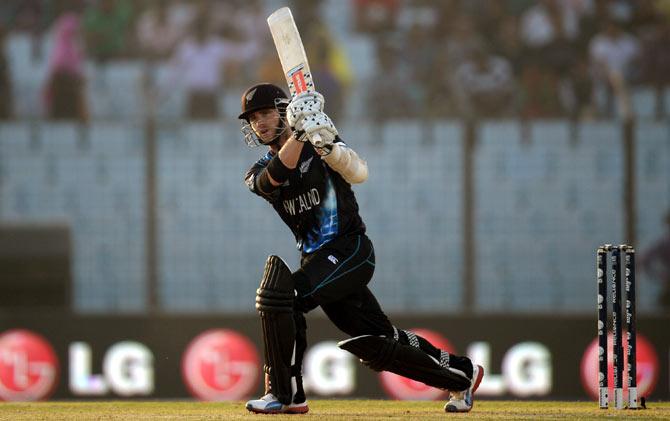 Image: Kane Williamson. Photograph: Gareth Copley/Getty Images
The middle-order is in the capable hands of Ross Taylor (,4913 runs, strike rate 82.62), Kane Williamson (2,452 runs, strike rate 82.78), Corey Anderson (687 runs, strike rate 129.37), Grant Elliot (1,299 runs, strike rate 74.27) and Luke Ronchi (912 runs, strike rate 123.74), who is more feared as a batsman than as a wicketkeeper. Each of these batsman is talented enough to change the complexion of a game or even a situation in a jiffy.
Their batsmen fear none, neither speedsters nor spinners, and know well how to play on the sporting wickets at home and in Australia.
New Zealand are grouped with Australia, England, Sri Lanka, Bangladesh, Afghanistan and Scotland in Pool 'A', which means they have to face a variety of bowlers.
McCullum and company are experienced enough to handle them. Anderson and Ronchi may have to be a bit pragmatic and show a little patience in the middle, building the New Zealand innings or chasing a target against odds, depending on the situation.
The best thing for the side is that all their bowlers, most of whom young and skilled and intelligent, are fully fit and in good nick.
Right-arm medium-pacer Tim Southee spearheads what appears to be a balanced attack. He will be ably supported by promising 25-year-old left-arm paceman Trent Boult, Mitchell McClenaghan, Adam Milne, Kyle Mills and all-rounder Nathan McCullum.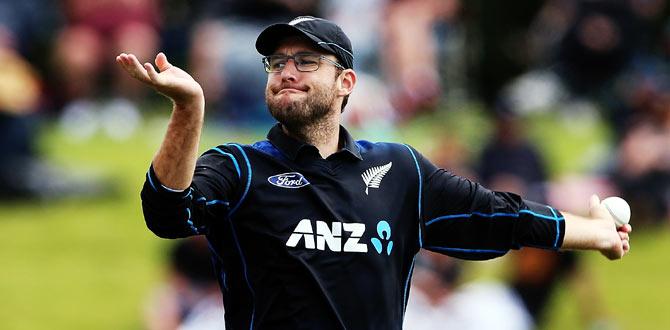 Image: The amazing Daniel Vettori. Photograph: Hannah Peters/Getty Images
Former skipper and veteran spinner Daniel Vettori, who is also a gutsy, reliable, batsman, continues to be the team's kingpin and is expected to play a stellar role in McCullum's scheme of things.
If there is any team, apart from Australia, which appears to be capable of reaching the final of this World Cup, it is New Zealand.
Most positive factors point to them being one of the finalists, something which cannot be said with certainty even about the otherwise prodigiously talented and practitioners of what you call 'total cricket', the South Africans, who have a tendency to choke at a crucial juncture in an important tournament.
The Kiwis have never been such overwhelmingly favourites to reach the World Cup final. This is their best opportunity to shed the tag of the cricket world's Cinderella nation.
If they don't reach the final -- or actually win the World Cup -- this time, when will they?
REDIFF RECOMMENDS