'Ravi Shastri told me he would go miles, and pay, to enjoy Vishy make 20 than to watch someone scoring an inelegant, laborious, 200.'
Haresh Pandya salutes the Unsung Master.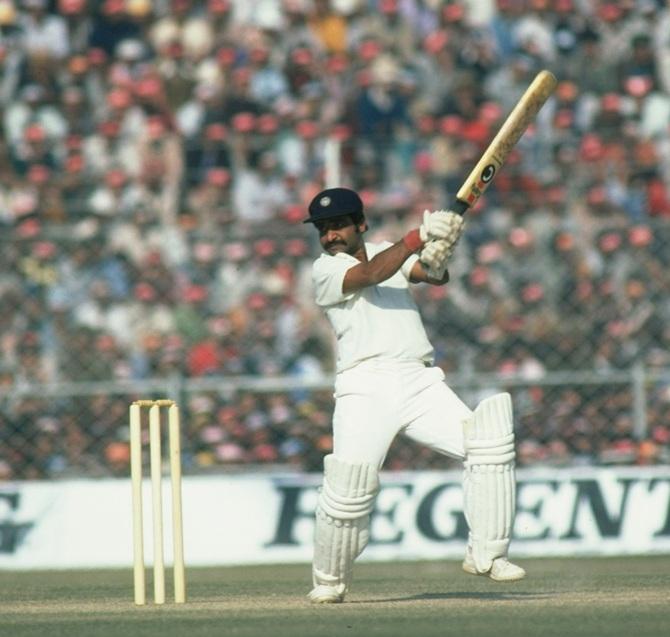 Image: The mighty Vishy in action. Photograph: Adrian Murrell/Allsport/Getty Images
When Gundappa Viswanath, whose 66th birthday is being celebrated today (February 12), was at his best, spectators were transported to the realms of art and beauty.
Viswanath -- Vishy to both fans and friends -- was in a class of his own. Most cricketers and critics were convinced he was too rare an artist of the willow. His batting defied description, let alone comparisons.
Indeed, watching him bat when he was in the 'zone' was akin to seeing a master painter, or a sculptor or a musician engrossed in his art.
The sheer beauty and poetry, of Vishy's batting would make even rival players fall in love with him. A number of foreign players are on record saying that though they tried hard to get rid of Vishy, they secretly enjoyed his style and the elegant manner in which he executed his shots.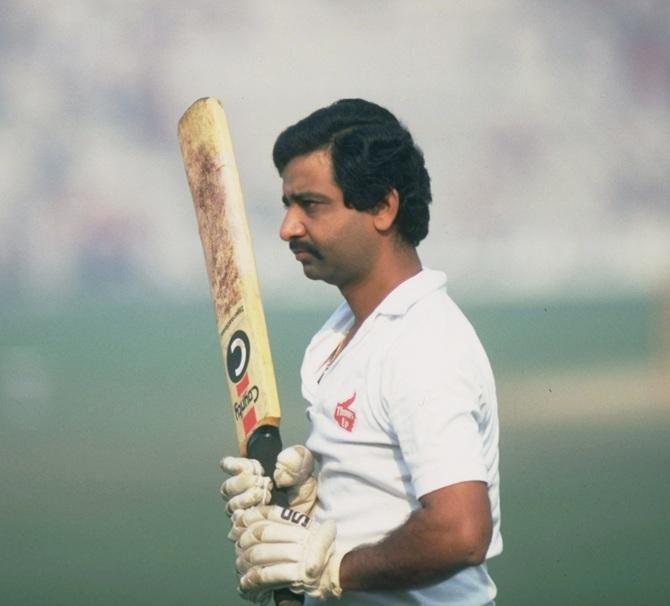 Image: The Great Gundappa Viswanath. Photograph: Adrian Murrell/Allsport/Getty Images
Andy Roberts, Michael Holding and Dennis Lillee, three of the most hostile fast bowlers imaginable, were in no doubt that Vishy was one of the few batsmen who batted against them correctly, comfortably and with impressive results.
They found him much better than even Sunil Gavaskar and Geoffrey Boycott, which is at once a tribute to Vishy's genius.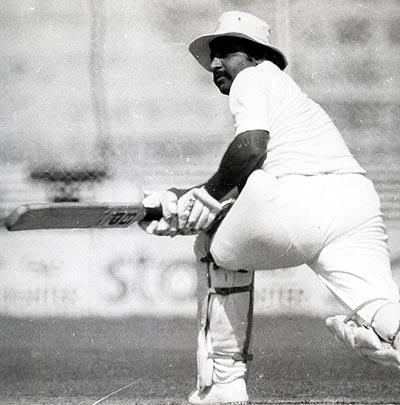 The graceful Vishy plays a shot. Photograph: Rediff Archives
Ravi Shastri was echoing the feelings of many when he told me he would go miles, and pay, to enjoy Vishy make 20 than to watch someone scoring an inelegant, laborious, 200.
Vishy produced such a string of masterpieces -- often on difficult pitches, against the most formidable attacks and in trying circumstances -- that it was tough to say with any degree of certainty which was his magnum opus.
Was it the 137 with 25 fours on his Test debut against Australia at Kanpur (1969) after having failed to open his account in the first innings?
Was it his patient 33 under monumental pressure that eventually paved the way for India's historic triumph at The Oval (1971)?
Was it the 97 not out against Roberts firing on all cylinders at Chennai (1975)?
Was it the 112 at Port of Spain in Trinidad (1975), which enabled India to successfully chase a target of 400-plus in the fourth innings?
Was it the 124 on a minefield of a wicket at Chennai (1979) against the West Indies?
Was it the 113 at Lord's (1979) in terribly wet conditions?
Was it his most beautiful 107 against England at Delhi (1981) -- an innings that made the late Frank Keating compare Vishy with Ranji -- when he was struggling to hold on to his place in the team?
Or was it the superlative 114 against Lillee and Len Pascoe at their best in Melbourne (1981)?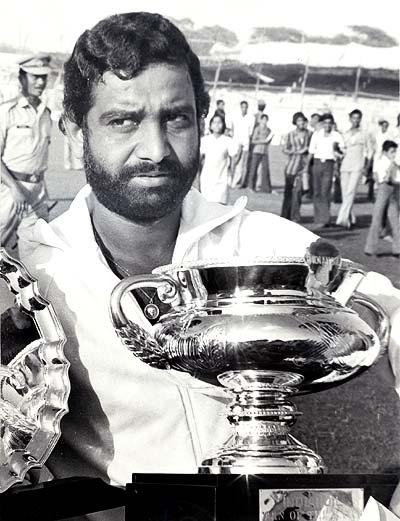 Vishy relished batting. Photograph: Rediff Archives
Each one of those innings, and many others besides, had class, even sublimity, writ large on them.
Vishy, who relished batting against fast bowling, who dealt with short-pitched stuff confidently, who loved a challenge, was both India's saviour and match-winner.
Bad wickets and grim adversity often brought the best out of him. He always played his natural game, never curbed it, whatever the situation.
Being an artist with a passion for perfection, Vishy was bound to take risks at the crease. His repertoire of shots was enviably rich.
Many of them -- particularly the square-cut, the late-cut, the square-drive and the flick off his toes -- were so delightfully attractive that you felt intoxicated when he executed them with effortless brilliance against the best of bowlers.
He just liked to play his shots, whether on 0 or 99.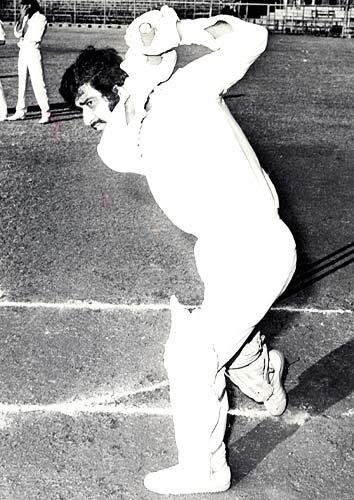 Often he had to bat after India lost wickets cheaply. But he would not show caution and begin his innings with a flourish. Photograph: Rediff Archives
He was one of the most confident and the best of starters.
On a number of occasions he had to step out to bat after India lost two wickets cheaply and in a jiffy. But he would not show unnecessary caution and usually begin his innings with a flourish -- many times with a four and on odd occasions with a couple of hits to the fence in a row regardless of the bowler's reputation.
Almost throughout the 1970s, only Vishy and his friend and brother-in-law Sunil Gavaskar carried the heavy responsibility of India's batting on their shoulders.
One can imagine the kind of pressure Vishy had to bat under in nearly each of his innings, especially when Gavaskar returned to the pavilion pretty early. But he did not often let his team down.
An array of awesome pace bowlers paraded their talents in the 1970s. The way Vishy batted against them, particularly those giant West Indians, both in India and abroad, and that too without wearing a helmet, with virtually no one to accompany him at the other end more often than not, was amazing.
He was equally at ease, and successful, against spinners. Ask Derek Underwood. Perfect technique based on classical and scientific principles, sound temperament, lightening footwork, hawk-like eyesight, wrists of steel, velvety reflexes, excellent hand-eye coordination, terrific ball sense, steely resolve and fiery confidence enabled Vishy to play the world's best fast bowlers and spinners with aplomb.
Being an out and out positive batsman, one who believed in playing for his team, his country, and not for himself and his personal achievements, Vishy never cared for figures and records.
His tally of 6,080 runs at 41.93 from 155 innings of 91 Tests may not impress those addicted to only statistics and used to watching mammoth aggregates and averages of many of today's batsmen.
When studying an artist like Vishy, you have to take into consideration many factors. He played in a different and difficult era when India did not have more than a couple of outstanding batsmen.
The quality of bowling of virtually every Test nation was far superrior than what it is today. Importantly, there were no restrictions on fast bowlers, who could bowl any number of bouncers in an over.
There were no 'neutral' umpires, no 'third' umpires and certainly no luxuries like UDRS. Vishy often became a victim of bad or questionable umpiring decisions. More glaringly in Pakistan in 1982-1983 -- the nightmarish tour which hastened his premature exit from international cricket.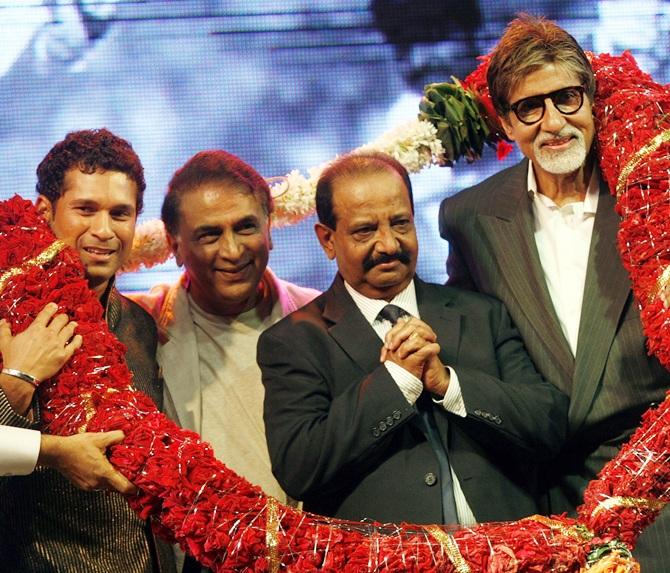 Image: Amitabh Bachchan, right, Sachin Tendulkar, left, Sunil Gavaskar, second left, with Gundappa Viswanath. Photograph: Punit Paranjpe/Reuters
A God-fearing man, Vishy was a thorough gentleman. An artist, he always heeded his instincts, which told him to play the game, figuratively, and enthrall the paying public.
He respected umpires' decisions and never challenged them. He was a genuine 'walker' and on several occasions left the crease even before an appeal was made, leave alone the umpire raising his index finger.
Vishy played in the right spirit and upheld the noble principles and virtues cricket stands for. Recalling Bob Taylor after he was mistakenly given out by the umpire in the Golden Jubilee Test in Mumbai in 1980 was one of the many acts of Vishy's sportsmanship.
Just imagine what he would have achieved had he been a bit selfish. Doubtless, his records would have been far more impressive, given his prodigious batting.
Those of us who saw Vishy in all his glory are remarkably fortunate. The joy his sublime batsmanship provided is indescribable. Gundappa Vishwanath will forever be remembered for turning batting into an art form.
Happy Birthday, Sir!