The semi-final against Australia and if the Indian women are fortunate, Sunday's final will decide her place in history as a captain, though she has long secured her position in the Elysium of women's cricket, says Haresh Pandya.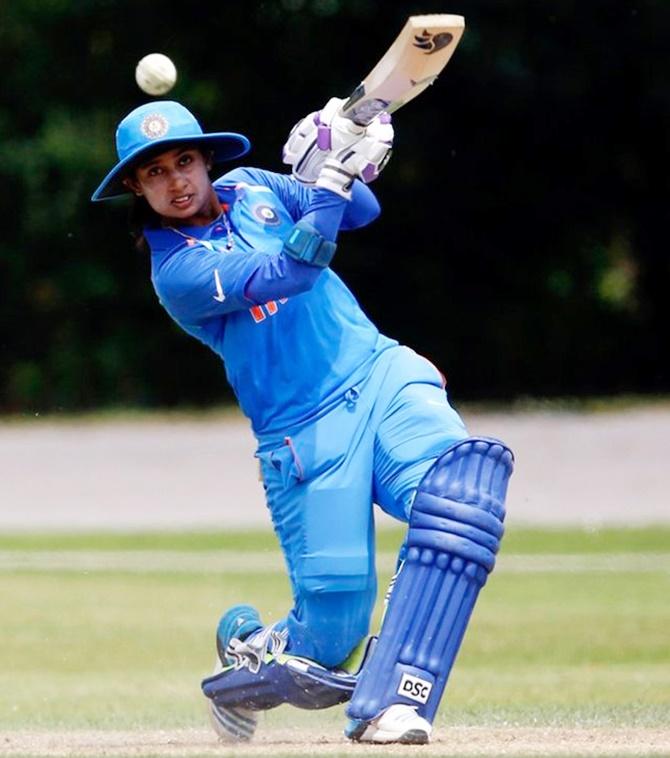 IMAGE: Mithali Raj is the mainstay of India's batting. Photograph: BCCI
If India finds itself in the semi-final of the women's World Cup in England, much of the credit ought to go to Captain Mithali Raj who is also the mainstay of the team's batting.
It was thanks mainly to her hundred (a splendid 109 off 123 balls with 11 fours) as well as left-arm spinner Rajeshwari Gayakwad's rich haul (a stunning 5/15 off 7.3 overs), that India crushed New Zealand by 186 runs and made it to the last four in style.
Considering their winning streak, it is only reasonable to hope that Mithali and company will avenge their solitary loss to the mighty Australians on July 12, and beat them in the semi-final at Derby on July 20.
And if India eventually wins the World Cup, it will be the crowning glory of Mithali's outstanding career spanning a little under two decades.
The last World Cup was held in India, and despite being host and favourite to win the quadrennial showpiece, the hosts were eliminated in the preliminary round itself.
India put up such a pathetic performance that it came a cropper even against Sri Lanka, which had lost all its previous 17 games against India.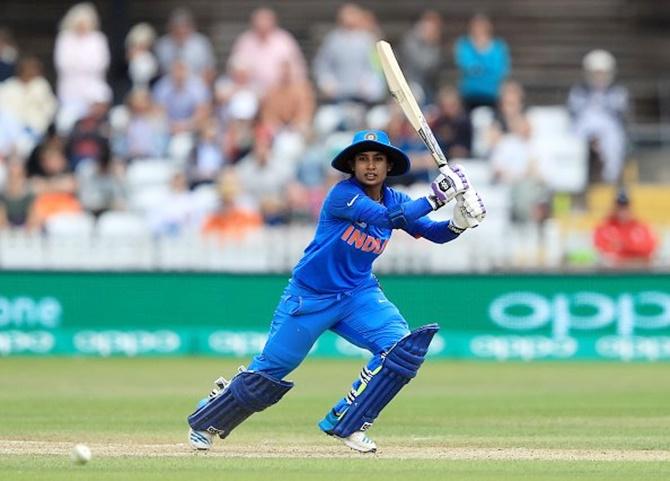 IMAGE: Mithali is a class act. Photograph: ICC/Twitter
Mithali in particular got a lot of flak, especially from those who have never favoured or encouraged women's cricket in India.
Though much water has flowed under the bridge since, and Indian women have gone from strength to strength in world cricket, the scars of the humiliation remain.
This is Mithali's best chance to redeem herself as India's long serving captain.
No one will be surprised if she holds aloft the coveted World Cup on the hallowed Lord's balcony on July 23.
Leading India to World Cup glory will be the culmination of her long and loyal service to the nation, both as a player and captain.
She is captaining a bunch of excitingly talented and committed players, who are proud of playing for the country and eager to prove that they are in no way inferior to India's men cricketers.
Although only a cricketing ignoramus will try to draw a comparison, the point is India's lady cricketers have come a long way since the days when they were paid scant respect and usually taken for granted.
Individually and collectively, Mithali and company have exhibited almost ruthless professionalism in this World Cup.
They have been exceptionally good in batting and bowling right from the first game against England with Mithali in the forefront of the action and others like Smriti Mandhana, Punam Raut, Harmanpreet Kaur, Rajeshwari Gayakwad, Ekta Bisht, Deepti Sharma and Poonam Yadav being quite impressive, although their overall fielding lacks much-required sharpness and edge.
Also, India's win in the World Cup qualifier without the experienced Mithali and Jhulan Goswami conclusively confirmed that there is no dearth of talent in the country.
This young brigade is capable of taking on any opponent anywhere in the world.
Of course, Mithali, who has had a great impact and influence on this team, continues to be a fount of inspiration for a majority of lady cricketers across the country, a la Sachin Tendulkar.
Her remarkable skills, resultant performances and achievements, including the 214 in a Test against England in Taunton in August 2002, when she was barely 19, or being the only batswoman to score over 6,000 runs in One Day Internationals, place her among the all time women cricketer greats.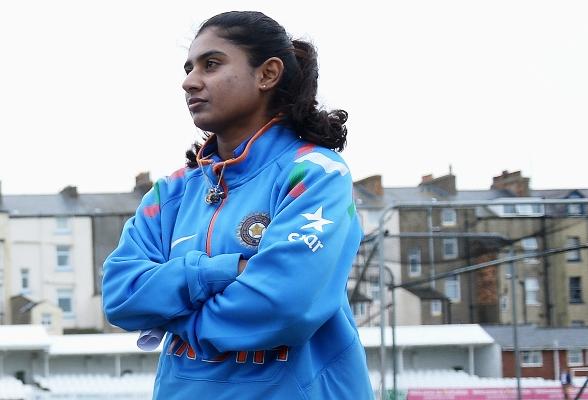 IMAGE: Mithali and her talented team mates would like nothing better than to avenge their loss to the Australians. Photograph: Gareth Copley/Getty Images
Mithali, who interposed herself between the earlier generation of Anjum Chopra and Purnima Rau and the modern one represented by young talents like Deepti Sharma and Veda Krishnamurthy, is arguably the greatest ever batswoman from Asia.
She may be approaching 35, but like old wine, she gets better and better with each advancing year.
Like Sunil Gavaskar and Tendulkar during their playing days, there is an aura about Mithali that sets her apart among other lady cricketers from Asia.
Her batting is a judicious mix of defence and aggression and you can depend on her when the chips are down.
In fact, she has taken the art of rescuing the team to a new level with her ability, founded on fiery self-confidence and steely resolve, to excel under pressure.
She is one of the most attractive batswomen to watch when on song, which she usually is.
Otherwise, she would not own such staggering statistics: 663 runs at 51 in 16 innings of 10 Tests; 6,137 runs (6 hundreds, 49 half-centuries) at 52 in 165 innings of 184 ODIs; 1,708 runs (including 10 fifties, the highest being 73 not out) at 37.95 in 63 Twenty20 international games.
The right-handed Mithali, a gifted Bharata Natyam dancer in her youth before she took up cricket seriously, uses her feet beautifully, both against fast bowlers and spinners, a hallmark of a master batswoman.
Unsurprisingly, both her backfoot and frontfoot are very strong.
Over the years, she has proved her leadership qualities. India may have been sent packing in the first round of the 2013 World Cup, but it was under the same Mithali that India reached the final of the 2005 edition, but lost to Australia by 98 runs at the SuperSport Park, Centurion, South Africa.
Undeterred, she went on to lead India to her first-ever Test and series triumph in England in 2006.
Between 2004 and 2008, she led India to four successive Asia Cup titles.
However, a miserable tour of England in the late 2008, where India failed to win a solitary game, cost Mithali the national captaincy.
Four years later, she was back in the saddle, leading India on the 2012 tour of England, where she scored 251 runs in the five ODIs, winning two, losing three.
Importantly, she reclaimed the No 1 position in the ODI batting rankings.
Mithali has had a roller-coaster ride as a skipper since.
The semi-final against Australia and, if the Indian women are fortunate, Sunday's final will decide her place in history as a captain, though she has long secured her position in the Elysium of women's cricket.