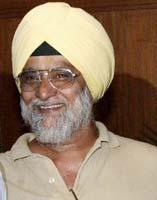 Bishen Singh Bedi is arguably the greatest left arm-spinner to ever grace the game.
A member of India's famous spin quartet, Bedi, E A S Prasanna, Srinivas Venkataraghavan and Bhagwat Subramaniam Chandrashekar won many matches for India.
In this first person account, Bedi salutes his great team-mate, the way only he can.
Never again will another cricketer with the humility of B S Chandrasekhar walk on an Indian or foreign cricket pitch.
An excellent cricketer, Chandu was a genius who confounded the world's best batsmen, including Sir Garfield Sobers and Ken Barrington, with his superb bowling and got them out.
He converted his physical disability into his most lethal weapon.
When I saw Chandu walking on the field, trust me, I felt I saw God in him!
I may be accused of being biased while talking of Chandrasekhar, but that is because I saw so much of him. I learnt a lot from him and Gundappa Vishwanath -- both gems of human beings. I can never hope to emulate their achievements.
Chandrasekhar was a match-winning phenomenon; a man of enormous will-power. He would throw the ball with his left hand and support his bowling arm with the left hand while walking. But when he bowled with the polio-striken arm he was a different man, one who would send down the ball with the speed of a fast bowler.
He was, in fact, so good that people often took him for a ride.
It is a pity that when he held his benefit match some persons did not hesitate to fleece him of money.
Chandu, on his own, is not going to ask either the Board of Control for Cricket in India or the Karnataka government to do something for him.
Frankly, he is one person who deserves a better deal.
Celebrating Chandra: Complete Coverage
On many tours we shared the same room, but so quite and simple was he that, at times, I felt I was alone in the room. He was one who never cribbed about anyone, anything or the kind of unfair treatment that was meted out to him by some persons.
It is unfortunate that then India captain Ajit Wadekar did not acknowledge his genius and give him his due even after he won matches for India, not just once but many times.
Life has not been easy for Chandu after retirement.
He met with an accident and lost his foot. I met him on a number of occasions during my trips to Bangalore, and even now he does not complain about anything.
That is Chandrasekhar, a man content with what he has, never demanding or wanting more then what is given to him. His son is settled in the United States and his constant companion is his wife Mrs. Sandhya Chandrasekhar, a wonderful lady.
When I say that I saw God in him, I must explain why I say that.
If you define God, then you say that He is a superpower that keeps on doing good things irrespective of what others say about him. Chandu always did good for people and kept doing his job. 
I do not recall him jumping around and showing off to the world after he got Sobers out or even won a match for India.
I hope the younger generation of Indian bowlers learn something from him. In appreciation, I plan to write a book on this great Indian phenomenon soon.
I salute this brave Indian cricketer.
Bishen Singh Bedi spoke to Onkar Singh.