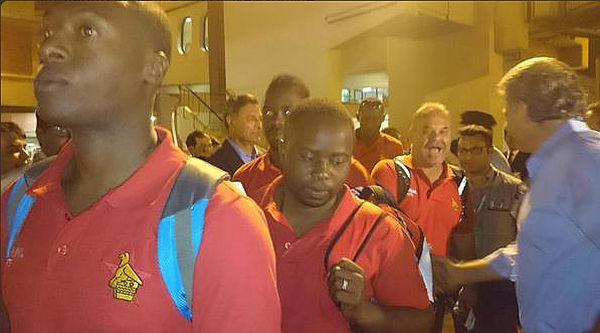 Zimbabwe players and coach Dav Whatmore is welcomed by Pakistan officials. Photograph Courtesy: Zimbabwe Cricket on Twitter
Zimbabwe arrived in Pakistan on early Tuesday in Lahore as the first Test playing nation to visit the country for international matches since an attack on Sri Lanka's team bus six years ago.
The visitors' two team buses were surrounded by a fleet of security vans with armed guards as they drove to the team hotel amid tight security.
Zimbabwe will play two Twenty20s and three one-day internationals May 22-31 before leaving on June 1.
"International cricket is back in Pakistan and we will make this series a success," said provincial interior minister Shuja Khanzada at the Allama Iqbal International Airport.
Zimbabwe umpire Russel Tiffin also accompanied the team to supervise matches along with local umpires after the ICC declined to send its match officials due to security concerns.
Pakistan has promised VIP security for Zimbabwe to avoid a repeat of 2009 when gunmen attacked the Sri Lankan team bus, killing six police officers, a van driver and wounding several visiting cricketers.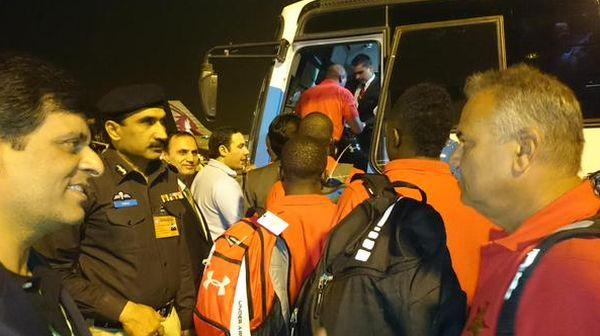 Zimbabwe players and coach Dav Whatmore boards the team bus. Photograph Courtesy: Zimbabwe Cricket on Twitter
Around 4,000 policemen and security officials have been deployed for the protection of the Zimbabwe team, which begins the series with the first Twenty20 on Friday.
"We have provided full-fledged support to the Pakistan Cricket Board and we will work as a team with them to make sure that more teams come to Pakistan after this series," Khanzada said.
For the last three years the PCB had been trying to convince Test playing nations to tour Pakistan, but even Bangladesh twice postponed its tour due to security fears.
"It's their (Zimbabwe) trust and confidence in us which will strengthen our cricketing ties with them," said PCB's hief operating officer Subhan Ahmed, who was among the ones to receive visitors at the airport. "We hope to change the perception of the world about Pakistan and build the confidence of other foreign teams to come here."
Earlier, the PCB said in a statement that 75 percent of tickets for the opening T20 at the Gaddafi Stadium – which will host all five matches -- have been sold out.
A helicopter carried out aerial surveillance around the stadium on Monday, which was accessible only to the officials and workers of the PCB.
The tour was in jeopardy last week after militants killed dozens of minority Shiites in a bus in the southern port city of Karachi.