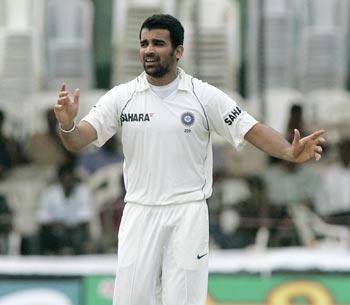 Left-arm spinner Bhargav Bhatt took three wickets for India 'A' but opener Kraigg Brathwaite's patient half-century helped West Indies 'A' reach 283 for six in 90 overs after opting to bat on day one of the second unofficial four-day 'Test' in Shimoga, on Wednesday.

Brathwaite along with middle-order batsman Asad Fudadin (63) added 117 runs for the fourth wicket to ensure a position of safety for the visitors at the Jawaharlal Nehru College of Engineering ground.

Fudadin joined Brathwaite in the post lunch with the visitors in slight trouble at 98 for three in their first innings.

While Brathwaite faced 202 deliveries hitting 13 boundaries, Fudadin faced 107 balls hitting seven fours in the process. Both were dismissed in quick succession that saw the Caribbeans reduced to 215 for five before Leon Johnson (36) along with Chadwick Walton (30) scripted another recovery act with a crucial 68-run partnership for sixth wicket.

It was pacer Mohammed Shami who got rid off Walton when he nicked one to glovesman Uday Kaul behind the stumps.

For the Indians, left-arm spinner Bhargav Bhatt (3/76) was the most successful bowler while comeback man Zaheer Khan picked up a wicket in 16 overs.

It was a mixed day in office for the Indian bowlers as they got a few wickets in quick succession but also had toil hard during partnership. Brathwaite was more intent on defending for most of his innings although he did hit a few boundaries. He found an able ally in Fudadin as they trudged along at a decent pace.

He played the new ball well enjoying crucial first wicket partnership of 55 runs with his partner Kieran Powell (33) but skipper Kirk Edwards and Narasingh Deonarine squandered their chance of scoring some runs on a good strip.

Edwards, who had nearly missed a century in the previous Test was stumped by wicketkeeper Uday Kaul in the very first over after lunch off left-am Bhatt for 18.

Zaheer, who has been out of Indian squad since last year, got his only wicket in his second spell. He got one to dart in to left-hander Deonarine, who was adjudged leg before wicket.

As Brathwaite watched his captain Edwards and Deonaraine dismissed in the space of few overs, he settled down and steadied the West Indies innings with the utsy Fudadin at the other end.

It was Bhatt who dismissed Fudadin trapping him leg before but the batsman didn't seem too happy with umpire Suresh Shastri's decision.

Off-spinner Rasool, who had a match-haul of seven wickets in the last match, got rid of Brathwaite in the next over, caught behind by Kaul in the very next over.

The Indian bowlers tried hard to make early inroads but Zaheer and Shami did precious little with the new ball.

West Indies lost only one wicket before lunch in their bid to give a solid platform for the later batsmen to capitalise on and put a big total as they did in the first match.
Scoreboard:

West Indies 'A':
Kraigg Brathwaite c Kaul b Rasool 82 (284m, 202b, 13x4)
Kieran Powell c Kaif b Bhatt 33 (102m, 70b, 5x4)
Kirk Edwards st Kaul b Bhatt 18 (19m, 15b, 2x4, 1x6)
Narsingh Deonarine lbw b Zaheer 12 (31m, 28b, 1x4)
Asad Fudadin lbw b Bhatt 63 (125m, 107b, 7x4)
Leon Johnson (not out) 36 (90m, 61b, 8x4)
Chadwick Walton c Kaul b Ahmed 30 (73m, 55b, 5x4, 1x6)
Nikita Miller (not out) 0 (12m, 9b)

Extras (LB-2, NB-7) 9

Total (6 wkts, 90 overs) 283

Fall of wickets: 1-55, 2-77, 3-98, 4-215, 5-215, 6-283.

Bowling: Zaheer 16-5-44-1, Mohammad Shami 16-2-59-1, Abhishek Nayar 11-4-31-0, Parvez Rasool 26-7-71-1, Bhargav Bhatt 21-2-76-3.