Yuvraj Singh carried on from where he left off as he completed a well-deserved double century to put North in a comfortable position at stumps on the second day of their Duleep Trophy semi-final against Central Zone in Hyderabad.
- I can't wait to play for India again: Yuvraj Singh
Undefeated on 133 on Sunday, Yuvraj scored a magnificent 208 off only 243 balls with the help of 33 boundaries and three huge sixes as North managed a commendable 451 in 119.2 overs.
Central then crawled to 146 for five in 58 overs when stumps were drawn. They still need 306 runs to get an all-important first innings lead which now looks highly unlikely.
It was another day, which was dominated by Yuvraj's blade as he added 75 runs to his overnight score and in the process scored 58 of those runs in boundaries. He added 13 more fours to his 20 hits and another big six to the couple he hit off Murali Kartik.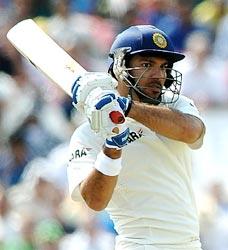 However, the lower middle-order of the North Zone couldn't provide him a lot of support as he was the only player who attacked the Central bowling. Yuvraj was finally removed by India discard Murali Kartik who caught the batsman off his own bowling.
The Central openers Tanmay Srivastava and Vineet Saxena sedately added 64 runs in 30-odd overs but their defensive approach only increased the pressure on the team.
While Srivastava was run-out after making 23 off 89 balls, Saxena's painstaking innings of 33 made off 115 balls ended when Amit Mishra got him caught by Yuvraj.
However it was Delhi speedster Parvinder Awana who did the crucial job of removing the in-form Rajasthan duo of Ashok Menaria and Robin Bist.
Scorecard:
North Zone (1st innings):
R Dewan lbw b Singh 17
S Dhawan c & b Kartik 121
N Saini c B Kumar b P Kumar 35
Yuvraj Singh c & b Kartik 208
Mandeep Singh c Kartik b P Kumar 4
P Dogra lbw b P Kumar 37
R Dhawan c Kaif b B Kumar 3
A Mishra lbw b Kartik 3
R Sharma b Kartik 0
I Sharma b P Kumar 8
P Awana not out 6
Extras: (b 1, lb 4, 2, nb 2) 9
Total: (all out; 119.2 overs) 451
Fall of wickets: 1-35, 2-110, 3-270, 4-275, 5-354, 6-357, 7-386, 8-390, 9-441
Bowling: P Kumar 27.2-7-92-4, B Kumar 28-5-85-1, RR Singh 19-2-83-1, Jalaj S Saxena 16-1-66-0,  M Kartik 29-4-120-4.
Central Zone (1st innings)
T Srivastava run out 23
V Saxena c Yuvraj Singh b Mishra 33
M Kaif not out 34
R Bist lbw b Awana 4
A Menaria c S Dhawan b Awana 4
Jalaj Saxena lbw b R Dhawan 15
M Rawat not out 14
Extras: (b 5, nb 14) 19
Total: (5 wickets; 58 overs) 146

Fall of wickets:1-64, 2-71, 3-80, 4-84, 5-117
Bowling: I Sharma 10-2-23-0, P Awana 11-1-29-2, R Dhawan 11-2-21-1,  R Sharma 12-3-31-0, A Mishra 13-3-31-1, Yuvraj Singh 1-0-6-0.
Photograph: Laurence Griffiths/Getty Images