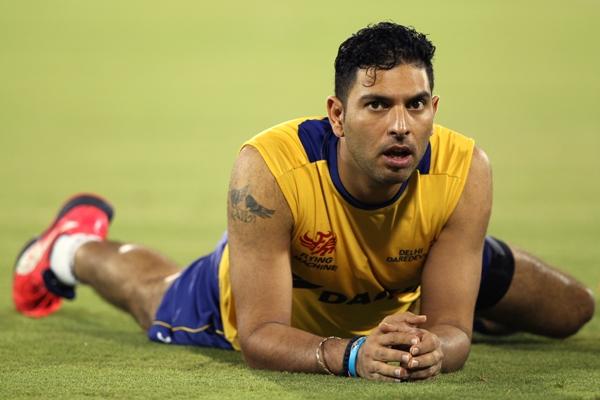 IMAGE: Yuvraj Singh during a practice session. Photograph: BCCI
Veteran left-hander Yuvraj Singh feels that most of the batsmen in the ongoing Duleep Trophy have struggled to pick wrist spinners bowling with the pink ball.
A testimony to Yuvraj's observation is the 27 wickets that chinaman bowler Kuldeep Yadav and leggie Shreyas Gopal have shared between them. While Gopal picked 14 wickets, the most impactful bowler has been UP and KKR chinaman Kuldeep, who has picked 13 scalps.
"I felt that picking a wrist spinner is a bit difficult. I realised when I was standing in the slips that batsmen were actually struggling to pick the wrist spinner (Kuldeep). I felt that pink ball didn't swing as much as the red ball does when it has shine," Yuvraj told reporters ahead of the final match against Gautam Gambhir's 'Blue' team.
Asked if the track would offer turn, Yuvraj elaborated: "As I said, how much it will spin on a turning track… wrist spinner will obviously get help from the pink ball. You will only know after the match. There is less turn for finger spinners (off-spinner) and the glaze is like old Sonnex balls (used in Ranji Trophy in 80's). Whatever happens, it happens for the wrist spinners and that too under lights. The dew also helps the ball to skid."
Yuvraj also said that the pink ball didn't reverse a lot when it got old.
"I honestly felt that the pink ball didn't swing much and didn't get old. It was coming on to the bat very nicely. I don't know how it is going to play on a turning track.
"Hopefully, this wicket might turn. You will see how the pink ball behaves on this wicket so we have to see for this match," said the stylish left-hander.
Test specialist Cheteshwar Pujara once again said that it was a challenge to pick pink ball under lights.
"It's challenging to pick the ball under lights but its not that you can't. Ultimately you have to watch the ball and play. At times, you have to accept the fact that some things might be challenging because when you are batting at 2 pm, you are able to sight the ball really well.
"So even in Test cricket if you are batting in the first session and if the wicket is green you have to see through the new ball and if its turning track the ball will spin so you have to adjust to whatever is in front of you," said the Saurashtra lad.
Pujara said making Duleep final a five-day affair won't make much of a difference.
"There isn't a huge difference because ultimately you are playing a 'Test' match. Probably in a five-day game, you will have a chance to come back if the things don't go well in the first innings. The only difference in five-day cricket is you always have an opportunity to win the game outright and if the first innings doesn't go well then you have a chance to make a comeback."
Senior pro Yuvraj also spoke in the same vein.
"You have another day to turn things around and you have another to win an outright game. In five-day, you have an advantage you can always bounce back I think it's a very important game for everyone looking forward to it."