Dashing Baroda batsman Yusuf Pathan doesn't believe with the popular perception about him being a pinch-hitter; he believes he can change his game according as per the situation demands.
"I had started as a pinch-hitter, but now I have a different role to play. I try to play according to team's needs, be it domestic or international cricket," Pathan said.
"I have scored a century against New Zealand and played some big knocks in the recent past. It is not correct to say that I am a batsman who deals in sixes and fours only," he added.
He is confident that he will make it to the final squad for the World Cup, to be held in sub-continent from February 19 next year.
"Obviously, it is a dream to be a part of World Cup team and I am no exception. I have worked hard to get a place in the team. I am working on both areas of the game for that," he said.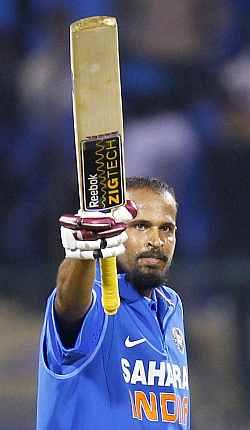 India's 30-member World Cup probables list will be selected on Saturday.
Yusuf blasted his way to an unbeaten 123 off only 96 deliveries in a recent ODI against New Zealand in Bangalore apart from providing crucial dismissals with the ball.
Yusuf attributes his recent success to his parents, brother Irfan, coach Gary Kirsten.
"Gary has advised me to bide my time at the crease and he has worked hard on my bowling as well. I got support from seniors also," said Pathan.
He also believes that the Mahendra Singh Dhoni-led team will be the strongest contender to win the World cup.
"It is happening in India and we have the home advantage. The Indian team is playing really good cricket recently and is capable of winning the trophy," he added.