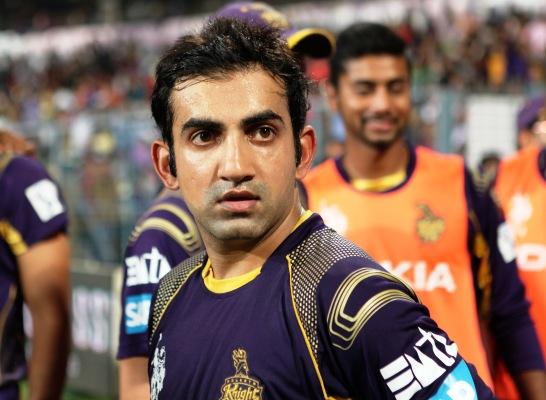 Kolkata Knight Riders captain Gautam Gambhir. Photograph: BCCI
Kolkata Knight Riders captain Gautam Gambhir has hit out at the critics for accusing his team of preparing slow wickets to suit its spinners, saying a side has to be consistent in all departments of the game to win the IPL twice in three seasons.
Gambhir said while the 2012 and 2014 champions rely on spinners, they have an equally strong batting line-up that justify their supremacy.
"People keep talking that KKR prepare slow wickets and win on them but you don't win twice by just playing on slow wickets. You have to be consistent to win big tournaments and we have done that," Gambhir told reporters on the eve of their IPL-8 opener against Mumbai Indians at Eden Gardens.
"Turning pitches are sporting wickets as well. We have got enough arsenal in our batting department to excel on batting friendly conditions.
"I hope the BCCI's warning is consistent and it is consistent with every curator," he said on BCCI directive that there should be sporting wickets across all venues.
Kolkata Knight Riders captain Gautam Gambhir leads his team back after winning an IPL game. Photograph: BCCI
In the last year's Champions League T20, KKR achieved a rare feat of winning 14 matches on the trot.
"We have played well away from home as well. I think we should stop this thing. We have shown this twice in last four years. We've won 14 matches on trot." On the Eden Gardens pitch, which is known for its slow nature, Gambhir feels it is difficult to predict how it would behave as it is a fresh wicket.
"Whenever we started we did not know how it would behave. We don't make any prediction and go by the look of the surface.
"No one knows how it will behave. Over the course of tournament, you will get to know. It's a fresh wicket so not sure how it would behave," he said.
Kolkata Knight Riders opening pair of Gautam Gambhir and Robin Uthappa. Photograph: BCCI
Gambhir said his team is not taking Mumbai Indians lightly as every side is equally balanced.
"I can't take any opposition lightly. We have got enough fire in our ranks. If we play to our best, we will be very tough to beat. We're pretty confident but not over confident," insisted the skipper. Last year's top run-getter, Robin Uthappa did not practice on the eve of the match but Gambhir said there's no worry over the fitness of the explosive opener.
"It was an optional practice. Robin has played the entire season and he's been hitting the ball really well and it depends on the individual how much he wants to practice one day before the game," he said on the Karnataka batsman, who was also the top-scorer in this season's Ranji Trophy.
Kolkata Knight Riders captain Gautam Gambhir. Photograph: BCCI
Gambhir said the domestic players once again will hold the key to their success this season.
"It's the domestic players who will make the difference. You will always be restricted to play four (foreign players). But your majority will be the Indians and your side will depend on how your domestic players do.
"We have got somebody like Suryakumar Yadav, who has a massive and bright future, and somebody to look forward to. We have got Manish Pandey, who is among runs. Then there are Uthappa and Yusuf Pathan. Domestic players will always play a massive role in the tournament," he said.