New Zealand skipper Ross Taylor joined a host of former and current Indian cricketers in paying tributes to VVS Laxman who retired from international cricket, saying that India would find it difficult to get a replacement of his calibre.
"The retirement of Laxman and (Rahul) Dravid gives opportunity to two new younger players in the Indian side. But you cannot replace Rahul or Laxman -- the two greats of the Indian game," Taylor told reporters after the visiting team's practice session.
"Yes, (against these two players) we had plans few months ago but we don't need to have those plans anymore," he said.
Taylor's team-mate Brendon McCullum said that Laxman was a phenomenal player who managed to shore India up in many a pressure situations.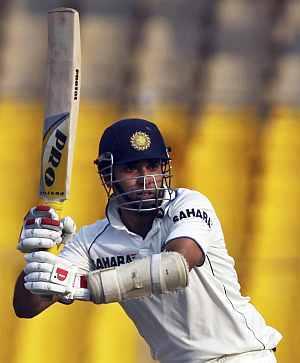 "He scored runs against us last time (in Ahmedabad) when we thought we had an opportunity to win a Test match but that was not so," he said.
McCullum felt the Indian team without Laxman and Dravid will lack in experience and his side would look to exploit that aspect.
"It is so long (they played) in international games. Now we have exploit those areas," he said.
Another New Zealander Martin Guptill termed the retirement of Laxman as a "big loss" for India cricket.
"He (Laxman) played a lot of international cricket over the years and scored lot of Test runs. It will be quite tough to fill his place," Guptill said.
Asked if Laxman's absence will benefit the New Zealand team, Guptill said, "It will, in a way."
Pacer Tim Southee said Dravid and Laxman were two great players with lot of experience.
"They were exciting, successful world-class players and tough on bowlers," Southee said.