IPL franchise Kings XI Punjab is not too bothered about the lack of star players in its ranksand hopes that the "X-factor" will work in their favour.
"We may not be having super stars in the team, but here lies the opportunity...sometimes X-factor wins you the games. And it's the consistency we will be looking at in our performances," KXIP coach Michael Bevan said in Chandigarh on Saturday.
He said the current Kings XI squad looks good and it was a part of their strategy this time to have a bunch of "good solid players", who are consistent and not necessarily be super stars.
Bevan said that he would give the Mohali team an equal chance of winning this year's title as anyone else as it has got a decent combination.
KXIP lost out on several key players including Indian middle-order batsman Yuvraj Singh and former Sri Lankan skipper Mahela Jayawardene, who were a part of the team in the first three seasons of the cash-rich event, during the IPL auction earlier this month.
They also lost bidding wars for Australian all-rounder Cameron White, Indian batsman Rohit Sharma and all-rounder Irfan Pathan.
Bevan is hopeful that with the likes of four Indians in the form of wicketkeeper batsman Dinesh Karthik, all-rounder Abhishek Nayar, leg-spinner Piyush Chawla and seamer Praveen Kumar, the team to be led by his compatriot Adam Gilchrist, will deliver in the tournament, starting April 8.
On Gilchrist leading the side, Bevan though admitted that the 39-year-old have past his prime but said that he would bring with him a wealth of experience.
"Gilchrist has got great leadership skills. He is a world class wicketkeeper and has wealth of experience. He may not have a very great season last year but his batting statistics show that his strike rate is phenomenal.
"He has got the ability to unite players and he will definitely play multiple roles that should benefit the team," Bevan added.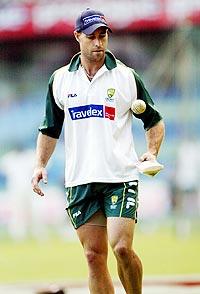 Asked if Yuvraj Singh's absence from KXIP would have any affect on the team's performance, Bevan said, "We (KXIP) couldn't afford a lot of these players (the likes of Yuvraj in the auction)."
Bevan also said that Kings XI wanted to look forward and put behind its ordinary performance of the last IPL season.
"Quite a few things did not fall in place as expected. But it's always hard to put a finger on one thing," he said.
On his new assignment as the coach, the former Australian cricketer, who is in the city for a training camp for the Indian domestic players, said he was looking forward to the challenging job.
Asked if playing too much cricket including the IPL was going to take a toll on players' fitness at some stage, the former Australian all-rounder said, "If you rely only on 2-3 players, it's a risky proposition. A team should always have good players who can fill in for others in various positions."
Bevan picked India as one of the favourites to win the World Cup, starting on February 19 to be held in the sub-continent.
"For me, Indians are the favourites to win the World Cup," he said.
India have won the World Cup only once in 1983 and were runners up in 2003. In 2007, they were knocked out in the first round.
On the downslide of the Australian team in recent times, Bevan said that it can happen to any team and it has particularly happened to Australian as they had suddenly lost 6-7 top players within a space of year or so.
"The team is going through a transition phase. They had set a high standard over the past 15 years or so and it will take time before they regain (the lost glory)," he said, while predicting that Ricky Ponting would stay as the team skipper even after the World Cup.