Be it the Dilscoop, which Dilshan uses to perfection or Dhoni's Helicopter Shot, cricket's shortest format has seen batsmen try new things.
T20 cricket has unveiled several unconventional shots. Batsmen are always looking to improvise to meet the fast-paced demands of slam-bang cricket.
Be it the Dilscoop, which Tillakaratne Dilshan plays to perfection or Mahendra Singh Dhoni's trademark Helicopter Shot, cricket's shortest format has seen batsmen -- and bowlers -- try new things.
Aruneel Sadaekar/Rediff.com looks at six T20 batting innovations: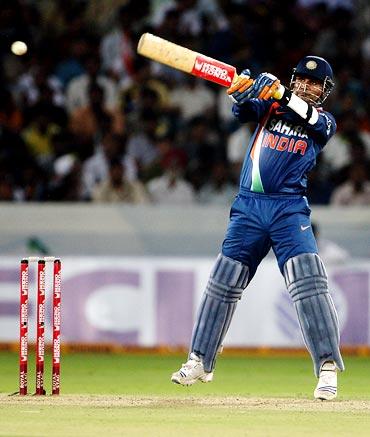 IMAGE: Virender Sehwag plays the Upper Cut. Photograph: ICC
Upper Cut
Best exponents: Sachin Tendulkar, Virender Sehwag
Remember Viru's Test debut against South Africa at Bloemfontein in 2001?
This shot was first played in a Test by Sehwag's opening partner in limited overs cricket: One Sachin Ramesh Tendulkar. Sachin used the shot to tackle the bounce of Makhaya Ntini and Nantie Hayward.
Both Sachin and Sehwag scored centuries in the first innings of this Test, and the upper cut -- or upar cut in Hindi -- was widely used by both batsmen in the Indian Premier League.
In the T20 era, almost every batsman has this shot in their arsenal.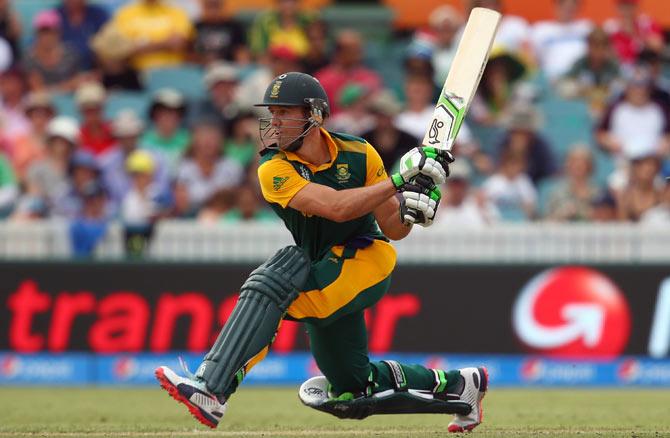 IMAGE: A B de Villiers plays the Reverse Sweep. Photograph: Mark Kolbe/Getty Images
Reverse Sweep
Best exponents: A B de Villiers and Glenn Maxwell
The two most dangerous players in world cricket in the shortest format -- de Villiers and Maxwell -- use this shot when the off-side field is up inside the circle.
It is also a weapon to unsettle a spinner -- R Ashwin and R Jadeja, please note -- and thwart the rival captain's tactics.
It involves a high element of risk with many batsmen falling at point or cover when they miscue this shot.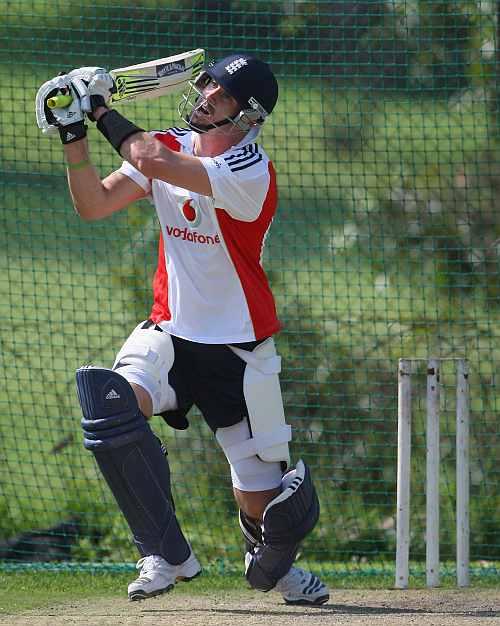 IMAGE: Kevin Pietersen plays the Switch Hit. Photograph: Getty Images
Switch Hit
Best exponents: Kevin Pietersen, David Warner
While it may look similar to the reverse sweep, in this shot the batsman purposely plays the ball in the air by switching from his usual stance.
Also known as Alti-palti in Hindi, KP first mastered this stroke.
The shot had initially generated debate in the cricket world, some heralding it as an outstanding display of skill and others arguing that if the batsman changes stance he gains an unfair advantage over the bowler.
Since the ICC declared it legitimate in 2012, we have seen Warner punish bowlers by using his strong fore-arms.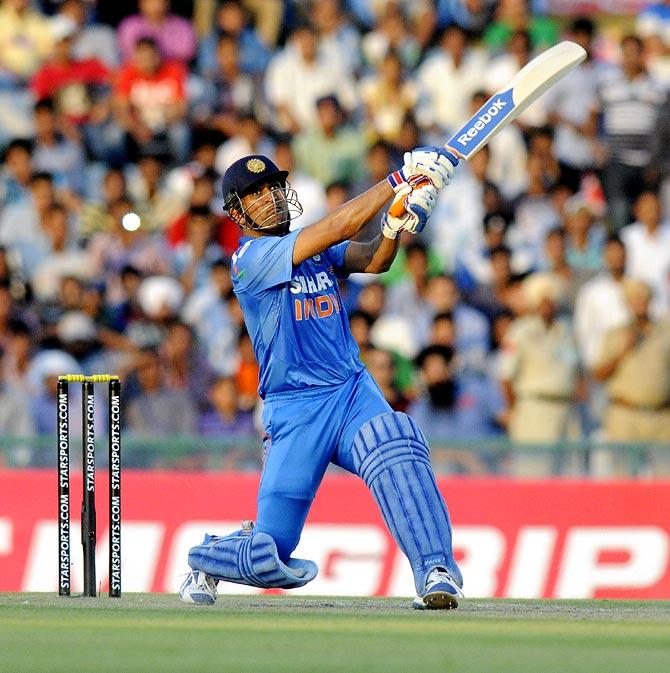 IMAGE: Mahendra Singh Dhoni is the best exponent of the Helicopter Shot. Photograph: BCCI
Helicopter Shot
Best exponent: Mahendra Singh Dhoni
The trademark stroke of India's limited overs cricket captain Dhoni.
The Helicopter Shot signals Dhoni's brute power coupled with amazing wrist work and bat speed.
The shot helps MS counter yorkers, traditionally considered the safest deliveries during the death overs.
Several batsmen have started playing this stroke but the Helicopter Shot will always remind cricket lovers about Dhoni.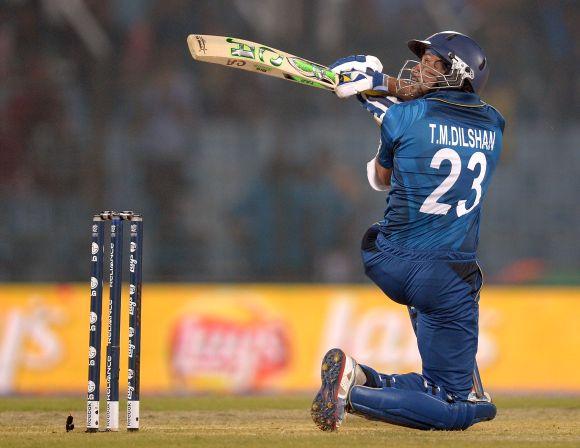 IMAGE: Tillakaratne Dilshan attempts the Dil-scoop. Photographs: Gareth Copley/Getty Images
Dilscoop
Best exponents: Tillakaratne Dilshan, Rohit Sharma, Brendon McCullum
The Dilscoop -- also known as a 'ramp shot' -- was perfected by Dilshan during the 2009 ICC World Twenty20 though he first played it in the IPL as he told reporters in Mumbai on March 9.
It is one of the most innovative and difficult strokes to play.
The basis of the stroke is to go on one knee to a good length or slightly short of length delivery off a fast or medium paced bowler and 'scoop' the ball over the wicket-keeper's head.
IMAGE: Sachin Tendulkar plays the Paddle Sweep. Photograph: Reuters
Paddle Sweep
Best players: Sachin Tendulkar, Gautam Gambhir
Cricket fans will remember Sachin playing this shot to counter Shane Warne in the 1998 ODI tri-series at Sharjah.
In the T20 era, many batsmen have tried this shot to take advantage of gaps near fine-leg.
Gautam Gambhir, another good player of spin, also mastered this stroke and plays it regularly in the IPL.
Most batsmen now have the paddle sweep in their batting repertoire, making life more difficult for the fielding captain.