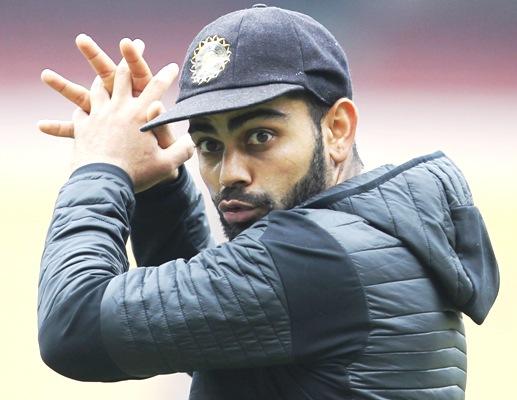 IMAGE: India's Virat Kohli attends a practice session. Photograph: Danish Siddiqui/Reuters.
Cricketing legends Kapil Dev, Wasim Akram and Sourav Ganguly have heaped praise on Virat Kohli with one comparing India's batting mainstay to tennis great John McEnroe and another saying that his value in the team is more than his teammates.
"He is a special player. He holds the team together. You have top guys like Rohit (Sharma), Suresh (Raina), Yuvraj (Singh) but the way Virat has played over the last six seen years, he is at another level," said former India captain Ganguly at the Aaj Tak Salaam Cricket Conclave.
"He has scored all around the world and is a match winner. Look at the Asia Cup match against Pakistan. He took the team home after overcoming a great Mohammad Amir spell. Even though the target was a small one.
"You also can't forget the consecutive hundreds he scored against Australia in the Adelaide Test. He holds the team together and that is why his value is a bit more than others," Ganguly added.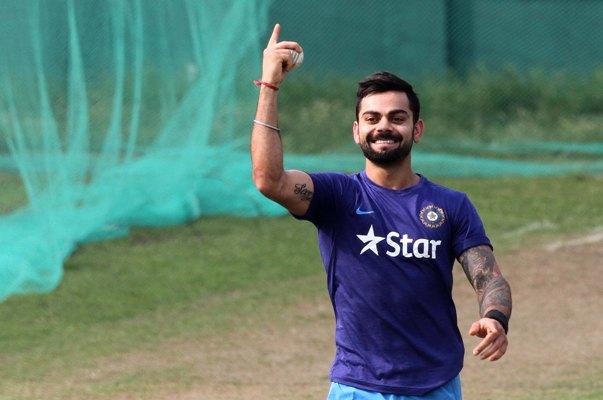 IMAGE: India's Virat Kohli during a practice session. Photograph: Solaris Images.
Part of the high-profile line-up at the Conclave were Kapil and Akram. Both greats love Kohli's flamboyance on the field, which they feel brings out the best in him. Inzamam Ul Haq was also a part of the conversation.
"He loves to take panga (dare others) and that way he ends up playing even better. If Inzy (sitting next to Wasim) remembers, in 1999 I told the boys that 'if the crowd is against you, booing you, that means you are doing a good job'. Virat also thinks like that. It is a great way of thinking," said Akram.
Kapil said Kohli reminds him of McEnroe and Javed Miandad.
"Virat reminds me of McEnroe. He is always up to some mischief. There are people who take panga and take their game to the next level. He is one of those. McEnroe always loved to fight with the umpires. Another example is Javed. He always loved taking panga," said Kapil before Akram jumped in to say "wo (Miandad) abhee bhee pange lete hain (He still likes to mess with people)."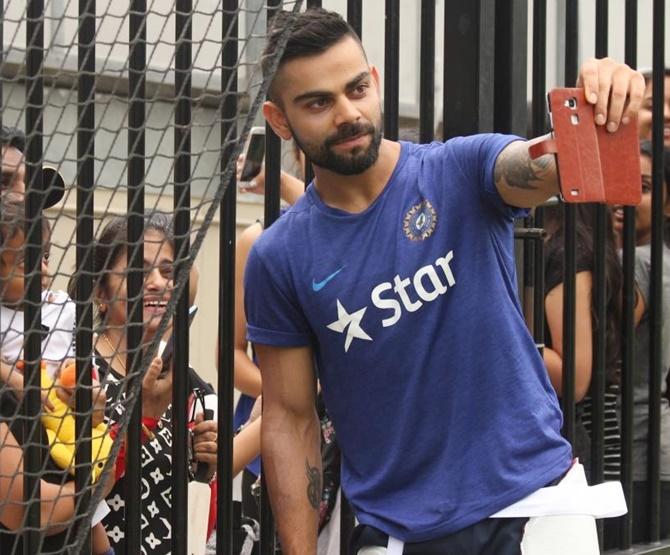 IMAGE: India's Virat Kohli poses for a selfie with fans. Photograph: BCCI.
How would someone like Akram bowl to Kohli, who seems to be at the peak of his career?
"It is very difficult to compare eras. Having said that, I would have tested him with an inswinger first up. He, like every batsman, is a bit shaky at the start of the innings. He shuffles also, so I would have tested him with some incoming deliveries.
- Don't miss out on our complete WorldT20 coverage
"He has come to a stage where he knows how to score runs against the best, how to pace his innings. He reads the situation very well and that is why he is so consistent," said Akram. Inzamam felt Pakistan need someone like Kohli to motivate the team.
"The current Pakistan team lacks motivation. It needs someone like a Kohli who can lead them from front and motivate other players. The talent, the players are there in Pakistan but they need a big player like Kohli. Like we had Wasim bhai (Akram) in our days," said Inzamam.