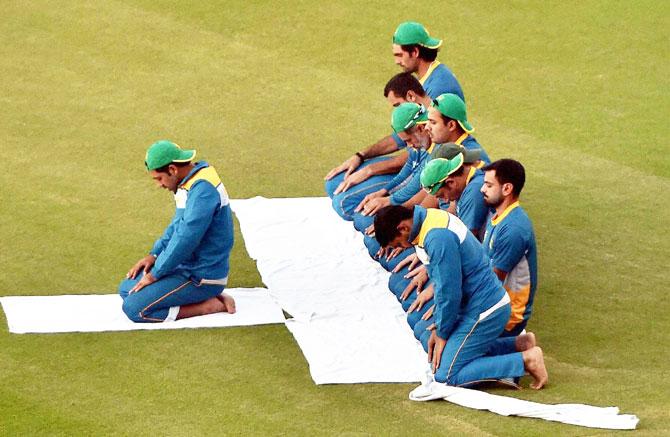 IMAGE: Pakistan's cricket players offer namaz after a training session at PCA Mohali on the eve of World Cup T20 match against New Zealand on Monday. Photograph: Shahbaz Khan/PTI
Security at the PCA stadium in Mohali was tightened on Monday as the Pakistan cricket team went through the grind during a practice session ahead of Tuesday's ICC World Twenty20 match against New Zealand.
- ICC World T20: Complete Coverage
- PCB chief confirms: Afridi to be sacked after WT20
Besides an additional force that was deployed in and around the cricket stadium, sniffer dogs were also pressed into service.
Commandos also stood guard close to the practice area of the PCA stadium keeping strict vigil.
On Tuesday as well, heavy security and barricades will be set up, a police official said.
"We do not want to take any chance with security. We have made foolproof arrangements," he said.
Vehicles were also being thoroughly checked, he said.
Tight security has also been thrown around the five-star hotel in Chandigarh, where the team is staying.
"We are maintaining a strict vigil," a Chandigarh police official said.
Policemen in plainclothes have also been put on duty in Chandigarh and Mohali to keep a check on suspicious persons.
Special traffic routes have been designated for the team's travel from the hotel at Chandigarh to the stadium at Mohali.
Led by Shahid Afridi, the Pakistan team reached Mohali on Sunday afternoon.
Pakistan lost to India by six wickets in Kolkata on Saturday.