- 'To be recognised as the best in the traditional form of the game is as good as it gets for any team and stuff that dreams are made of.'
- Only seven points separate the top four ranked sides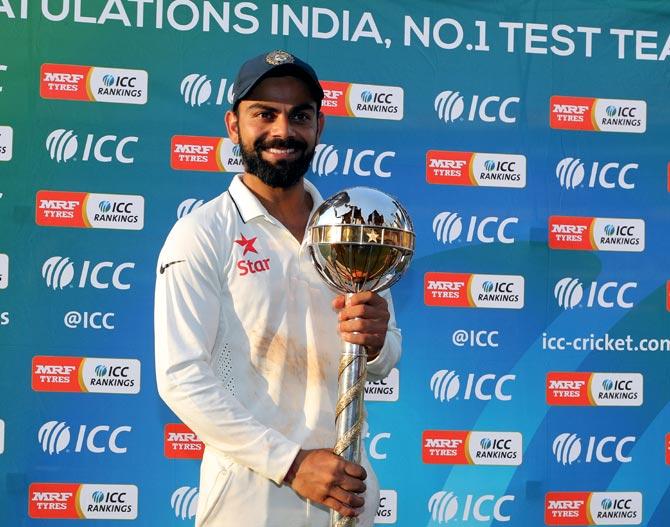 IMAGE: India captain Virat Kohli poses with the ICC Test Championship mace. Photograph: BCCI
India captain Virat Kohli was on Tuesday presented with the prestigious International Cricket Council's Test Championship mace for leading his team to the top of the MRF Tyres ICC Test Team Rankings.

On behalf of the ICC, the mace was presented by former India captain and ICC Cricket Hall of Famer Sunil Gavaskar at a ceremony following the conclusion of the third and final Test against New Zealand in Indore.

India was guaranteed number-one spot on the MRF Tyres ICC Test Team Rankings after it took a 2-0 lead in Kolkata. Since the Test team rankings are only updated at the end of the series, India formally replaced Pakistan at the top of the table at the end of the Indore Test which it won by 321 runs.

"It's an honour and a moment of great pride to receive the ICC Test Championship mace. To be recognised as the best in the traditional form of the game is as good as it gets for any team and stuff that dreams are made of," Kohli said.

Kohli has become only the second India captain after Mahendra Singh Dhoni and 10th overall to receive the mace, even though it is for the third time since Kohli took over as captain that India has led the rankings table. India had topped the rankings very briefly in January-February this year as well as in August. India's longest stint at the number-one position was from November 2009 to August 2011 under Dhoni.

The other captains to have received the mace are Steve Waugh, Ricky Ponting, Michael Clarke, Steve Smith (all Australia), Andrew Strauss (England), Graeme Smith, Hashim Amla (both South Africa) and Misbah-ul-Haq (Pakistan).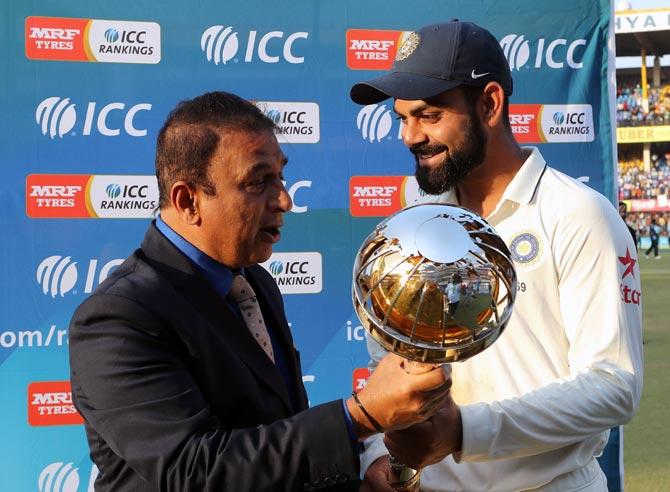 IMAGE: Former India captain Sunil Gavaskar, left, presents the ICC Test Championship mace to Virat Kohli. Photograph: BCCI
Kohli credited his players for performing consistently to take the team to the top.

"Individual performances are important, but in the end it is what those performances do for the team that matter. If we have been able to become the best in the world, it is because there is a lot of bonding among team members and there is always someone to raise his hand in a difficult situation. I think that is what makes a top side.

"I would like to thank all players and support staff, who have all been part of our team because I feel such an achievement is only possible with contribution from all quarters. To reach the top of the Test rankings takes a lot of hard work and perseverance," the India captain said.

Kohli said playing Test cricket is an ambition for any cricketer and to be part of such a team is to be treasured.

"We all grow up playing cricket, hoping to represent our country in Test cricket. But to be part of a team that does well continuously in Test cricket is something altogether different. I'm confident we will continue to win matches at home as well as abroad in the coming seasons. I want this team to be remembered as one of the finest Test teams ever," Kohli said.

ICC Chief Executive David Richardson praised India for regaining the top ranking within weeks of losing it to Pakistan.

"I congratulate India for some fine performances which have helped it win the ICC Test Championship mace during a great period for Test cricket. The number-one ranking has changed hands three times in as many months, indicative of the current competitiveness of Test cricket at the highest level, which is great for players and fans.

"With other sides in touching distance of the top, the MRF ICC Test rankings continue to provide great context for the traditional format of the game. I wish India the very best in their efforts to stay at number one," Richardson said.

Gavaskar said such an accomplishment will be cherished for years to come.

"I have always believed that Test cricket tests you in every way. To come out on top over a period of time and be acknowledged as the best in this format is a big achievement. It is a result of sustained efforts in different conditions.

"I have some fine memories of Test cricket from my playing days. Taking on a top team in Test cricket was what pumped us up and certainly something that I always looked forward to.

"There may be three formats of the game now but every cricketer knows that the challenge that Test cricket presents is much more and calls for a different set of skills, grit and character. I congratulate Virat and his team for this fine achievement and wish them all success in the coming years," he said.

The rankings at the top of the table could see more changes in the coming months since only seven points separate the top four teams with second-ranked Pakistan (111), third-placed Australia (108) and fourth-placed England (108) all featuring in upcoming Test series.

Pakistan, which is playing the West Indies in a three-Test series in the United Arab Emirates this month, is also due to tour New Zealand and Australia over the next few months. Other upcoming series include England and Australia's tour of India and tours by South Africa and New Zealand to Australia.

The busy calendar means that the race to the top spot for the annual cut-off date of April 1 can be expected to be intense. The side that tops the ICC Test Team Rankings on that date will receive a cash award of $1million. The side placed second will get $500,000 while those finishing third and fourth will receive $200,000 and $100,000, respectively.

The mace was produced by the then British Crown Jeweller, Asprey & Garrard, in 2001, which was commissioned to make a distinctive prize designed to stand out from other cricket trophies.

The designers produced a 90cm silver and gold-plated trophy based on a cricket stump as its shank, topped by an orb that represents the cricket world -- both geographically and through the inclusion of the emblems of all 10 ICC Members that have played Test cricket.

The stump and the orb combine to portray the mace, regarded as a symbol of authority and prestige. This is regarded as an appropriate combination given the rich history of Test cricket and its image as the most traditional and purest form of the game.

The mace sits on a wooden base with a silver-plated plaque in front with room for engravings of the sides to hold it. The mace was valued at 30,000 pounds in 2001 and automatically passes from one team to another as results confirm a change of leadership in the MRF Tyres ICC Test Team Rankings table.


MRF Tyres ICC Test Rankings (as of 11 October 2016)


Rank Team Points

1. India 115

2. Pakistan 111

3. Australia 108

4. England 108

5. South Africa 96

6. Sri Lanka 95

7. New Zealand 91

8. West Indies 67

9. Bangladesh 57

10. Zimbabwe 8