Young left-hander Saurabh Tiwary on Tuesday said India are strong contenders for the forthcoming World Cup and predicted that it could be an India, Australia final.
Saurabh, said barring the South Africa series, India have won consistently in the last seven/eight series and the players will all be in top gear ahead of the mega event.
He predicted that apart from India and Australia, the other two semi-finalist teams could be England and Sri Lanka.
Asked whether the fielding was a concern for the team, Tiwary, said that it's also improving gradually while the batsmen and bowlers have the potential to win the cricketing extravaganza.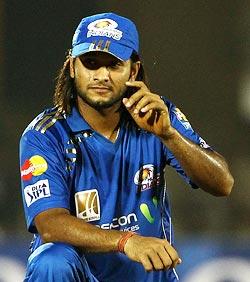 To a query whether pinch-hitter Yusuf Pathan should be promoted in the batting order, Tiwary said it depended on the situation of the match but a match-winner like Pathan can bat at any position.
"Not only Pathan, we have someone like Harbhajan Singh won match with his batting in the past," Tiwary said.
About Yuvraj Singh, he said, "Yuvi had been doing well and has the capacity to turn the match in favour of his team."
When asked whether he was disappointed over his omission in the World Cup team, Tiwary said, "Obviously, World Cup is a dream for any player and I am bit disappointed.
"However, I have the time to represent the country in the World Cup and I will continue to improve my performance to ensure a berth in a future World Cup team," he said.
About his new IPL team RCB, Tiwary said it would be challenging for him but expressed confidence to enhance his performance like he did while representing Mumbai Indians in the last two editions of the tournament.