Dismissing all concerns about the preparedness of venues for the 2011 World Cup, tournament director Ratnakar Shetty declared that all stadiums are on track to host the mega-event, beginning February 19.
A three-member International Cricket Council (ICC) committee on Monday inspected the facilities at the Wankhede stadium, which will host the World Cup final on April 2 and two other group matches, even as workers were busy giving finishing touches to the Mumbai venue ahead of the deadline date of January 31.
"I think the concerns are more in the media than anything else. As far as we are concerned, all the 13 venues which are going to stage the World Cup are coming up very well and we don't see any reason of concern," Shetty said.
A Mumbai Cricket Association official later clarified that the outfield and pitch had already received the green signal from ICC pitch consultant Andy Atkinson, who visited the venue last week.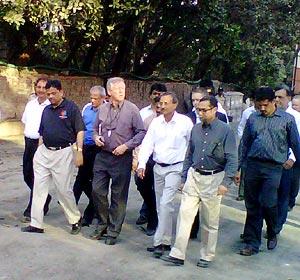 "The pitch and outfield have already been cleared. Today the ICC officials came to check the stands, the press box and other facilities in the stadium," the official added.
"They were happy with what they saw," another MCA official said.
The ICC team, comprising ICC's stadium consultant Eugene van Vuuren, ICC's general manager-commercial Campbell Jamieson and ICC events manager Chris Tetley, will next visit the Eden Gardens in Kolkata on Tuesday to check out its status.
Both venues, which have undergone vast renovation work, missed their original deadline of November 30 to complete construction work.
While the Wankhede had all its stands completely rebuilt, Eden Gardens had two stands renovated.
The Wankhede will host its first match on March 13, when New Zealand takes on Canada, while the first match to be hosted at the Eden Gardens will be a high voltage clash between India and England, on February 27.
Bangladesh take on India in the opening match of the World Cup at home. India and Sri Lanka are joint-hosts.