- Scorecard | Images | Live updates
India survived some anxious moments early before overcoming the Netherlands by five wickets in the World Cup Group B match at the Ferozeshah Kotla in Delhi on Wednesday.
The victory virtually sealed a berth for the hosts in the quarter-finals.
After restricting the minnows to a modest 189, India, after a brisk start from openers Virender Sehwag and Sachin Tendulkar, lost wickets in a heap but in the end won with 81 balls to spare.
Man of the match Yuvraj Singh (51 not out), after a good show with the ball earlier, came up with another responsible knock to steer the team home.
It is safe to assume that the Dutch would never have taken the field amidst drumrolls, dhols, and conches blaring, accompanied by over 40,000 throats ripping it out in unison. But that is what happens in India every time Tendulkar and Sehwag take the field. 
Suitably dazed, the Dutch got off to a shaky start, with Viru crashing the first ball to the boundary off a wayward Bukhari. Ryan ten Doeschate came on at the other end and made the elementary mistake of bowling at Sachin's pads, twice, to be promptly whipped away for fours. There was more to come in his second over.
After a couple of wides, Sehwag slashed one to third man for a single, bringing the Real Tendulkar back against the Dutch imposter.
First up, Sachin leaned into one that was wide of the off-stump and caressed it through the ring for four. Then, he slammed a fuller one again through covers. The Dutch fielders just stood and watched the ball whizz past them. Sachin rounded off the over with a lofted on drive for four.
Sehwag then faced up to Bukhari, and hit one that landed on good length past the bowler for four. He then danced down to loft it above mid on but edged it to the square leg boundary. Another slap-pull was just wide of an outstretched Eric for four again.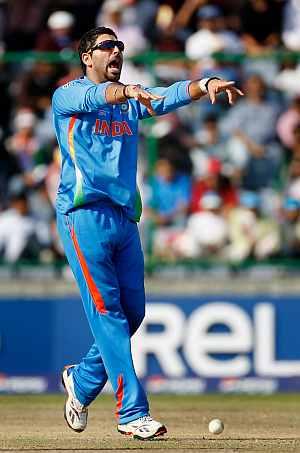 The two openers were in the sort of wicked mood that scares the hell out of the team caterers and make them wonder if they have enough time to get the dinner to the table.
But, knowing that this match wouldn't last long at this rate, Borren decided to let the batsmen generate the pace by bringing on the slow left arm spin of Pieter Seelaar. The openers traded singles before Sachin helped one past fine leg for another four. 
At the other end, ten Doeschate carried on. Some courage it must have taken. But no amount of courage is going to stand you in good stead if you are bent on bowling a slow short pitched ball on a soft Kotla wicket. Sehwag dispatched it over mid wicket for six.
Sehwag toyed a little further with Seelaar before doing a, well, Sehwag. He skipped down the wicket to hammer the first for six over mid-off. Then as the bowler varied the length, he stayed back in the crease and helped it past short third man for four. 
Next ball, he stepped out and slashed one to point and was out, caught by Alexei Kervezee
.
But the Dutch did not have much to cheer for as they were greeted by the towering Yusuf Pathan walking in to replace Sehwag.
Sachin quickly joined Sehwag as he skipped down looking to loft Seelaar into the sight screen, but Kruger from long on ran in quickly to pouch the skier. 
Immediately after he had sent back both openers, Seelar added Yusuf. Seelaar pitched one slightly short and Yusuf was caught in two minds before patting it back tamely to the bowler.
With those three strikes, Seelar silenced the crowd, as if to say, 'now, shall we get on with the match?'
But the Ductchmen kept coming back at India, as Kohli and Gambhir came together.
India, for their part, tried to dig themselves deeper, when a couple of overs later, Kohli hit one behind square and the two Delhi boys completed the first run quickly. Kohli turned for the second, saw Gambhir's back to him, and returned to his crease. 
Gambhir then turned and took off on his own. India could have been in major trouble had Borren collected the throw cleanly.
But they didn't make much of this reprieve, as an over later, Borren got one to pitch on the off stump and managed to break it fractionally, as Kohli, looking to drive it on the up, inside edged it on to his stumps.
At 99/4, Yuvraj joined Gambhir and soon after the drinks break, the two whittled the target down in two overs.
Gambhir first took on Seelaar, skipping down the track to hoist him first over mid -off and then over midwicket for two fours. 
Yuvraj then showed what he is capable of when he is in flow, first leaning into one from Borren that was outside off stump to crash it to the extra cover fence. Two balls later, he repeated the act, this time more savage than the first one. He rounded a hat-trick of extra-cover boundaries in the next over from Cooper.
Misfortune struck in the 24th over, when Bukhari angled one across Gambhir's leg stump. The ball made contact with Gambhir's thigh pad and was deflected on to the leg stump.
Dhoni joined Yuvraj with 51 more needed and plenty of overs in hand. The two brought some sanity to the proceedings as they milked the Dutch bowlers while putting the bad balls away.
Among the few heartening takeaways for India in this match would have been Yuvraj Singh. Much-panned in the run up to the world cup, Yuvraj Singh has quietly played himself into form under the critics' radar in the last three matches. 
Not only has he been India's best bowler in this tournament, he has also eschewed his natural tendency to be rash and has concentrated on taking the team past the finish line in the last two matches, albeit against the associate nations.
The Netherlands innings
Ahead of India's Group B match against the Netherlands, India skipper Mahendra Singh Dhoni spoke about? two particular issues he would like to iron out in this match: fine-tuning India's bowling and taking wickets before a new batsman settles in.
The Netherlands skipper Peter Borren called for his lads to play 'brave cricket'.
India succeeded partly on the first count and splendidly on the second.
As for the Dutch, their batting display was anything but brave.
India opened with Zaheer Khan and Nehra, but after just three overs it became evident that the pitch was not going to aid the quicks much.
Dhoni switched to Yusuf Pathan at one end and soon Harbhajan Singh came on at the other end. In the 11th over, Piyush Chawla too joined the mix with his leg breaks.
The openers, instead of taking the initiative against the spinners -- who anyway weren't asking any probing questions, happy to stick to a tight line and length -- were content with blocking them.
They added 56 in what were 15 excruciating overs to watch, before Piyush unleashed his first googly. Eric Szwarczynski could do nothing better than stand at his crease and admire it, as the ball crashed into middle and off.
Yuvraj came on in the 20th over and trapped Barresi with his stock ball that is angled into the off-stump from wide of the crease and straightens.
The departure of the openers brought Holland's two most adept batsmen on show in this tournament -- Ryan ten Doeschate and Tom Cooper.
While the openers repeatedly found the fielders, and tied themselves up against India's spinners, Cooper and Doeschate found the gaps and worked the field. The two put on 35 in nine overs with plenty of singles around the field and were quick to spot the bad balls, despatching them into vacant spaces.
Then Yuvraj got the 'Dutch Tendulkar'. He flighted one that pitched short, and ten Doeschate (11 off 28) did well to skip down to the pitch of the ball, but did not quite manage to middle it. Zaheer, who was a bit wide at long-off, quickly made ground to come under it in time.
As the new batsman walked in, Dhoni brought back Nehra, who had bowled only one over till then. Off the first ball, Nehra delivered his bread-and-butter ball, angled across the right-hander, and Cooper, who had kept a calm head till then, went fishing for it, edging it to Dhoni.
In their short stint together at the crease, ten Doeschate and Cooper played like they and their openers operated on two entirely different pitches against different opposition.
The Dutch needed one of these two to stay on for longer.
Before the match, asked what particular issue he would like to iron out in this match, Dhoni spoke about not letting a new batsman settle down. That is exactly what he did here, as, following Nehra, he also introduced Zaheer at the other end.
The ace promptly trapped Bas Zuiderent plumb in front. The Dutch had lost three wickets for two runs in 13 balls.
Dhoni then went on to keep at least seven men inside the ring for all bowlers. Tom de Grooth and Alexei Kervezee found themselves with attacking fields and quickly-rotating bowling changes. The pressure mounted and, as was bound to happen, the two soon set off for a non-existent run. Chawla fired a throw and Dhoni whipped off the bails with a diving de Grooth well short of his ground.
India kept chipping away at the fragile Dutch line up till Mudassar Bukhari joined skipper Peter Borren. Borren decided he had had enough, took the batting powerplay in the 43rd over and promptly proceeded to take Chawla for two sixes. Bukhari then slammed a six and edged a four off Nehra, before getting a six off Harbhajan's last over.
Borren eventually fell as he skied one to Nehra off Zaheer, but not before he had top scored with 38 in 23 balls and his team got a valuable 42 runs in the batting powerplay.
His batting really put the Dutch display in perspective. On a pitch that had nothing, all you needed was to bide your time before taking your chances.
But the Indian bowlers did not have much to take home. Harbhajan was flat, Piyush was erratic despite his two wickets. Nehra and Zaheer kept a good line, but were not their penetrative and probing selves. Yuvraj, for the second match runnings, was India's best bowler, as he mixed his deliveries well and gave nothing away to the batsmen.