India goes into its second match at the World Cup, against England, after comfortably beating Bangladesh in Mirpur. Though India has the advantage of playing on home turf in the backdrop of a huge crowd at the Chinnaswamy stadium in Bangalore, they can well expect a tough fight from England.
The team has strong depth in batting, led by openers Virender Sehwag and Sachin Tendulkar. Added to that is an in-form middle order, comprising Gautam Gambhir, Virat Kohli, Yuvraj Singh, skipper Mahendra Singh Dhoni and Yusuf Pathan, all of whom are in good nick after considerable rest.
On the bowling front, though Sreesanth got a thrashing, conceding 53 runs in five overs, against Bangladesh, India has very few limited options in terms of their pace attack, as Ashish Nehra is still not fit. So they either go in with Sreesanth or opt for an additional spinner.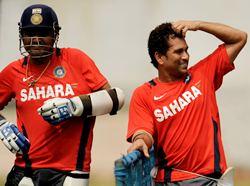 Andrew Strauss's men on the other hand are looking to cause an upset, which they can, provided they have a good game plan. Though England has a considerably good batting line-up, with Strauss, Kevin Pietersen, Jonathan Trott and Ian Bell, what matters is how they cope up with the Indian conditions and crowd.
- Fully fit India ready for England
The English bowlers were taken for a beating by the Netherlands' Ryan ten Doeschate in their last match in Nagpur, though the memory of that outing will be shortlived as England won comfortably.
Strauss has to mainly rely on his in-form fast bowler Stuart Broad, but he is not in good health, having had an upset stomach, but chances are that he will play in Sunday's game.
Graham Swann will lead England's spin attack.
The original venue for the match was the Eden Gardens in Kolkata, but it was shifted to Bangalore at the last moment as renovation work at the stadium was not completed in time. That could be a blessing in disguise for England, as the crowd pressure at Eden Gardens would have been too hysterical for them to handle.
There was some rain in Bangalore on Friday and the outfield is a bit wet, but with no further showers on Saturday, the weather is expected to be cold and the conditions may not be so helpful to the spinners.
The ticket sales have been good and a huge crowd in expected for the match, not to ask which team they will support.
Statistically, India hold the advantage over England. Of the previous 70 encounters between both the teams, India won 38 and England 30. But both teams are tied in terms of matches played in previous World Cups, each winning three encounters in six outings.
So, it's advantage for Dhoni and his men on Sunday. But England cannot be written off so easily after the recent Ashes win.
The Indian team may be gung-ho about the home advantage, but that may add pressure on them to perform to expectations, whereas the Englishmen have nothing to lose, and may be well-prepared mentally to take the pressure from the crowd in their stride.