Canada's batsmen finally managed to complement the good work of their bowlers to secure their first victory in this World Cup -- and only their second ever in the event -- against Kenya on Monday.
There were early jitters but they were overcome eventually as the North Americans, with seven South Asian-born players in their team, reached their target with five wickets and 27 balls to spare to spare at the Feroz Shah Kotla.
Right-handed batsman Jimmy Hansra (70) and captain Ashish Bagai (64 not out) stitched together a 132-run partnership for the fourth wicket that sealed the match and along with it Canada's first Cup win since they beat Bangladesh in 2003.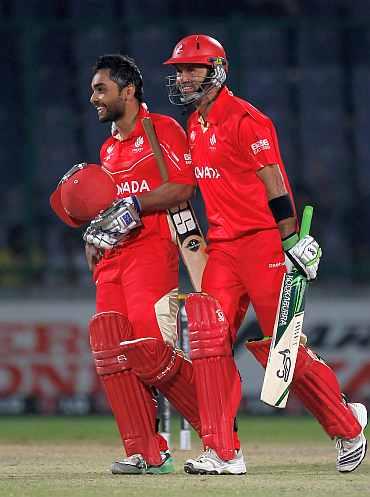 The duo consolidated after Canada were reduced to 48-3 and batted intelligently thereafter to wrest control back in their hands, helped in part by a few dropped catches.
"I made sure I made them pay after the dropped catch. It was good to be positive at the start," a satisfied Hansra said after the match.
"I hit the shots that I was comfortable with, pushed the field back and rotated the singles in the middle."
Paceman Henry Osinde took four wickets as Canada shot out the Africans for 198 runs after they opted to bat first after winning the toss.
The burly fast bowler got the ball to move a bit at the start to take three quick wickets in his opening spell and returned to add one more to his tally off his last over.
Medium pacers Harvir Baidwan and Rizwan Cheema also chipped in with two wickets apiece.
Batting had been the North Americans' bane, evident from the 122, 123 and 138 they managed in their matches against Sri Lanka, Zimbabwe and Pakistan respectively.
Bagai's bowlers had even skittled Pakistan for 184 but to no avail. But they had different plans for Monday.
The fact that there was not much pressure to score quick runs also helped Canada's cause as they could consolidate after suffering the initial blows.
"We were disappointed with the show in the last few games, but today Jimmy hung around with me," Bagai, who was born in Delhi, said after the win.
"We were fortunate to have no run-rate pressure. Once you were in, you could rotate the strike.
"At the end it was just about milking them around. Glad we put this under our belt and got some confidence out of it."
FALSE START
Kenya had been bundled out for scores of 69, 112 and 142 in their last three outings before Monday and they once again got off to a sorry start and tottered at 57 for five at one stage.
But a patient 52-run partnership between Tanmay Mishra (51) and captain Kamande for the sixth wicket weathered the storm and ensured respectability for the African nation.
Mishra also added 57 runs with Thomas Odoyo for the seventh wicket before he fell while trying to up the tempo.
Odoyo (51) looked the most fluent Kenyan batsman on the pitch and with five boundaries and one six managed to take Kenya close to the 200-run mark.