Sri Lanka captain Mahela Jayawardene has paid tribute to Indian veteran VVS Laxman, who recently retired from international cricket, saying that the game will be poorer without one of the finest players of this generation.
"Laxman was one of the finest players of our times and world cricket will miss him. He has contributed a lot to the game and to his country's success," Jayawardene said on Monday.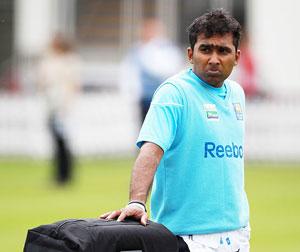 "I don't know under what circumstances he retired but every international cricketer will have to take a call finally and he must have thought it was time for him to go. Rahul (Dravid) surprised people when he decided to quit. VVS must also have some plan for his future.
"But you cannot take away his achievements as a cricketer. As a person also he is a fantastic guy," he added.
Talking of the Twenty 20 World Championship, Jayawardene was confident that wicketkeeper batsman Kumar Sangakkara would be fit in time for the competition.
"Sangakkara will start practice next week. We have three weeks before the start of the T20 World Cup and he will be fit for the tournament. We have a reserve wicketkeeper in Dinesh Chandimal in case Sangakkara is not fit," Jayawardene said.
He also said that the team management has not decided whether he will open the Sri Lankan innings or not.
"We have not decided as yet whether I bat as opener or not. We will sit and decide. But I love to open the innings. My conversion rate has been high and at the top of the order you can score big."
Photograph: Tom Shaw/Getty Images