'Our goal is very simple -- to be the number one side in the world'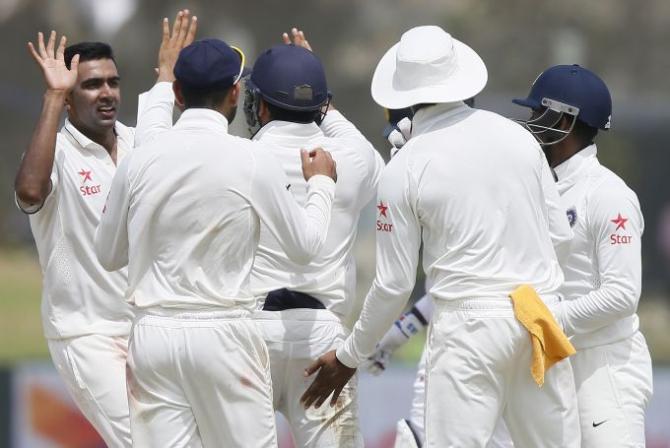 IMAGE: India's Ravichandran Ashwin celebrates a wicket with teammates. Photograph: BCCI
The Indian cricket team's goal is to become number one in the world, batsman Rohit Sharma has said.
"It is going to be a long season for us (Indian team), but as a team we are moving in a good direction. We had recently come from the West Indies having a successful tour there, so as a team we will like to continue (from) where we left in the West Indies. And our goal is very simple -- to be the number one side in the world, we were number one for a week but unfortunately we could not get a game in the last Test match (and) we slipped to number two," the right-handed batsman said on Saturday.
Rohit was speaking at the Sports Journalists Association of Mumbai's (SJAM) Golden Jubilee Annual Awards 2016 in Mumbai.
"Again we have to look (at) one series at a time. New Zealand is going to be here very soon and we have to focus on that. I am sure if we do the process right, we will get the results (that) we want," he added.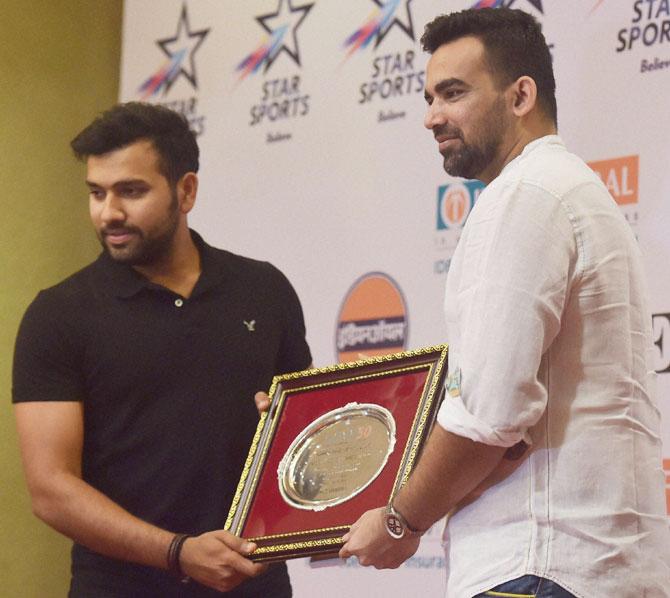 IMAGE: Cricketer Rohit Sharma is felicitated by former India pacer Zaheer Khan during the Sports Journalists Association of Mumbai's (SJAM) Golden Jubilee Annual Awards 2016, in Mumbai on Saturday. Photograph: Santosh Hirlekar/PTI
Echoing those thoughts, stylish batsman Ajinkya Rahane added, "We are very excited about this season because we are going to play 13 Test matches here (in India), it's going to be a long season. I am sure everybody in our team is excited and looking forward to this season. Simple things will take us forward."
Former India pacer Zaheer Khan, who was chief guest at the event said: "It is exciting to see that so many Test matches are scheduled this year. This kind of season, can change the whole graph of a cricketer's life, career graph, for better or worse actually. So, I hope everyone prepares that way and it is exciting time."
"If you are in a positive frame of mind, your rhythm is good if you are a bowler or a batter, make the most of it, because this kind of season doesn't come along often. I recall (playing) only one season like there were there are so many Test matches scheduled in a year and it was a wonderful season for me. I looked at it in that way and whoever is going to be a part of the season should look at it that way. As far as matches are concerned and series are planned, I think the most important series is the series which they are starting with.
"India-New Zealand series is going to be very crucial series and it is interesting to see what kind of wickets they play on, because according to me it's going to be a even battle and when you are in a season like this it is very important to start a season on a good note and set that tone for the season," he added.