Rohit Sharma on winning IPL title for a record third time.
Rediff.com's Harish Kotian listens in.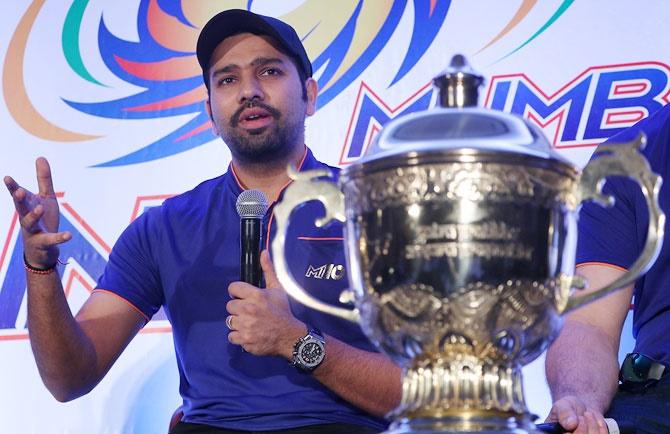 IMAGE: Mumbai Indians' captain Rohit Sharma addresses the media. Photograph: Hitesh Harisinghani/Rediff.com
For captain Rohit Sharma, leading Mumbai Indians to the IPL title for a record third time ranks as one of the biggest achievements of his career so far.

"No one has won the IPL thrice yet, so this is a big achievement for me as a player and for the team as well because again no team has won it three times. We have to take this confidence forward in the future and continue playing the same way as we have been doing," he said upon his arrival in Mumbai on Monday, a day after Mumbai Indians beat Rising Pune Supergiant by one run in a thrilling final in Hyderabad.

Rohit stated that the nerve-racking title clash which went all the way down to the final delivery of the match was the best T20 match he was ever involved in.

"All three are special I guess. But I think the last game was brilliant to be a part of. It was the best T20 game I have been a part of. I can't single out any one particular edition because all the three editions we won were really special and it took us a lot of hard work to win. So I want to cherish all three of the, but certainly, my best T20 game was last night."

Rohit, who usually opens for India in limited overs cricket, prefers to bat in the middle order for his franchise Mumbai Indians.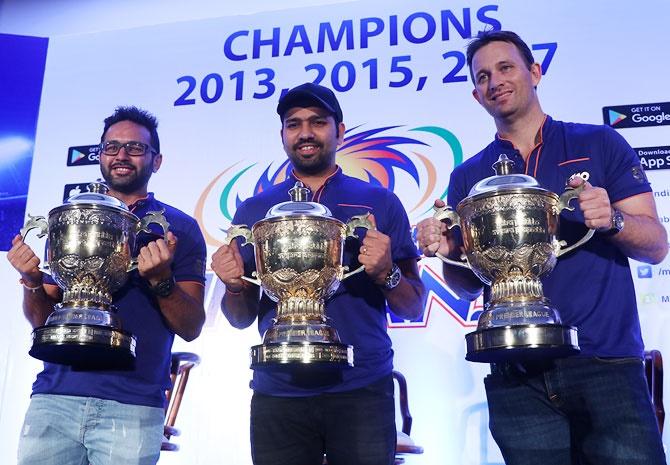 IMAGE: From left, Parthiv Patel, Rohit Sharma and Shane Bond. Photograph: Hitesh Harisinghani/Rediff.com
When quizzed on the same, Rohit clarified that comparing IPL and international cricket is not correct as the two formats are totally different.

"I remember I said at the start of the tournament that the IPL is a different tournament and format. When you play for India, it's a different format. I don't see why people compare IPL and international cricket. My requirement here was in the middle order, and that's what we did. We realised at the start of the tournament that it's better for me to bar down the order to get that balance right. I go there (to play for India), it's a different thing. I don't see that we need to make any comparisons when it comes to the IPL and international cricket," he said.

Rohit's next assignment is the upcoming ICC Champions Trophy which begins in the United Kingdom on June 1.

The Mumbai right-hander says the Indian players have got used to adjusting to different formats and it would not be difficult to jump from T20 cricket to the 50-overs format.

"For the last 10 years, we are doing the same thing. We play the IPL, then we play 50-overs format or the Test format, so I don't think at this point it is difficult for anyone to adjust. It is just that in your mind you have to keep reminding yourself that you need to change your mentality in terms of the format you are going to play. It has been happening for so many years now. We see the T20 format happening and then you have to go and play Test cricket, and then the 50-overs format. I don't think in this day and age it is a worry for any cricket," he added.

Rohit was also generous in his praise of all-rounder Krunal Pandya, who played a crucial knock (47) with the bat in the final.

"Krunal understands his game very well. Whenever we ask him to bat at 4, 5, 6 or 7, he has batted at various positions, he has never looked out of the comfort zone. He has always adapted to the situation. When we wanted him to finish off the games, he has finished games. When we wanted him to go and take the pressure and rotate strike, he did that as well. It goes to show that he has a lot of maturity. He has got a bright future. He is a brilliant bowler, very sharp, thinks about his bowling a lot. He is a great prospect for Indian cricket," he said.

The 30-year-old stressed on how captaining the Mumbai Indians in the last four years has developed his game and also helped his growth as an individual.

"It has helped me a lot, not just for my game but also a human being. I have understood the responsibility, when you are thrown into that responsibility you mature as a person. That is something which I have been learning, and growing as a human being. Captaincy is something which I have enjoyed for the past four years with Mumbai. Again you see if you win the trophy everything looks good, but last year we had a tough time not qualifying for the play-offs. But we knew the set of individuals we had, we backed them to do the job this year and they certainly went out and delivered."

"This has been the hallmark of this team, whenever we have played we have never looked back. We have always moved forward. Whether we won a game or lost the game, the attitude was very similar, it never changed. These are the things as a captain it was heartening for me. As a captain I would love to inspire and that is something I have always wanted to do, inspire the team as much as I can. I am very happy with the way things are with MI right now, looking forward to a few more years."

Rohit is unsure how the rules would pan out with regards to player retentions for the IPL next year but he stated he would love to continue with Mumbai Indians.

"I don't know about the others but I would love to play for my home team. I have played all my cricket here, I lived all my life here, I would love to be here. We don't know what the rules and regulations will be, we will have to wait and watch. We would be happy to retain the whole squad if possible but we will have to wait and see what happens," he said.