Kieron Pollard struck 56 from 70 deliveries to propel the West Indies to a 24-run win over New Zealand in the fourth one-day international, which clinched the five-match series 3-1.
The West Indies recovered from a top-order batting slump to finish with an impressive 264 all out at Warner Park while New Zealand were bowled out in the last over for 240, despite a defiant 110 off 115 deliveries from captain Ross Taylor.
"You have got to give credit to West Indies, they were under pressure" Taylor said. "We would have liked to put the foot down on the throat, but we didn't execute well."
After losing three wickets in the first seven overs, West Indies were in trouble before Marlon Samuels steadied the innings with a patient 46.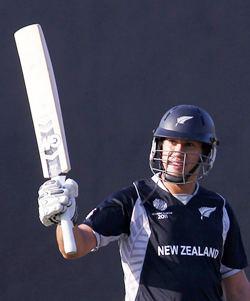 New Zealand were back on top when Samuels departed in the 27th over and the home side fell to 105-5 but Pollard quickly turned the innings around with the help of Devon Thomas (37), Darren Sammy (26) and Andre Russell (29).
The visitors made a flying start to their innings, reaching 50-1 in the eighth over but soon lost their way with Taylor, whose innings featured six boundaries and five sixes, playing a virtual lone hand.
West Indies paceman Tino Best captured four key wickets while off-spinner Sunil Narine, named man of the match, took 2-20 from 10 overs to put the brakes on New Zealand's scoring when they needed just 70 to win off the last 10 overs.
"The good thing for us today was that the lower order came through," said West Indian skipper Sammy. "New Zealand improved as the series went on, but it was good to see we kept our cool."
The fifth and final match of the series takes place on Monday at the same venue. 
Scorecard
West Indies
 J.Charles c Williamson b Bracewell 1
 C.Gayle lbw b Southee 16
 D.Smith c Taylor b Southee 0
 M.Samuels lbw b N.McCullum 46
 D.Bravo c Boult b Oram 18
 K.Pollard c B.McCullum b Oram 56
 D.Thomas c Taylor b Nicol 37
 D.Sammy c Guptill b Boult 26
 A.Russell c Guptill b Oram 29
 S.Narine not out 6
 T.Best b Southee 3
 Extras: (lb-5 w-20 nb-1) 26
 Total: (all out, 49.5 overs) 264
 Fall of wickets: 1-17, 2-19, 3-20, 4-59, 5-105, 6-190, 7-202, 8-234, 9-258, 10-264.
 Bowling: D.Bracewell 10-2-58-1 (w-1), T.Boult 10-2-47-1 (w-5), T.Southee 9.5-1-53-3 (nb-1 w-1), J.Oram 10-1-42-3 (w-3), N.McCullum 4-0-34-1 (w-6), R.Nicol 6-1-25-1 (w-1).
New Zealand:
 R.Nicol b Bravo b Sammy 35
 M.Guptill lbw b Best 0
 B.McCullum c Sammy b Russell 10
 R.Taylor c Sammy b Best 110
 K.Williamson lbw b Narine 3
 T.Latham c Thomas b Samuels 32
 N.McCullum c Sammy b Best 11
 J.Oram b Best 6
 D.Bracewell c Pollard b Narine 5
 T.Southee run out 3
 T.Boult not out 1
 Extras: (b-5 lb-10 w-8 nb-1) 24
 Total: (all out, 49.3 overs) 240
 Fall of wickets: 1-8, 2-50, 3-63, 4-75, 5-146, 6-170, 7-219, 8-234, 9-237, 10-240.
 Bowling: T.Best 10-1-46-4 (w-4), A.Russell 6-0-49-1 (w-1), D.Sammy 10-1-41-1 (nb-1), S.Narine 10-1-20-2 (w-1), M.Samuels 10-0-50-1, D.Bravo 3.3-0-19-0 (w-1)
 Result: West Indies won by 24 runs, lead five-match series 3-1
 Man of the match: Sunil Narine (West Indies)