'Whether they play me or not that's the management's role. But if you ask me personally I just have to be ready for the game whenever I get the opportunity and I prepare accordingly.'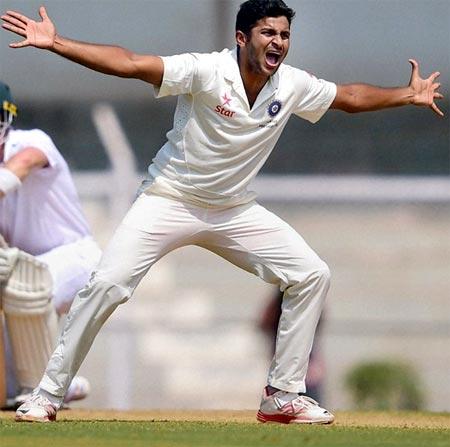 Shardul Thakur is yet to get a game for India despite receiving his maiden call-up more than a year ago but the Mumbai pacer says he has been patiently preparing himself for the big moment all this while.

Thakur could be in line to make his international debut on Thursday when India take on Sri Lanka in the fourth One-Day International in Colombo.

Having already sealed the five-match series 3-0, India captain Virat Kohli had promised to rotate his players and Thakur could benefit from this move if India opt to rest Bhuvneshwar Kumar or Jasprit Bumrah.

"Over the past few years I have been working hard. Whenever I get a chance to play I should be ready. Keeping that in mind I always prepare for the game. Whether they play me or not that's the management's role. But if you ask me personally I just have to be ready for the game whenever I get the opportunity and I prepare accordingly," Thakur said on Wednesday.

Thakur has been part of the Indian set-up since 2016 when he toured the West Indies under former coach Anil Kumble.

He has been working closely with bowling coach Bharat Arun in Sri Lanka after being called up to the limited overs team.

"When I first met him it was the Under-19 camp at the NCA (National Cricket Academy) it was more of a technical camp where players perform when you go to the academy, work on your technique and get better. It's only my first assignment with him in the (Indian) team and so far it's been good. It's more of match-oriented things (that I discuss with him)," said Thakur.

"I feel whenever you move one level up - from domestic you go on to play IPL and from IPL you get selected to international cricket - the skill is always there. But you have got to prepare really well mentally because in international cricket the pressure is different and the pressure is different in domestic cricket," he added.

He was included in the Indian squad for a few home Test series as well, but was released to play domestic cricket after not being picked in the playing eleven.

However, he did catch the attention of the selectors after some good performances in this year's IPL for Rising Pune Supergiants and also his consistent showing for Mumbai in domestic cricket over the last few years.

"It's not that difficult (to change formats) if you have practiced enough. It's just recollecting whatever you have practiced. In white-ball cricket, you'll need to use a lot of variations when needed whereas in red-ball cricket you just stick to your plans again and again.

"I feel, if you have the skills, you can play in any format of the game. It's just about your preparations and how you cope up with the different challenges of Test cricket, ODI cricket, and T20Is. If you ask me, you have to evolve every time there is a change in the format," he said.

Thakur also paid to team mate Mahendra Singh Dhoni, who will be playing his 300th ODI on Thursday, with whom he has played in the IPL for RPS.

"I have always asked about his experiences. He always gave me his piece of mind when I asked him. Obviously, he is the wicketkeeper of the team so he has seen a lot of bowlers bowling from the other end, and very closely, like what do they do in a particular situation.

"Playing with him in the IPL was a great boost because in the match itself, I learnt a lot from him like when to use cross-seam deliveries and when to bowl seam-ups. So whenever I have felt like finding out things about a particular situation, I have gone to him," Thakur signed off.
Image: Shardul Thakur
Photograph: PTI