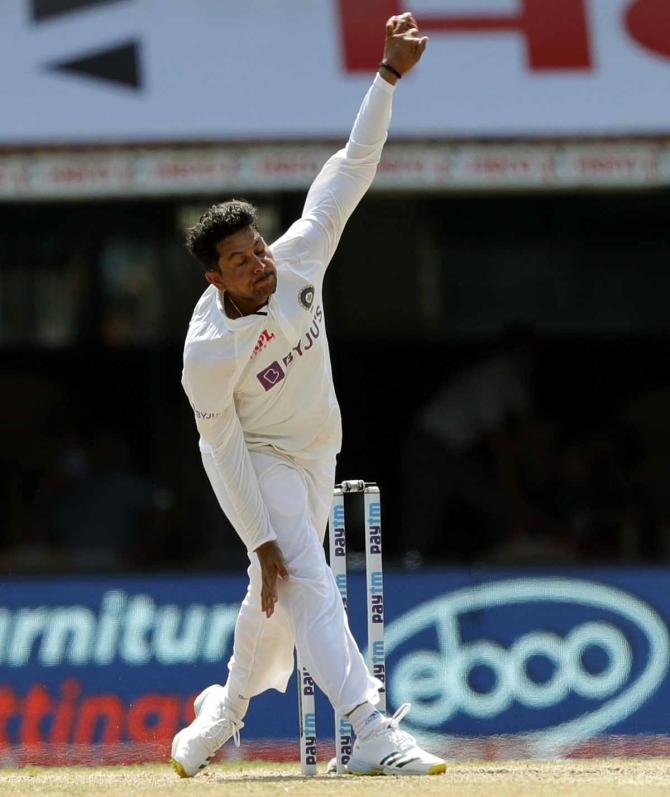 The nine-wicket defeat in the Indore Test came as a rude shock for India, who were flying high after emphatic wins in the first two games.
India were served a dose of their own medicine as they were outplayed on a rank turner at the Holkar stadium, with the match lasting just a little more than two days.
The Indian batting line-up faltered quite badly as they were bundled out for 109 in the first innings after they elected to bat.
Australia's batters showed great application to post 197 and grab a decisive 88 run lead.
India crumbled against spin once again in their second innings as they folded for 163 with Cheteshwar Pujara the sole batter to offer some resistance with 59.
India's batters were guilty of throwing their wickets away, looking to get on top of the bowlers, instead of looking to battle it out on a pitch offering sharp turn and bounce early on the first day.
The usually supportive former coach Ravi Shastri was very critical of the Indian batters' showing in Indore, saying 'complacency' and 'overconfidence' caused their downfall.
'This is what a little complacency, a little bit of overconfidence can do where you take things for granted, you drop guard and this game will bring you down,' Shastri said on Star Sports.
'When you cast your mind back to the first innings, see some of the shots played, see some of the over-eagerness to try and dominate in these conditions. You reflect back, take a step back or two to analyse,' Shastri said.
Even though Head Coach Rahul Dravid has escaped scrutiny, India's team combination for the third Test should come under the scanner.
Did India misread the conditions by playing two seamers on a pitch which turned square from Day 1?
Could they have gone in with an extra batter instead of the second pacer since Mohammed Siraj bowled just six overs in the whole match out of India's total of 105.2 overs?
Also, there is no clarity about all-rounder Axar Patel's role in the team.
Axar started off his Test career in smashing fashion with 33 wickets in four matches, but he seems to have been reduced to the role of a part-time bowler in this series.
Axar has been used quite sparingly, bowling just 39 overs in the first three Tests for just one wicket as compared to Ravindra Jadeja's 106.1 overs and Ravichandran Ashwin's 95.1 overs.
It begs the question as to whether Axar, who bats at No 9, has been majorly kept in the team to lengthen the batting on difficult tracks and also if the captain doesn't trust him with the ball as much as they do with Ashwin and Jadeja.
India are braced for a desperate situation in the final Test in Ahmedabad, needing to win at all costs to qualify for the WTC final as a defeat could give Sri Lanka a chance to qualify.
It is quite evident that India will produce another spinning track at the Narendra Modi stadium with Rohit Sharma openly admitting that they want to make most of their home advantage.
'We have decided to play on pitches like these, and we know we can be challenged, but we are ready for that,' the skipper said after the Indore Test.
'This is the kind of pitches we want to play on. This is our strength. So when you are playing at home, you always play to your strength and not worry about what people are talking about,' Rohit added.
The momentum is firmly with Australia going into the fourth Test and India could looking at making a few changes to rejuvenate their team.
It will be interesting to see if India turn to Kuldeep Yadav, whose left-arm wrist spin, could be quite threatening on such pitches and also provide a much-needed variety to the bowling attack. He could most likely come in for Axar as India are unlikely to field four spinners.
Mohammed Shami is expected to return to the team after being rested in Indore, but do India really need two pace bowlers if the pitch starts turning from the start?
Instead, could they include an extra batter in Suryakumar Yadav or K L Rahul?
Opener Shubman Gill also failed to make most of his opportunity after he replaced Rahul but he is likely to continue at the top of the order. Rahul, though has a chance to feature lower down the order if India gamble by replacing the second pace bowler with an extra batter.
My Probable XI: Rohit Sharma, Shubman Gill, Cheteshwar Pujara, Virat Kohli, Shreyas Iyer, K L Rahul/Suryakumar Yadav, Srikar Bharat, Ravindra Jadeja, Ravichandran Ashwin, Kuldeep Yadav, Mohammed Shami.
Who do you think should be part of India's playing XI in the fourth and final Test against Australia?
Please select your team from the list and do post your playing XI in the message board below.