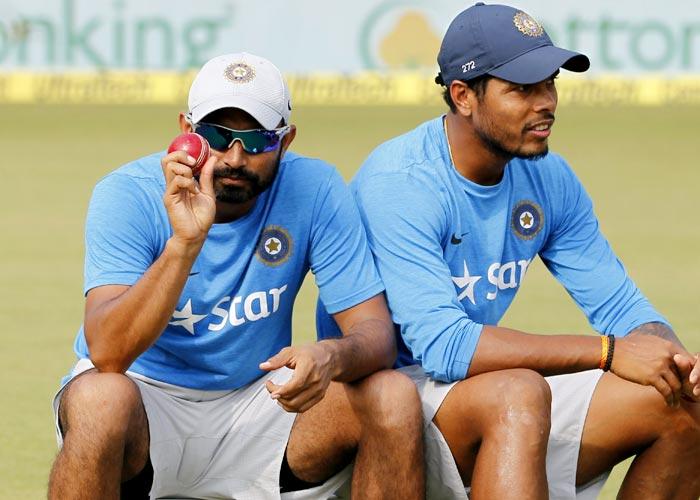 IMAGE: Mohammed Shami, left, with Umesh Yadav. Photograph: BCCI
India's bowling coach Bharat Arun made it clear on Tuesday that Mohammed Shami and Umesh Yadav are first choices for Test matches, while Bhuvneshwar Kumar and Jasprit Bumrah are the preferred option for the limited-overs' format.
"If you look at Shami and Yadav, they are your number one Test bowlers. And Bhuvneshwar (Kumar) and (Jasprit) Bumrah have been exceptional and possess all the skills to do well in ODI competitions," said Arun, offering in peek into the mind of the team management.
"With the volume of cricket India is going to play, it is very important that we have pool of bowlers to choose from so that they remain fresh for every form of the game that we play," he explained, at pre-match media conference, ahead of the second One-Day International between India and New Zealand in Pune on Wednesday.
Keeping in mind that Umesh and Shami will have a role to play in red-ball cricket, the team management wanted the Test bowlers to play Ranji Trophy.
"We encourage them (the bowlers) to play first class cricket. Mohammed Shami and Umesh Yadav have been playing first-class cricket and Shami has done pretty well for Bengal (10 wickets from 2 games)," Arun said.
Workload management is priority, the former India medium pacer declared.
"Too much or too little of bowling is not good for the bowlers. So we need to ensure where they bowl enough and play enough number of matches so that they stay fit and sharp when we require them."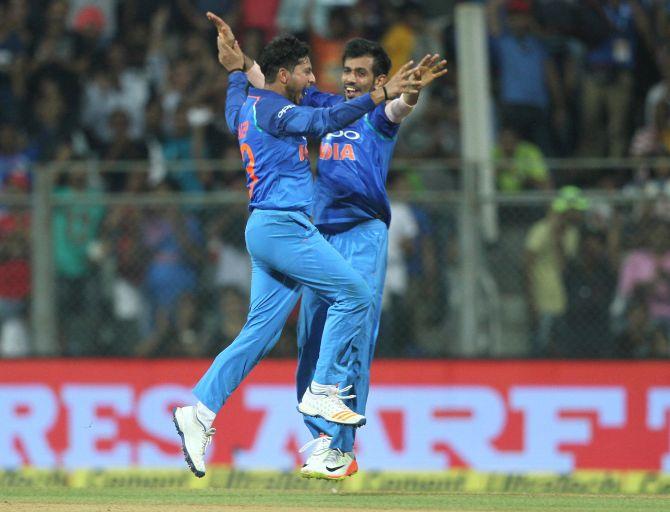 IMAGE: India's spinners Kuldeep Yadav and Yuzvendra Chahal celebrate the dismissal of New Zealand skipper Kane Williamson in the first ODI, in Mumbai, on Sunday. Photograph BCCI
He also heaped praise on the young spin duo of Kuldeep Yadav and Yuzvendra Chahal, saying he is happy with the way they have performed, and going for runs in one odd match won't trouble them.
"Well with these two boys (Chahal and Yadav) have done exceptionally well for us and we would like to take a good look at them before we could come up on a combination for the World Cup. So, so far they have shaped exceptionally well."
After performing extremely well against Australia, the two struggled against Kiwi batsmen Tom Latham and Ross Taylor in Mumbai as they conceded 115 runs while taking a just one wicket.
"See, in all fairness, in the last nine games, India have won nine on the trot and these two wrist spinners have done their job. They have time and again taken wickets. Sometimes it does happen that you don't get the desired wickets, you have you plans in place but it doesn't work out.
"If you look at the overall percentages, we are happy with the way they have shaped up, so one-odd match shouldn't trouble us," he added.
Tom Latham, in particular, disturbed the length of the spinners by using the sweep and the reverse sweep and Arun said the team has its plans in place.
"Yes, we do (have plans). We have taken a good look at the videos, how they played the sweeps and things like this. Definitely, the plans would change for these batsmen."
India stare at a rare series defeat at home after clinching the past six bilateral series and Arun conceded that it would be a challenging task.
"Again, we look at it as a big challenge right now. New Zealand compete exceptionally well; they had a fantastic partnership and they went on to win that (Mumbai ODI) game. It is a bigger challenge for us to come back.
"We know we have our plans in place and it is good testing ground for the team (on) how you come back from behind and do well in the series," he added.
Meanwhile, quizzed on the workload of the bowlers, Arun said, "You got to consider the weather, consider the workload, how much they have bowled in the match, how much they have bowled at practice and then based on that.
"It's just not the decision of the bowling coach, it is a combined decision of the physio, trainer and the bowling coach, we decide to rest someone at practice and then we do that."
India skipper Virat Kohli and the fast bowlers did not come for practice since it was an optional session at the MCA Stadium.