'When the verdict is out there is no question of defiance. We have been in BCCI long enough to know how to run administration.'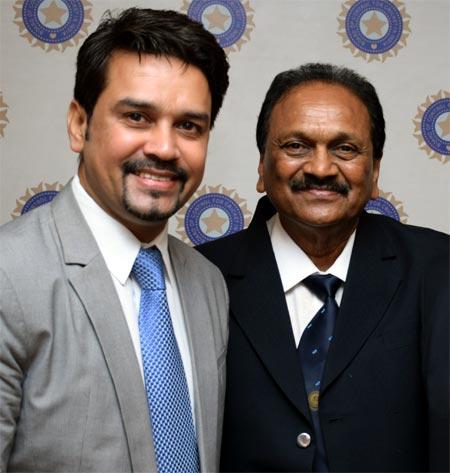 Rattled after the Supreme Court removed both the Board of Control for Cricket in India president Anurag Thakur and secretary Ajay Shirke, BCCI senior vice president Gokaraju Gangaraju on Monday made it clear that his association Andhra Cricket Association will implement the Lodha reforms with immediate effect.

"There is no confusion as Supreme Court has passed it's verdict. As the president of Andhra Cricket Association we would implement Lodha reforms in totality with immediate effect. If it means that we have to go into cooling off period, so be it. Indian cricket should move forward," Gangaraju said.

There is speculation that he might be in line for interim president's post after Supreme Court removed Anurag Thakur but he does not want to get into it.

"Look, I still need some clarity over the matter. Mr CK Khanna of DDCA is also a senior vice president. But in any case it will be a temporary post as I will also have to go into compulsory cooling off period. But if such kind of responsibility is entrusted on me, I will perform my duties with utmost honesty and sincerity," Gangaraju said.

Asked why did Andhra CA not adhere to Lodha Reforms earlier, Gangaraju said: "It was because everyone was together. But now when the verdict is out there is no question of defiance. We have been in BCCI long enough to know how to run administration.

"Andhra has 19 cricket grounds owned by association and a second international stadium is coming up. We would do a good job," he concluded.
In a landmark judgement, the Supreme Court removed BCCI president Anurag Thakur and secretary Ajay Shirke, saying they should 'forthwith cease and desist from' the board's work.

The apex court said the two officials -- Thakur and Shirke -- did not comply with its July 18 order and thereby been removed.

The bench, also comprising Justices A M Khanwilkar and D Y Chandrachud, said that Nariman and Subramanian will complete the task in two weeks and the matter for passing the direction for nominating the persons in committee of administrators will be taken up on January 19.

It clarified that till the new administrators take over the working of BCCI, the senior most vice president of the board will act as the president and the present joint secretary will assume the work as secretary.

The apex court directed that all office bearers of BCCI and state associations will have to give their undertaking that they will abide by the directions of the top court that has accepted the recommendations of the panel headed by former chief justice of India Rajendra Mal Lodha.

It warned that office bearers of BCCI or state associations who 'fails to meet' the norms of the Lodha panel, accepted by the apex court, 'shall demit the post and cease to be office bearers'.
Image: Andhra Cricket Association president Gangaraju, right, with Anurag Thakur