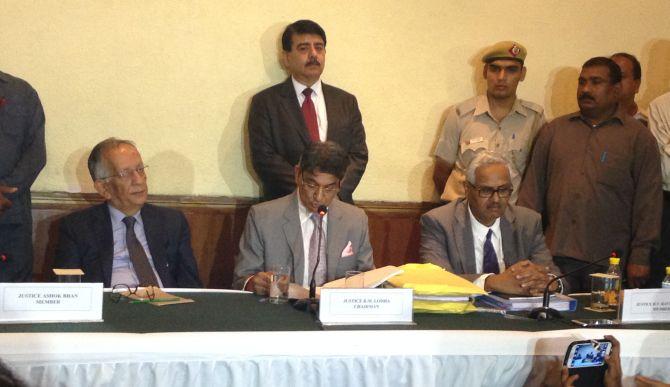 Justice RM Lodha reads out the verdicy. Photograph: Manu Shankar/Rediff.com
Welcoming the Justice R S Lodha committee verdict on the IPL spot-fixing and betting scandal, BCCI president Jagmohan Dalmiya said the Board is "committed to honour and respect judicial decisions" but will go through the contents of the panel's report before reacting to it.
"BCCI is committed to honour and respect judicial decisions and it would give its observations after the entire report is read and a collective decision is taken," Dalmiya was quoted as saying in a BCCI media release.
Dalmiya, however, asserted that the BCCI is committed to ensuring transparency, accountability and cleansing the sport in order to restore the faith and confidence of millions of cricket-loving people in the game of cricket in general and IPL in particular.
Secretary Anurag Thakur was of the view that they will take a collective decision about the future.
"We respect the verdict and would undertake a collective decision in a transparent manner, in the right direction and in the larger interest of the game after the verdict is received and analysed."
The release stated that BCCI will not make further comments on this issue.
Chennai Super Kings, two-time champions in the IPL, and Rajasthan Royals were suspended from the cash-rich cricket league for two years for the betting activities of their key officials Gurunath Meiyappan and Raj Kundra during the 2013 season.
Meiyappan, the former Team Principal of CSK, and Kundra, co-owner of the Rajasthan Royals, were suspended for life for indulging in betting and bringing the IPL and the game into disrepute.