The ICC Champions Trophy in England in June could be an indicator whether Mahendra Singh Dhoni would continue as a player till the 2019 World Cup.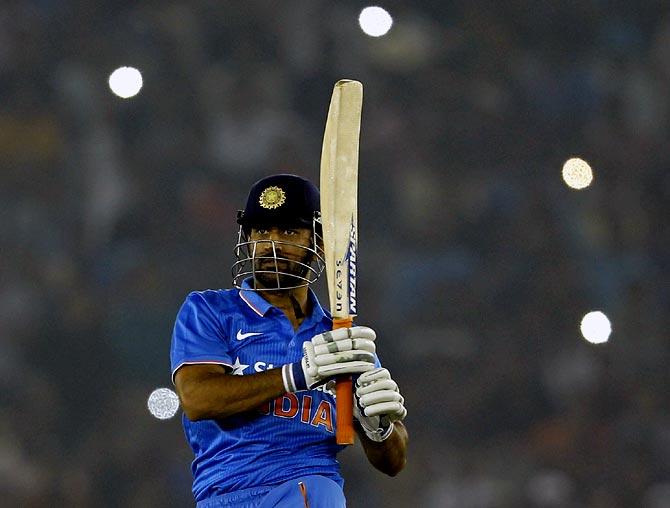 IMAGE: Mahendra Singh Dhoni hits out. Photograph: BCCI
Mahendra Singh Dhoni, who on Wednesday again surprised one and all by stepping down from limited overs captain's post, was forced to take the decision due to his prolonged absence from competitive cricket.

While he continues to be available as a wicketkeeper-batsman in ODIs and T20Is, the ICC Champions Trophy in England in June could be an indicator whether he would continue as a player till the 2019 World Cup.

India's double World Cup winning skipper will be playing a competitive match after 77 days, in the forthcoming limited overs series against England comprising of three ODIs and three T20Is, which could be an indicator as to how long he will continue with his illustrious career.

In fact, chairman of selectors MSK Prasad had a long chat with Dhoni recently in Nagpur during Jharkhand's Ranji Trophy semi-final, where there certainly were some discussions about his future plans.

While no one can question his fitness and glovework, but not getting enough matches with India playing lot of Tests and Virat Kohli's sublime form with the willow also made it a difficult decision for Dhoni.

The decision also means that Kohli will get exactly two-and-half-years to prepare his team for the next 50-overs World Cup, to be played in 2019.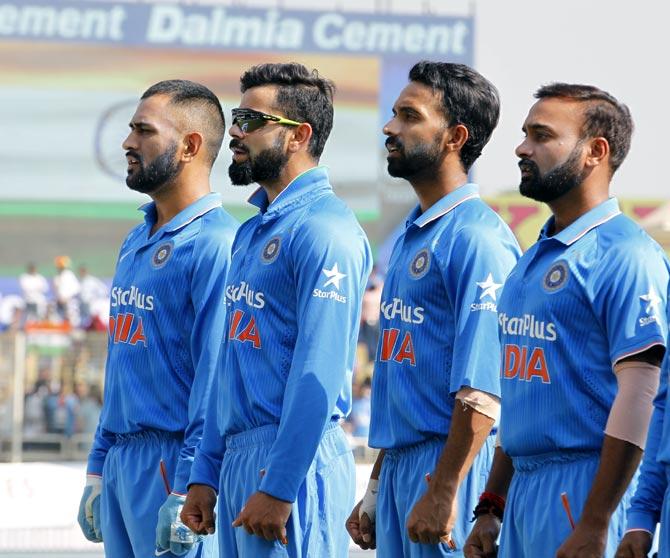 IMAGE: Mahendra Singh Dhoni, Virat Kohli, Ajinkya Rahane and Amit Mishra stand for the National Anthem ahead of the start of a One-Day International against New Zealand in October 2016. Photograph: BCCI
While the national selectors are not ready to say anything on record but in private they had all maintained that its very tricky for any player to stay away from one format and then straightaway come and perform in another format.

With emergence of young turks like Ishan Kishan and Rishabh Pant, the pressure was increasing on the Jharkhand dasher considered by many as one of India's finest finishers.

He was not able to finish games in the last year or so with the same authority that he used to earlier in his career.

There is a school of thought that sudden change of guard in the Board of Control for Cricket in India has also made Dhoni a bit sceptical about keeping his leadership as no one knows what lies ahead for the Board.

Dhoni wants to leave on his own term and that's specifically the reason for this decision keeping the Champions Trophy in mind.

The six matches against England will be Dhoni's chance to keep himself in the reckoning for the Champions Trophy as there are a few hard-hitting contenders in fray.

KL Rahul, the emerging star, is a decent glovesman while Pant and Kishan can also come into the fray.

Parthiv Patel also has done his cause no harm with some good performances against England in Tests.