'Mini-IPL' could be played instead of CLT20 in UAE this yea
If a newspaper's circulation goes down, you have to rethink your strategies. Similarly, the CLT20 was not doing on expected lines, so we had to rethink about it'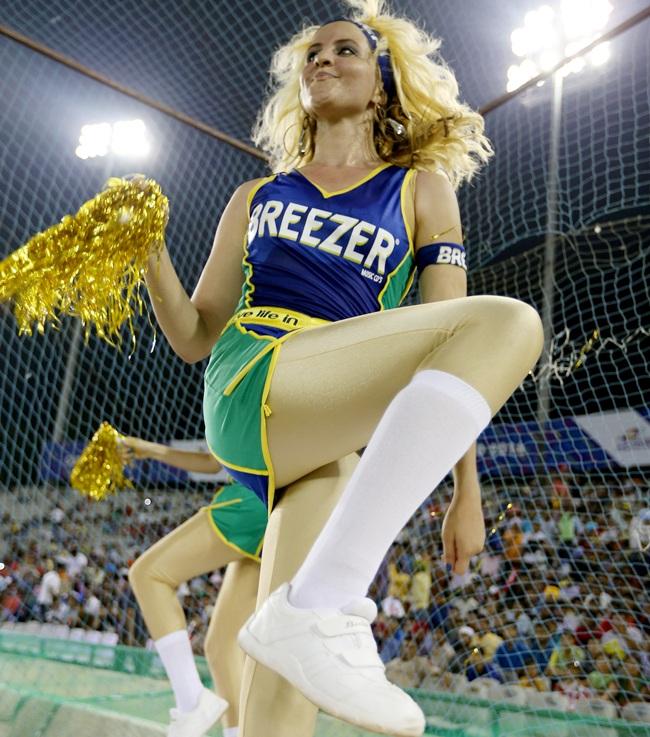 Cheerleaders during the Champions League Twenty20 match. Photograph: BCCI
The Indian Cricket Board (BCCI) top brass on Monday said that they are trying to devise a strategy to make Champions League T20 more exciting in near future.
Jointly hosted by the cricket boards of Australia, South Africa and India, the CLT20 tournament has not found many takers in terms of sponsors as well as fans, and has seen its value dwindle down over the years, forcing the Indian board to reconsider its future.
According to reports, a 'mini-IPL' could be played this year in UAE instead of CLT20 but BCCI secretary Anurag Thakur said they're still debating it and looking at ways to make it more viable.
"These are mere speculations in the media. We still have CLT20. We'll have meeting on that on how to make it a better tournament or something in place of that. We just finished a successful IPL (Indian Premier League) and we'll now start thinking on those lines," BCCI secretary Thakur told the media.
"If CLT20 could not attract crowds in India or abroad, you need to sit back and think about other associations. It is in the interest of cricket. In the interest of cricket you make changes. Like from Test cricket, we switched to ODIs, then T20s and now we have IPL.
"With time, you bring in changes so that the game should not die. There should be enough takers for the game. Tournaments should be successful."
"Would you like your product to go down? No. Eventually I have to look for. You will only get sponsors if you have a successful tournament. There will be no takers otherwise. Eventually, you will have to look for cricket first. For me, that one month window has to be used properly in the interest of cricket and the Board."
Thakur also said the final call would be taken by the CLT20 Board.
Echoing Thakur's thoughts, IPL chairman Rajeev Shukla cited an example of newspaper circulation and said, "If a newspaper's circulation goes down, you have to rethink your strategies. Similarly, the CLT20 was not doing on expected lines, so we had to rethink about it."