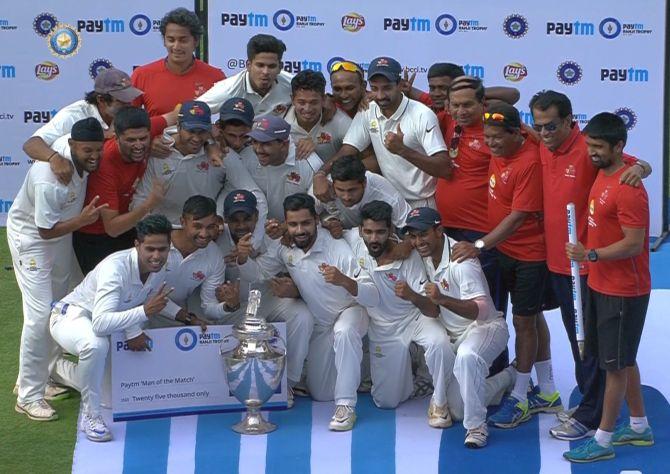 IMAGE: The triumphant Mumbai team poses with the Ranji Trophy in 2015. Photograph: BCCI/Twitter.
The Board of Control for Cricket in India may discontinue India's premier domestic tournament Ranji Trophy from Saturday, the third day of the first round, as current set of officials may be superseded as per Lodha Committee's recommendations.
There are 18 state units who have already expressed their "inability to conduct domestic matches" in absence of funds, a point that was put forward in the Supreme Court by BCCI senior counsel Kapil Sibal.
Since the verdict of the apex court will be delivered, on Friday, according to well-informed sources there are chances that the 83rd edition of Ranji Trophy--- the Senior National Cricket tournament may get adversely affected.
"There is every possibility that Ranji Trophy may be stopped from the third day itself. If the board is not there, how can the matches be organised in such scenario. And it's not only Ranji Trophy which is blue riband tournament. It also consists of Senior and Junior Women's championship, our U-23, U-19 and U-16 championships. You need funds to carry out these BCCI matches smoothly," a well-informed source revealed.
"If Lodha Committee, which is headed by former CJI, can't force the members to accept the recommendations, do you think it is possible for the BCCI president to forcefully make them implement the resolutions. Yes, the Ranji Trophy is in a limbo," the source added.
BCCI president Anurag Thakur was not available for comments on today's Supreme Court proceedings but sources close to the president said that he is "not at all hurt" that his cricketing credentials have come under scanner.
"Anurag is a politician. Often politicians have to listen to a lot of critical comments and trust me he is not at all hurt. But he has captained Punjab's U-16 and U-19 teams. He has had scores of 196, 163 in national tournament at the U-19 level. If he had been incompetent, he could not have built the stadium in Dharamsala," a confidant of the BCCI president said on conditions of anonymity.
There are 12 Ranji Trophy matches being held across the country with 28 teams vying for the top honours. Ranji Trophy is mandatory for all first-class cricketers who are aspiring to play for the national team.