- 'As the years go on, Umesh is going to be one of those guys that you can look up to. He can be a really really good Test bowler too. He has got the action to land the ball in the right areas, swing the ball away at high pace.'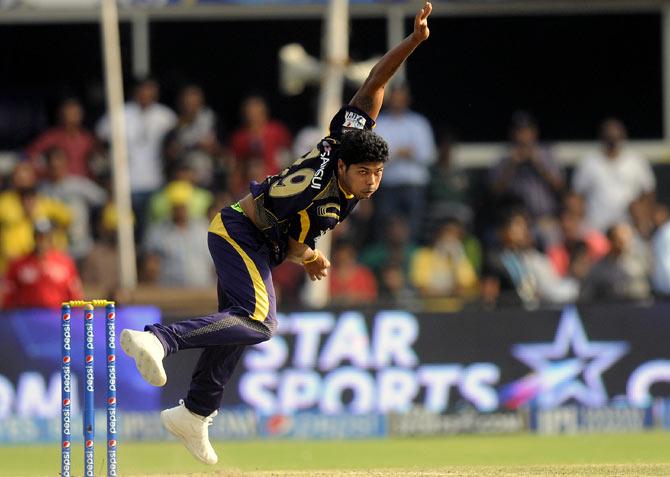 Kolkata Knight Riders fast bowler Umesh Yadav. Photograph: BCCI
Sunrisers Hyderabad fast bowler Dale Steyn says he is a big fan of Umesh Yadav and predicted that in coming years the India pacer would be one to look up to.
- IPL 8 Schedule

Kolkata Knight Riders pacer Umesh, who has represented India in 12 Tests and 48 ODIs, bagged 18 wickets in eight World Cup games to be behind Mitchell Starc (22) and Trent Boult (22) in the wicket-taking list.

Steyn, who is set to appear in his eight IPL season, is quick to compare Umesh with himself.

"I have been a big fan of Yadav. I am a fast bowler, I really like fast bowlers. Umesh Yadav has got a very similar kind of physique as myself. We are both quite short, we are similar in height. He is stronger than I am and he has got a strong action and swings the ball.

"As the years go on, Umesh is going to be one of those guys that you can look up to. He can be a really really good Test bowler too. He has got the action to land the ball in the right areas, swing the ball away at high pace," Steyn said.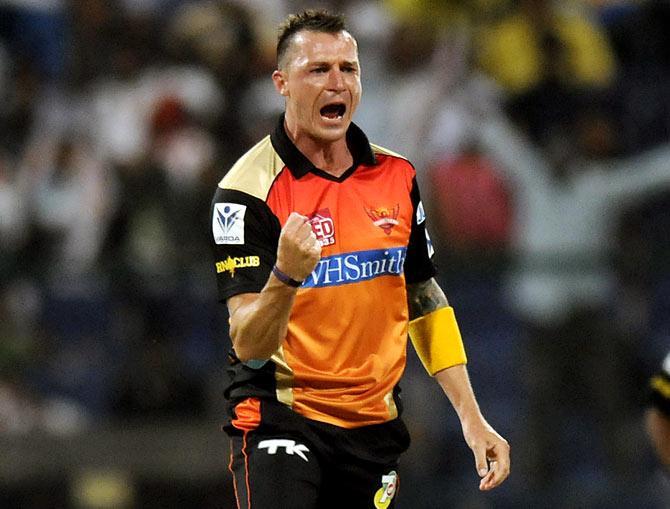 Sunrisers Hyderabad pacer Dale Steyn. Photograph: BCCI
Steyn was taken for quite a few runs at the World Cup and South Africa also failed to cross the semi-final hurdle.

He was impressed with India's good showing during the mega-event as they bounced back after a poor showing during the Tests series in Australia and the ODI tri-series that followed.

"Led by [Mahendra Singh] Dhoni, a fantastic captain with great ideas, they had great plans during the World Cup and they did extremely well to reach the semis considering that they struggled in the early part of the Australian summer.

"They also bowled the yorkers very well. They used the short ball well in Australia but I am not sure how that's going to work in India. The fields are slightly smaller and the pitches slower but these bowlers are very very good," he said.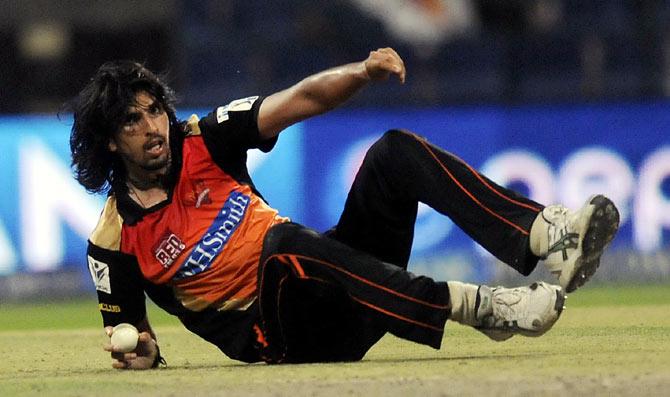 Sunrisers Hyderabad fast bowler Ishant Sharma. Photograph: BCCI
Ishant Sharma is another pacer that ranks high in Steyn's praise list. Enjoying the Hyderabad dressing room with Ishant, Steyn said that notwithstanding his injuries, the lanky pacer is capable of being a very good fast bowler.

"That's a life of a fast bowler. Sometimes it (injuries) just happens. Fast bowling is not a natural thing. Ishant has struggled with a few injuries. But when he is injury free he is a freak of a bowler. He can do some amazing things with a cricket ball. He is tall, he has got good pace, he hits the deck, he has got a slightly different action so he brings the ball in with his wrist. He has all things that can add up to be a very good fast bowler," Steyn said.

"He just needs to spend some more time on the cricket field. And that's how the body is some guys struggle with injuries while others are injury free. And I think he understands that, he appreciates that. When he is on the field you can expect good things from him," he added.

Having helped Hyderabad put up a good show in the last season in which he picked up 19 wickets, Steyn believes he enjoys playing mentor to young bowlers, many of whom have made it to the Indian side.

"I am turning 32 this year but age is just a number. I have been one guy who has been around in every IPL, this is my eight season. I have had 10-11 years of international cricket. I feel I can do a mentor's job on and off the field, definitely. I have been doing this since the last three or four years and every time I come into an IPL team, there are a lot of youngsters who join the side. I try and help them and see how I can improve their game.

"I have seen some of these players, especially from India and I have said that they are going to make it big and they have gone on to represent the nation.

"R Vinay Kumar was one of them he went on to play for India. Bhuvi (Bhuvneshwar Kumar) ended up with us last year and we worked along well and he nearly ended up with the purple cap. And that's nothing to do with me, it's all their skill honestly. But it was nice to work alongside someone like that and share ideas.

"Ishant was somebody that I felt I connected well with and he went on to do good for India. But he did play for India before I met him. So couple of the Indian guys that I have spent some time with have went on to do some magical things," said Steyn.

On a different note, Steyn does not mind switching from the One-Day International format to T20 cricket.

"It's a bonus to be honest. It's a little easy on the body now. 50 overs is a long time, it's 100 overs in a day and now you only have to do 40. No real damage there. From a cricketing point of view, you just need to change your tactics. I am looking forward to it," he said.

With many pacers happy to be playing the shortest format without the four-fielder rule of the ODIs in place and Steyn is no different.

"It's going to be nice. You can't really forget about it. I remember in the last IPL, I was trying to set my field in Dubai and I had all these guys in the ring and the captain said you can put one more out and I was like no you can't. And he said you can, it's Twenty20 and I completely forgot. So you just tend to get used to the rules and you just go with it. You accept the challenges and you don't really worry about it.

"In India you can have every fielder outside the ring and still get hit because these fields are so small and the wickets are so flat that it doesn't matter. But that's a great challenge and that's why I am here to play," he said.
ALSO READ: