'He is defying all the logic and that is something that I totally love.'
'I hate following the norm, and he is someone that is breaking all those barriers on a daily basis so I have a huge respect for him.'
Rediff.com's Harish Kotian listens in.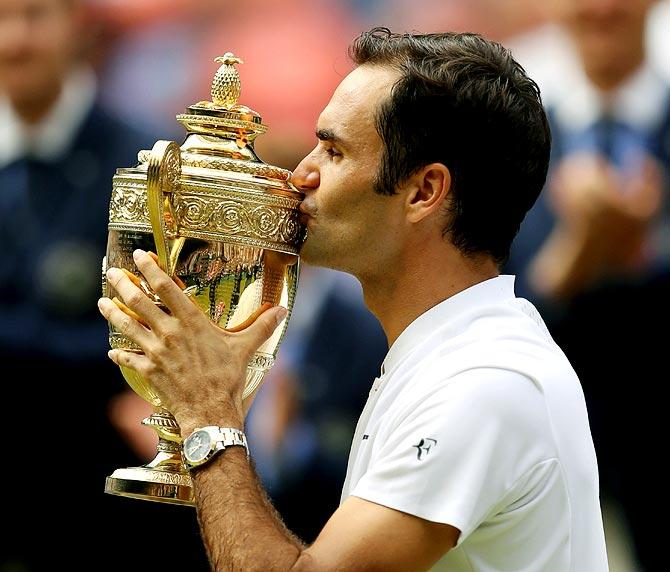 IMAGE: Roger Federer after winning Wimbledon last year. Photograph: Julian Finney/Getty Images
Batting sensation Virat Kohli has millions of fans worldwide, but the one person the India captain simply adores is Swiss tennis legend Roger Federer.
"Roger Federer is my ultimate favourite; just because of the way that belief shows when he plays. It is so beautiful, he has a family now, he has his priorities set and he takes time off the game without worrying about opinions and criticisms of people and then he comes in and wins Grand Slams at 36," Virat said in Mumbai on Tuesday, March 13.
Federer made a strong comeback from a six month injury lay-off to win the Australian Open last year and followed it up with his eighth Wimbledon title to claim a record 20 Grand Slam titles.
"He is defying all the logic and that is something that I totally love. I hate following the norm, and he is someone that is breaking all those barriers on a daily basis so I have a huge respect for him," Virat said.
The batting ace, who has become highly conscious about his diet in the last couple of years, also revealed he is a big fan of Japanese food.
"It has been about three years now, I can eat Japanese food any time of the day. I totally love the cuisine. Earlier, it was Mughlai, butter chicken and all that, but I am far from it now," he stated.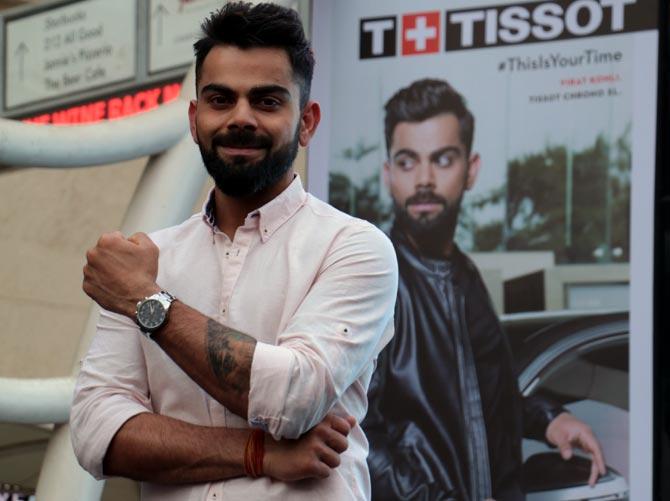 IMAGE: Virat Kohli at an event in Mumbai, March 13, 2018. Photograph: Hitesh Harisinghani/Rediff.com
Virat was a chubby lad, but has given up sweets and junk food.
Asked if he has cheat days from his strict diet routine, Virat replied: "Cheat days for me would be some gluten-free, it is not only black or white, it is a mixture of everything. You have to understand that you cannot live without carbs; as a human being you have to eat carbs, but what kind of carbs you eat is important and that is what I keep a check on."
"I have people come and tell me 'Oh! You haven't eaten carbs in six years' and I tell them 'you got to be joking man, I will be on the hospital bed'."
"I am very smart about what I eat," the skipper added, "So indulging, I would probably have a gluten-free dessert, (which) is made of natural sugar. Once in a while I do (indulge), but I don't get those cravings anymore."
Sachin Tendulkar and Mahendra Singh Dhoni have had biopics made on their lives, but Virat is not thinking of one, at least not for another 10 years or so.
"I don't think there will be a biopic made on me; there will be just a real account of what my life has been like. There are many talented people out there, I am still quite a few years from that."
"Some new talented actor might come along (in 20 years) and fit the role perfectly, if something like that happens. But it is far, far down the line. I cannot think about that right now," he said.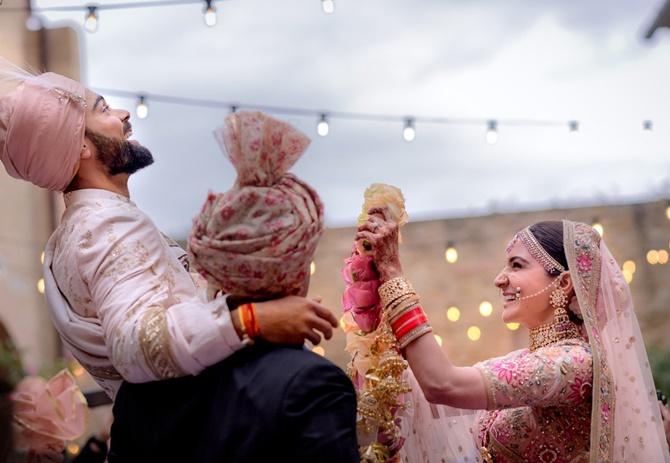 IMAGE: Anushka Sharma and Virat Kohli at their wedding in Tuscany.
Photograph: Kind courtesy Virat Kohli/Twitter
Another startling revelation from Virat is that at home he is exactly the opposite of what he is on the field.
"I can sit and not move from one place for hours, that's how lazy I can be. As much as energy I show on the field but when I get time at home, I can just be a total vegetable."
"I can be very annoying because I do not move at all."
For someone who travels constantly, the captain is an avid reader.
"I read Nadal's autobiography which was really cool and before that I read Autobiography of a Yogi, which was an eye opener in many ways. So those two have to be my recent favourite books," he said.
When he takes time off, Virat likes to be in a place where he is not recognised and hounded for selfies.
"My favourite holiday destination would be somewhere in Europe and if I am playing cricket and if I have some down time, I think Australia is a great place."
"But if I want to be on a holiday where no one recognises us (Anushka and him) then definitely somewhere in Europe or one of the Arctic countries."
"It is a wonderful experience because no one knows you at all and just to walk on the streets, going unnoticed is a great feeling."