61 players were off-loaded by their respective franchises ahead of the ninth season of the Indian Premier League.
Rajneesh Gupta explains why in a statistical analysis below.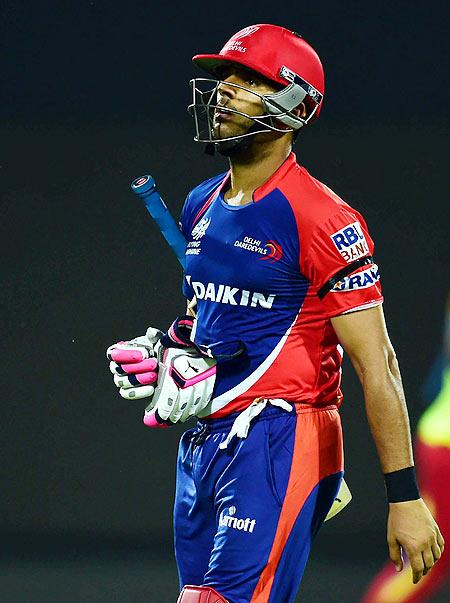 The next edition of the Indian Premier League will witness a huge reshuffle of players following the entry of two new franchises and an array those being released by the existing six teams as they seek to win the coveted Twenty20 tournament.
Former India batting ace Yuvraj Singh was the biggest name off-loaded by his franchise, Delhi Daredevils, but the move was expected considering his huge price of Rs 16 crore, for which he delivered with just 248 runs in 14 matches, at an average of 19.
The franchise also let go of Sri Lanka all-rounder Angelo Mathews, who was purchased for Rs 7.5 crore.
Dinesh Karthik was another big casualty as Royal Challengers Bangalore off-loaded the former India wicketkeeper after paying a shocking Rs 10.5 crore for him last season. He too failed to deliver with the bat, scoring 141 runs in 16 matches.
Sunrisers Hyderabad released quite a few of their big names, like Kevin Pietersen (Rs 2 crore), Ishant Sharma (Rs 2.6 crore) and the world's fastest bowler Dale Steyn in a bid to overhaul their squad or buy back the players at a lesser rate at the Players' Auction.
Mumbai Indians and Kolkata Knight Riders, as expected, deciding against releasing any of their top players, while Kings XI Punjab released their captain, George Bailey (Rs 3.25 crore), and the now-retired Virender Sehwag, who cost them Rs 3.2 crore last year.
The franchises released 61 players, all of whom will be part of the players' auction, on February 6 in Bangalore, for the ninth edition of the IPL from April 9 to May 23.
The table below analyses the performances of the off-loaded players in IPL 8 last year. It sums up why they were released by their franchises.
NA = Not available
* came as replacement in 2015
# transferred from Kolkata Knight Riders in 2014
+ transferred from Rajasthan Royals in 2014
^ retained from Deccan Chargers in 2013
Image: Yuvraj Singh
Photograph: BCCI