'Bowlers need to be extra fit to cope up with the pitches in Australia'
'Spinners must not be afraid of being hit'
'Steyn can destroy the strongest batting line-ups'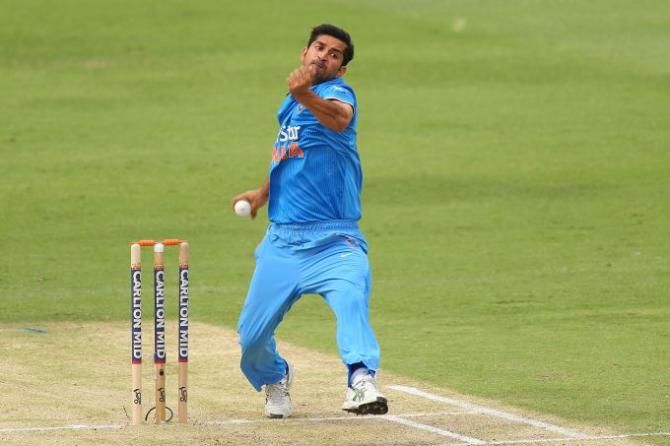 India pacer Mohit Sharma. Photograph: Paul Kane/Getty Images
Having represented Pakistan in five cricket World Cup campaigns, legendary pacer Wasim Akram feels it will be a challenge for sub-continent bowlers to perform in this edition of the 50-over showpiece event in Australian and New Zealand.
Akram, who was instrumental in Pakistan's 1992 triumph under Imran Khan's inspirational leadership, said the bowlers, especially pacers, should be extra fit to handle the conditions Down Under.
"I am not trying to create any fear, but the ICC Cricket World Cup 2015 will be a big challenge for the bowlers, especially those from the sub-continent," wrote Akram, in his column for the ICC.
"They need to be extra fit to cope up with the pitches in Australia and by that I mean that they will need to have a strong back.
"The first impact of the tremendous workload is felt by your back and so my advice to all the fast bowlers is to go to Australia a fortnight before the World Cup starts and as part of your training just run, run and run. Once you attain the needed fitness, that's half the job done," said the former Pakistan captain.
'Spinners can also do well in Australia'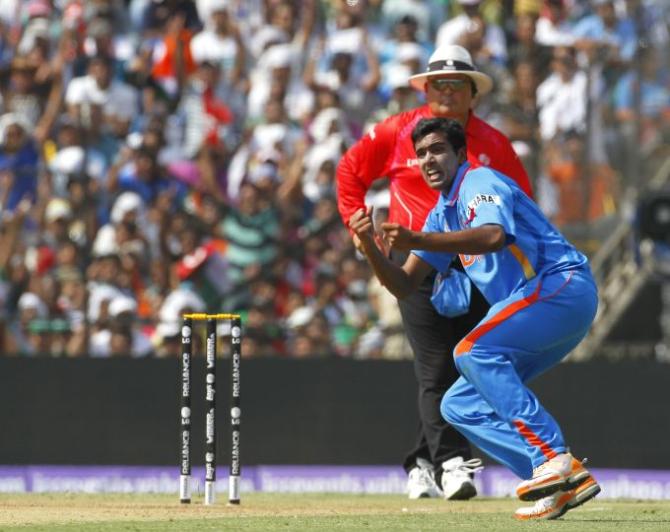 India spinner Ravichandran Ashwin. Photograph: Andrew Caballero-Reynolds/Reuters
Also encouraging the spinners, Akram said Australia is not all about pacers, and tracks in Adelaide and Sydney will help the spinners as well.
"The pitches in Adelaide and Sydney offer more help to the spinners and are also good for batting. The MCG pitch can assist seam bowlers but the bounce there often helps the batsmen.
"Spinners can also do well in Australia but they must not be afraid of being hit. The grounds are bigger so there is always a chance of a mis-hit," he said.
"In Australia, the seam of Kookaburra balls gets soft very quickly and it becomes difficult for bowlers to seam the ball into or away from the batsman. But since the pitches are skiddy the true bounce can help the bowlers," he added.
'Irfan can be lethal in Australia'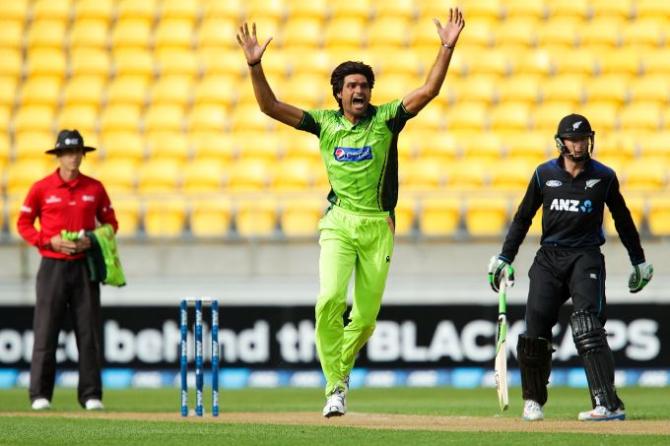 Pakistan pacer Mohammad Irfan. Photograph: Hagen Hopkins/Getty Images
Akram picked Pakistan's tall pacer Mohammad Irfan to perform well in the upcoming edition.
"I rate Dale Steyn, Mitchell Johnson, Tim Southee, James Anderson and Mohammad Irfan as the top picks for this World Cup.
"Irfan can be lethal in Australia considering his towering frame, but he has to learn where to pitch the ball. Steyn, being Steyn, his aggression is personified and he can destroy the strongest batting line-ups," he said.