Kohli's gesture post my dismissal was not required, says Steven Smith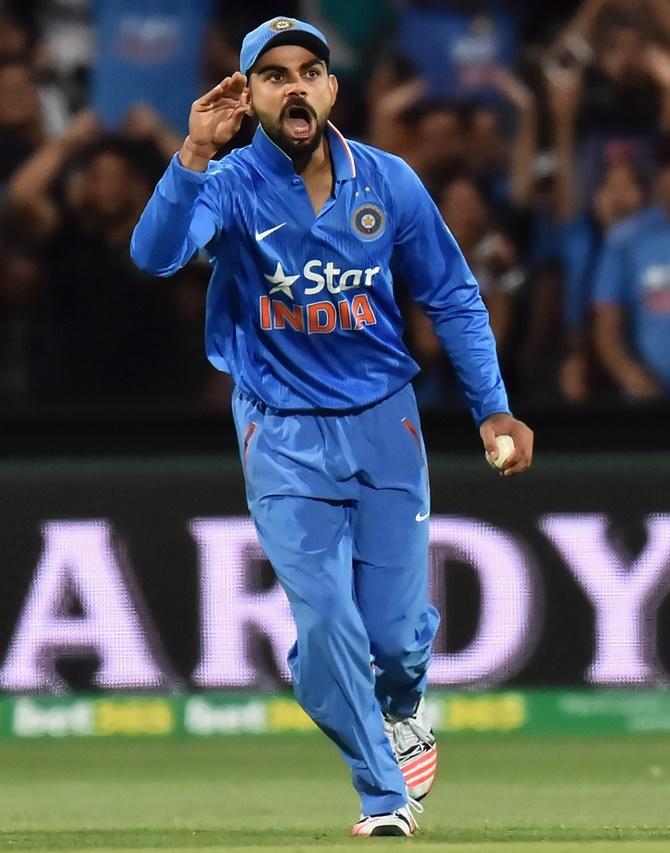 IMAGE: India's Virat Kohli reacts after taking a catch to dismiss Steven Smith. Photograph: Daniel Kalisz/Getty Images
Hitting back at Virat Kohli for a send-off following his dismissal during the first Twenty20, Australia batsman Steven Smith said the chatter-box gesture by the 'emotional' Indian was not required.
Smith lost his wicket soon after a live chat with television commentators, triggering debate if the technology is doing more harm than good to the game.
"He gets pretty emotional out there, doesn't he? I don't think you need to do that kind of thing when someone gets out. It's fine to have a little bit of banter when you're out in the field, but when someone is out I don't think that's really on," Smith told Fox Sports.
Australia's Test team skipper blamed poor shot selection for his dismissal rather than indulging in discussion with the commentators.
"It (the commentary) was on at the time, but for me it was just a bad shot. I tried to chip one over the top for two rather than trying to hit him for four or six. It was my fault and I got to do better next time," he said.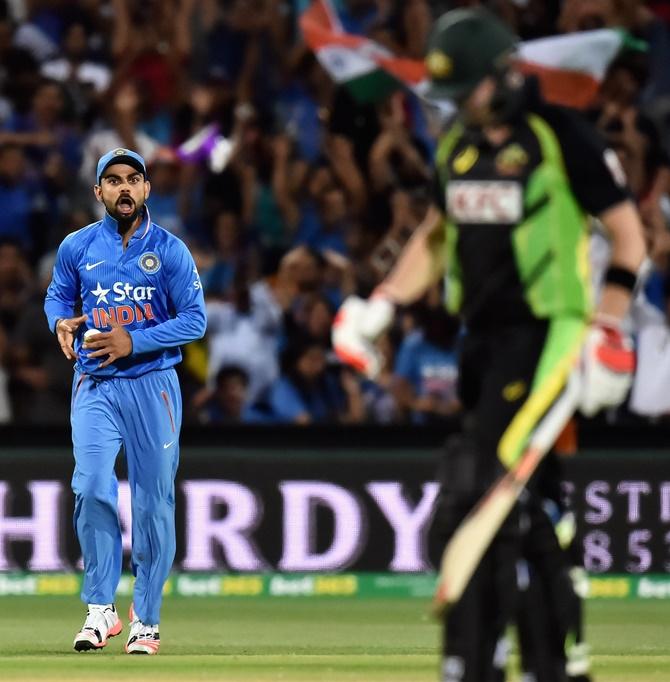 IMAGE: India's Virat Kohli takes a catch to dismiss Australia's Steven Smith during the first Twenty20 International. Photograph: Daniel Kalisz/Getty Images
While Kohli's gesture suggested that he wasn't impressed with Smith's chatter, even fans seemed to believe that the live mic-chat led to the Australian batsman's dismissal as the hosts lost by 37 runs.
Social media was abuzz with reactions to Smith's chat and even analysts denounced technology's interference in the game.
Meanwhile, Australia opener David Warner defended Channel Nine's use of mike-chat technology, saying it is the players' responsibility to keep their concentration intact.
"We have been doing that for the last couple of years. Obviously it is not in the interest of Channel Nine to disturb us when we are out there and you know, for us to get us dismissed. That's upon us to get to respond to them in professional to actually understand that's what happened when you are out there. It's about entertainment," Warner said.
"We are saying it during the Big Bash. We have done it plenty of time with Channel Nine. It is a great insight for people at home to get an understanding of how we are dealing with situations out there."