Kevin Pietersen of England speaks with Steven Finn. Photograph: Gareth Copley/Getty Images
Kevin Pietersen may have played his last professional game of cricket in England, former international team mate Geraint Jones said on Thursday.
South African-born batsman Pietersen, sacked by England at the start of the year, caused a storm of controversy this month when he attacked the national cricket board and several former team mates in a book.
The 34-year-old, who represented Surrey this year in limited-overs cricket, now seems set to ply his trade in domestic Twenty20 competitions around the world and ex-England wicketkeeper Jones said that would be a real shame.
"An English county may pick him up for Twenty20 cricket next year but if they don't I think he's gone," Jones told Reuters in an interview while attending the Volvo World Match Play Golf Championship in Kent on Thursday.
"Kevin's not featuring in four-day cricket these days so he could turn into one of those touring world T20 players. I think there's a very good chance we won't see him out in the middle again in England."
'You have to show some commitment and desire'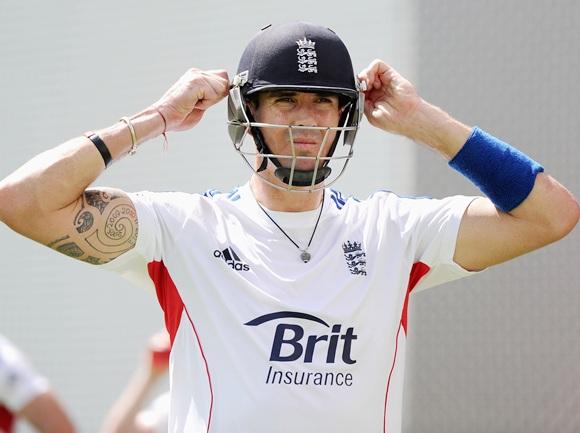 Kevin Pietersen waits to bat during an England nets session. Photograph: Gareth Copley/Getty Images
Pietersen believes he still has a chance of returning to the international stage but Jones, who played alongside the swashbuckling batsman when England won the Ashes in 2005 for the first time in 18 years, said his actions were at odds with his words.
"If you look at his performances in the last 12 months and the fact that he doesn't play in the four-day format any more, he simply can't play international cricket," said the 38-year-old who was released by Kent at the end of last season.
"You have to show some commitment and desire for a county side to warrant selection by England to back up all the chat.
"If Kevin's serious he will go and play for a county next year and commit to everything, four-day cricket and all, but I can't see that happening."
Jones, who made his England debut in 2004 and went on to play in 34 tests, said Pietersen brought something new to the dressing-room when he joined the international set-up later the same year.
Shallow things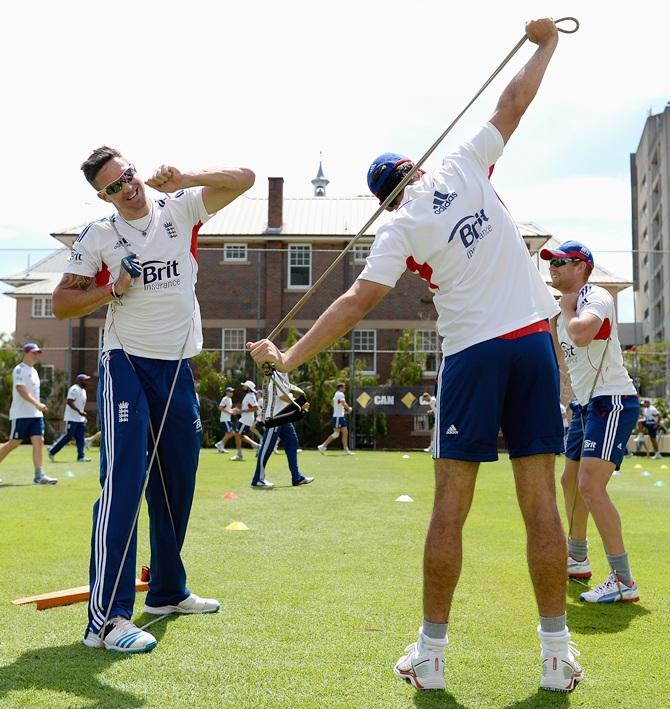 Kevin Pietersen and Alastair Cook of England. Photograph: Gareth Copley/Getty Images
"One thing Kevin wrote himself in his book is that he was shallow and he's right," said Jones. "Materialistic things always pleased him and drove him on.
"The one thing that led to a change in the dressing-room environment when he came in was the shallow things, the new teeth, the watches, the clothing.
"On my first tour we had people like Nasser Hussain, Graham Thorpe, Mark Butcher. These guys were all doing well off the field and the one dynamic I associate Kevin with changing in the dressing-room is the off-field side of it, that all became more apparent."
Jones, though, had no cricketing complaints about the batsman who scored 23 Test centuries for England in 104 matches at an average of 47.28.
"Cricket-wise I couldn't point a finger at him at all because he always performed," added Jones who made one test hundred for England as well as claiming 128 catches and five stumpings.
"His application, his practice, his performances were first-class when I played with him but something's changed obviously. There's no smoke without fire is there?".
'It's all been tainted by the last few weeks'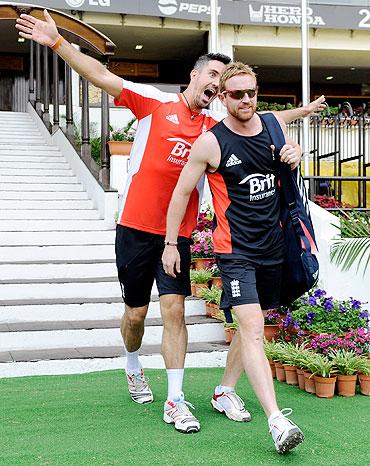 England's Kevin Pietersen,left, clowns around as he arrives for a training session with Paul Collingwood. Photograph: Reuters
Former captain Andrew Strauss said the worst thing about the fallout caused by Pietersen's book was that it had taken the gloss off a golden period for English cricket -- and Jones concurred.
"The way things have gone on in the last few years there have obviously been some niggling things that have got back to management," he said.
"Kevin wasn't aware of how much damage it was doing, going on in a sort of blissful ignorance. I read that Andrew Strauss said his book had taken something away from the success of the team in the last few years and I'd have to agree.
"English cricket has had a fantastic time of it, winning back to back Ashes series in 2011 and 2013 and winning the T20 World Cup in 2010 ... but it's all been tainted by the last few weeks."