'Here we have more freedom to put more water on the wicket, roll it, make it harder come tomorrow's practice session and you have conditions you want'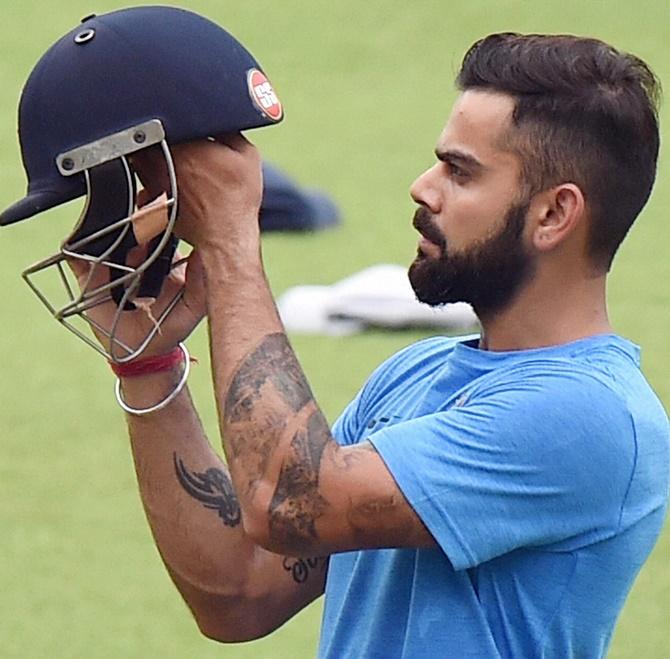 IMAGE: Virat Kohli at a training session. Photograph: PTI
India captain Virat Kohli today justified his team's decision of not playing a warm-up game ahead of Test series in South Africa as the track on offer would not have been even "15 per cent" of what will be at the Newlands.
"You are never sure whether you are getting quality practice games or not. We would rather have practice sessions that are in our control," Kohli said during his media interaction after the team's first practice session on Saturday.
"If you look at the wicket we are playing on right now, it's not even going to be 15 per cent of what we will get in the game," the skipper said.
"There is no point wasting two days, guys going in, scoring quick fifties and coming out. We would rather have them do two sessions like today, get into the Test match zone and test ourselves," Kohli added.
The Indian captain also emphasised on being in a right mental space before starting a series, which does not necessarily come from performing well in warm-up games.
"It doesn't matter if you have played three practice games if you are not in the right kind of frame of mind. If you are in a good head space and have had good practice session, that is good enough as well."
The Indian team today opted for two practice sessions and experimented with different simulations, preparing the wicket according to the conditions they desired.
"We can try and prepare the wickets the way you want to. But if you are playing a two-day game there is no chance of changing the wicket at different times of the day," Kohli said.
"Here we have more freedom to put more water on the wicket, roll it, make it harder come tomorrow's practice session and you have conditions you want," he added.