'Terror and T20 cannot go together'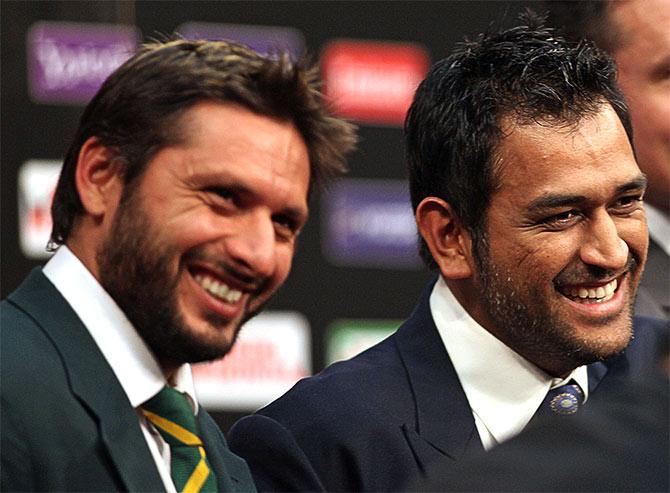 IMAGE: Shahid Afridi of Pakistan and Mahendra Singh Dhoni of India. Photograph: Graham Crouch/Getty Images
Himachal Pradesh's Ex-servicemen League has strongly opposed the hosting of Twenty20 World Cup match between India and Pakistan at Dharamsala on March 19 and asked the Board of Control for Cricket in India to reconsider its decision, keeping in view the sentiments of families of the martyrs.
"Terror and T20 cannot go together and the BCCI must review its decision after terrorist attack on Pathankot Airbase in which two Jawans of Himchal, Sanjeevan Rana and Jagdish Chand were killed. BCCI must honour and respect the sentiments of families of martyrs and other patriotic people," Chairman of the League, Vijay Singh Mankotia said in Shimla.
"After terrorist attack on Air Base at Pathankot, the BCCI should try to understand and respect the feelings not only of families of deceased soldiers but also of families of all patriotic Indians, demanding stern action against Pakistan and empathize with ex-servicemen and serving defence personnel.
"By holding Indo-Pak T-20 match against Pakistan, the BCCI would be insulting the sacred memory of martyrs and undermining their heroic deeds and sacrifices and we appeal to the BCCI not to heap insult to injury as the patriotism and nationalism of BCCI would also be on test," Mankotia, a former minister asserted.
Mankotia said if BCCI still goes ahead with the match, it would be an act of 'betrayal and surrender'.
Meanwhile, the Pakistan Cricket Board (PCB) said its government will decide over the national team's participation in next month's World T20 within this week.
The PCB had earlier proposed to play at a neutral venue in case its government doesn't allow the team to travel to India.