'I am losing my ability to freely rotate in the middle, so I have decided to bat up and let the others finish'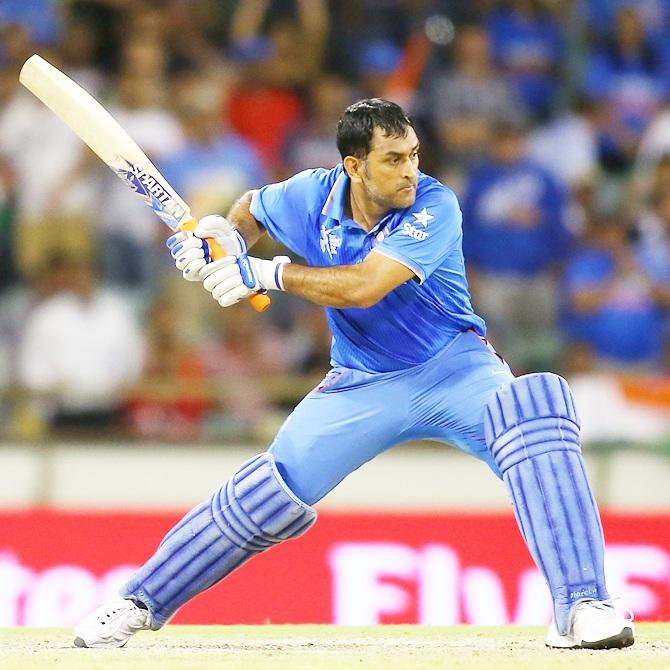 IMAGE: Mahendra Singh Dhoni of India bats. Photograph: Paul Kane/Getty Images.
He may have silenced his detractors with a fine knock in Mohali but India skipper Mahendra Singh Dhoni, assessing his batting in recent times, on Sunday said "I am losing an ability to freely rotate in the middle".
Dhoni struck 80 off 91 balls and shared a 151-run partnership for the third wicket with Virat Kohli (154) to guide India to a seven-wicket win over New Zealand in the third ODI and help the hosts take a 2-1 lead in the five-match ODI series.
The captain moved himself up to number four.
"I have batted lower down for a long time, I think 200 innings down the order. To some extent I am losing my ability to freely rotate in the middle, so I have decided to bat up and let the others finish," Dhoni said at the post-match presentation ceremony.
He added,"But I know I should still look for the big shots. Once you get 15-20 runs, you get into the groove. There were points in the middle where I had to pull myself from playing big shots, and batting with Virat helps because we know we can get boundaries, and get those quick singles and doubles."
Kohli slammed his runs off only 134 balls, hitting 16 boundaries and a six.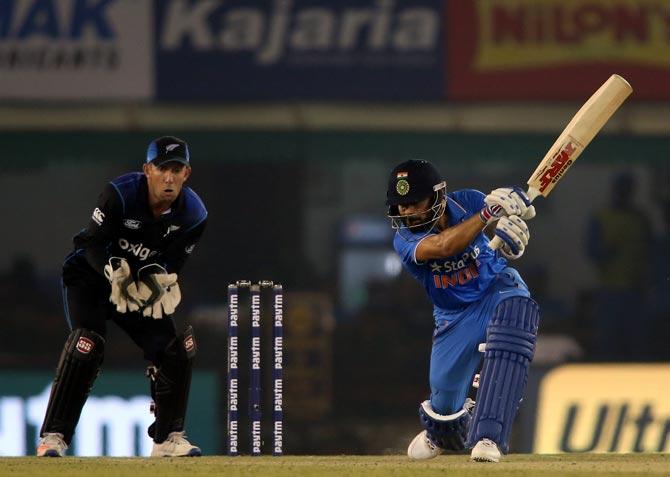 IMAGE: Virat Kohli in action. Photograph: BCCI.
About his in-form vice-captain, Dhoni said, "Right from the start, he is somebody who always wanted to improve to win games for India. He is somebody who has learnt a lot and he is somebody who knows his strengths really well. It's very difficult to say what the top level is in cricket, but Kohli has done India proud."
Dhoni acknowledged the performance of Kedar Jadav, who picked up 3-29 in 5 overs.
"The surprise package has been Kedar, he has always given us wickets in the middle overs, and that's when you can restrict the opposition. But we have to finish better with the ball, the last five, six, seven overs.
"I have no clue how he gets wickets. It's important to have one in the top five to bowl a few, especially with left-handers in the opposition with him being an offspinner."
He further said, "I think we would have done better in the last game, but what's important is coming back and doing well in the next one and I felt it was a very good game for us initially, I thought it would be a high-scoring game, but the bowlers did well in the middle overs to restrict them to 280."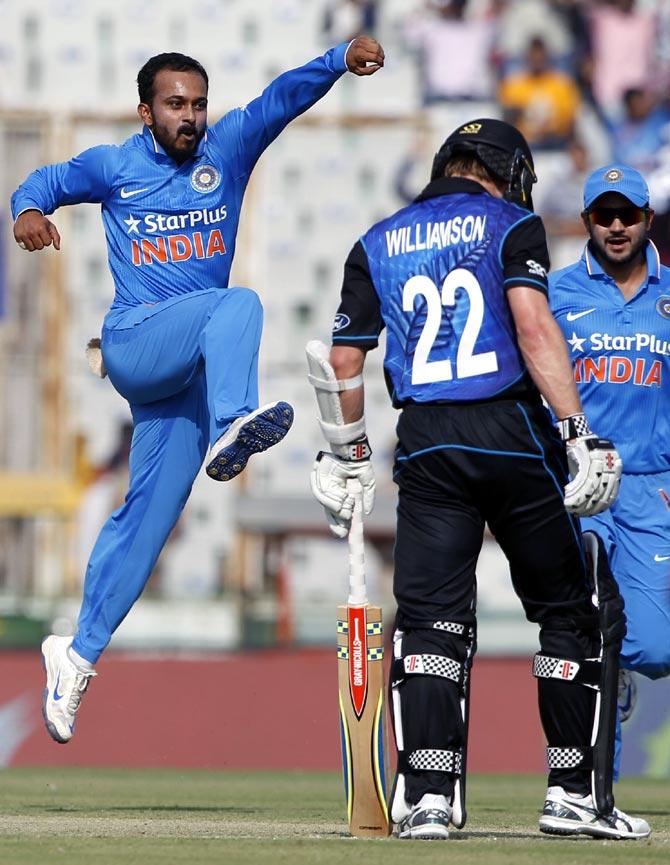 IMAGE: Kedar Jadhav, left, celebrates after taking the wicket of Kane Williamson. Photograph: BCCI.
Man of the Match Kohli, too, was modesty personified as he attributed his knock to "a bit of luck".
"Bit of luck went my way, I feel sorry for Ross (Taylor), it's never easy to drop a catch and the batsman carries through. I've done that and Brendon (McCullum) got 300 in Wellington," Kohli said referring to the drop catch when the batsman was on six.
"We may have given a bit too much to New Zealand, but we took it as an opportunity to chase them down, because we know we are a good chasing team. Good to have MS up the order, and Manish (Pandey) gave me confidence as well when he came in. Shows the confidence he has, he was run-out in the last game, but he came here and did his job. Some of the boundaries he hit early on helped me relax.
"We fed off each other, I fed off MS as well. And it wasn't the easiest pitch. Some balls were stopping on us. In the past I have tried to play out of my skin, getting overexcited, but I've realised if I can time the ball, and hit the gaps and run hard, I can still get runs. If a bowler can hit the right areas a be good, a batsman can be good playing proper shots," Kohli said.
Talking about the partnership with Dhoni, he said, "Me and MS had a chat, he took on the spinner, even his mistimed hits go over the crowd. I know teams want to get me out immediately, so I take my time, go with the flow and then attack at the end. For that you need to play percentage cricket and I know I can play good cricketing shots and still get runs."
New Zealand skipper Kane Williamsnon was a disappointed man at the end of it.
"Obviously frustrating to lose those wickets in the middle in a clump, we were probably looking at a bit more at that stage. But the lower-order performed really well. Neesham and Henry were outstanding," Williamson said.
"But I suppose if you don't dismiss this man (Kohli) in a chase. You always want more on the board, we thought at the halfway stage at 160 for 3, we were good. But to lose those wickets and end up on 280, we were pleased. Maybe we wanted more, but with early wickets we could have made it harder.
Referring to Dhoni and Kohli, the NZ captain said, "You have to dismiss them, Kohli and Dhoni put on 150 and took the game away. Boys tried hard, tried a lot with the ball. (Taylor's drop) It's part of the game, unfortunately, you want to catch them all, doesn't always happen."